Historical Marker: The Battle of Pilot Knob (3 on map)
Tour Stop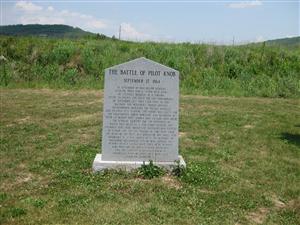 Directions
: This historical marker [ Waypoint = N37 37.154 W90 38.397 ] is located just south of Fort Davidson next to the Mass Burial Site marker.
Description
: The text on the historical marker:
The Battle of Pilot Knob

September 27, 1864

In September of 1864 Major General Sterling Price and a 12,000 man army re-entered Missouri in a forlorn effort to regain the state for the Confederacy. On September 27th they laid siege to Fort Davidson. The defenders, though greatly outnumbered, repulsed the initial assaults and escaped that evening. The effort was costly for the Confederate forces however and hundreds of them lie buried here known only to God. They made the supreme sacrifice for the principles in which they believed. A few Union soldiers are interred here also. Whatever transgressions existed on either side let the passage of time bury amid the ruins of the past; but whatever was noble and honorable it is our sacred duty to transmit to succeeding generations. Let no man asperse the memory of our sacred dead. They were patriots who died for the Constitutional principles and the liberties guaranteed them as Americans. Peace be unto their ashes and honor to their spirits.
---