Interpretive Sign: The Doomed Assault
Tour Stop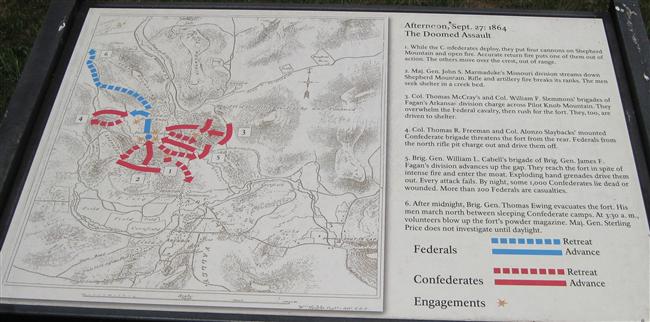 Directions
: About 50 yards to the southwest is The Doomed Assault Interpretive Sign [ Waypoint = N37 37.231 W90 38.402 ]. Walk over and read the text on the Interpretive Sign.
Description
: The text on the interpretive sign:
Afternoon, Sept. 27: 1864
The Doomed Assault
1. While the Confederates deploy, they put four cannons on Shepherd Mountain and open fire. Accurate return fire puts one of them out of action. The others move over the crest, out of range.
2. Maj. Gen. John S. Marmaduke's Missouri division streams down Shepherd Mountain. Rifle and artillery firebreaks its ranks. The men seek shelter in a creek bed.
3. Col. Thomas McCray's and Col. William F. Slemmons' brigades of Fagan's Arkansas division charge across Pilot Knob Mountain, They overwhelm the Federal cavalry, then rush for the fort. They, too, are driven to shelter.
4. Col. Thomas R. Freeman and Col. Alonzo Slaybacks' mounted Confederate brigade threatens the fort from the rear. Federals from the north rifle pit charge out and drive them off.
5. Brig. Gen. William L. Cabell's brigade of Brig. Gen. James F. Fagan's division advances up the gap. They reach the fort in spite of intense fire and enter the moat. Exploding hand grenades drive them out. Every attack fails. By night, some 1,000 Confederates he dead or wounded. More than 200 Federals are casualties.
6. After midnight, Brig. Gen. Thomas Ewing evacuates the fort. His men march north between sleeping Confederate camps. At 3:30 a. m., volunteers blow up the fort's powder magazine. Maj. Gen. Sterling, Price does not investigate until daylight.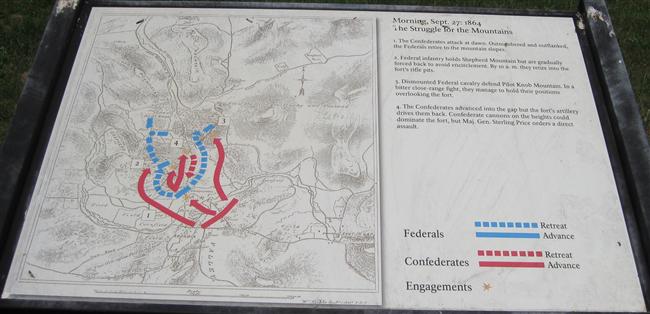 ---