Artillery Platform: 32-pounder Siege Gun (12 on map)
Tour Stop
Directions
: This artillery platform [ Waypoint = N37 37.161 W90 38.381 ] holding a 32-pounder Siege Gun was located in the south angle of Fort Davidson. Continue walking clockwise on the top of the fort's parapet to the next angle.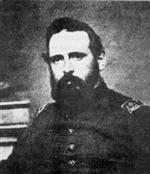 Description
: If you look south you can see that this 32-pounder Siege Gun faces directly at Shepherd Mountain. As we have seen, Brigadier-General Thomas Ewing, Jr. had placed Lieutenant David Murphy in charge of the artillery. The gun at this point was likely involved in the firing described by Lieutenant Murphy. When the Confederate artillery on top of Shepherd Mountain opened fire on the fort, Lieutenant David Murphy immediately responded. Lieutenant Murphy directed his artillery fire and forced the Confederate artillery to move to a more protected position on the mountain.
[112]
"The first shot came from the mountain side. I immediately jumped down to the breech of the gun bearing on Shepherd's Mountain, directed the aim to correspond with the flash of the challenging gun, then exclaiming: 'Number one! Ready! Fire! Load!'

"Before the smoke had cleared away it was observed by the anxious watchers in the garrison that the shot fired from number one had taken effect on the enemy's gun by disabling it and putting it out of action. A cheer from many a lusty throat went up and joyful remarks were exchanged by the members of the brave little band within the fort. This happy interlude was broken by the sharp command: 'Number two! Ready! Fire! Load!'

"And so it went until all the guns bearing upon the mountain side were vieing with each other in the rapidity and the accuracy of their fire. A perfect storm of shot and shell swept the slope. There was no escape from its terrible effect except by retreat and change of position. The enemy accordingly moved and the next indication of the location of his artillery showed that it had taken position a quarter of a mile southward, on a kind of shoulder in the mountain side, but further removed from the fire of the fort."


The Federal artillerymen were thrilled with their success against the Confederate artillery. David Murphy's preparations had paid off, as described by one of his artillerymen, Sergeant Steakley of the Third Missouri State Militia Cavalry.
[113]
"All the sergeants of our company had practiced with the 24-pounder and 32-pounder cannon in Fort Davidson, and it was nothing uncommon for one of us to decapitate a tree one or two miles away on the top of Shepherd's Mountain. I guess the Johnnies thought as much when a shot from one of the 32-pounders knocked one piece of their artillery into splintereens on top of Shepherd's Mountain after they had moved a part of their guns up there."
---