Brigadier-General Ewing's Headquarters (6 on map)
Tour Stop
Directions
: Brigadier-General Thomas Ewing, Jr. had placed his headquarters tent [ Waypoint = N37 37.191 W90 38.406 ] near the powder magazine in the northwestern section of the fort. There is no need to walk to this point in the fort for there is nothing there today.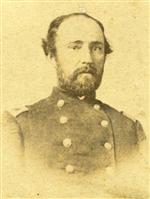 Description
: Once the Confederate attack began, it is unlikely that Ewing spent any time in his headquarters tent. However later that evening at the end of the day's fighting, his council of war was held in the tent located here. Colonel Thomas C. Fletcher, 47th Missouri Volunteer Infantry, described the council of war that took place the night after the battle on September 27th.
[102]
"We consulted together as to what we would do: Ewing, Maupin, Murphy, John W. Emerson and also Ewing's staff-officers, Capt. Charles S. Hills and Maj. H. H. Williams, of the Tenth Kansas Volunteers. The two latter officers were good soldiers and men of excellent judgment, and they stood deservedly high in the confidence of General Ewing. We knew that the severe loss we had inflicted on the enemy would be avenged if we remained till the next day … Here we were, completely surrounded with an overwhelming force, without hope of reenforcement or succor. It was plain that we could not stay there and very nearly as plain that we could not get away. Our only course was conceded to be that we must make the effort to escape and take the chances."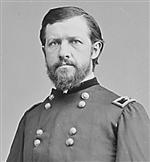 The Federal commander at Fort Davidson found himself in a precarious situation after the fighting ceased with nightfall on September 27th. Brigadier-General Thomas Ewing, Jr. described the tactical situation in his official report.
[103]
"I had found myself unable with my force intact to hold the mountain sides so as to prevent his planting artillery there. My command was now reduced one-fourth in effective strength, as I had lost 75 killed and wounded and in our possession, and double that number missing. I knew that the next morning the enemy having possession of the mountain tops and sides would place all his artillery in position to command the fort, which would make it certainly untenable … I therefore determined to evacuate that night."
---