Historical Marker: Mass Burial Site (2 on map)
Tour Stop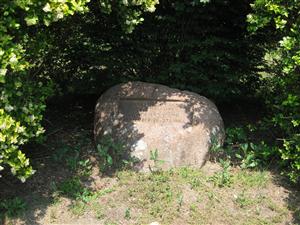 Directions
: There is a granite historical marker [ Waypoint = N37 37.153 W90 38.393 ] that marks the location of where many of the dead were buried in a mass grave after the battle on September 27, 1864. Continue walking clockwise around the outside of the fort until you get to the south side of the fort. It's about 150 yards to this historical marker.
Description
: The text on the historical marker:
Where Valor and Devotion Met North and South

September 26 – 27, 1864
Because the Confederates held the field after the Federals evacuated Fort Davidson, it was up to them to bury the dead. Hundreds had been killed during the battle and more were dying from their wounds. Federal Acting Assistant Surgeon Thomas W. Johnson had been ordered by Brigadier-General Thomas Ewing, Jr. to remain behind to care for the men wounded during the fighting. After returning to St. Louis, Johnson filed his official report.
[98]
"A few days after the battle, and while the Rebel burying parties were in active operation, a Rebel non-commissioned officer in charge of the work showed a list of those already buried. On that were the names of three hundred and thirty-five as already buried, since which time many more of their killed were brought from Shepherd's Mountain and Pilot Knob. Also, in their hospital they were dying at the rate of from five to eight a day. The Rebel officers admitted their loss in killed to have been four hundred, and enlisted men of their commands set it even higher."
---