Artillery Platform: 32-pounder Siege Gun (9 on map)
Tour Stop
Directions
: This artillery platform [ Waypoint = N37 37.181 W90 38.372 ] holding a 32-pounder Siege Gun was located in the southeastern angle of Fort Davidson. Continue walking clockwise on the top of the fort's parapet to the next angle.
Description
: This gun played a key role in the repulse of units from Fagan's Division during the Confederate attacks on Fort Davidson.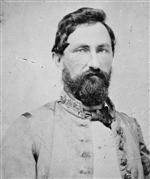 Although he misidentified the artillery pieces in his official report, Brigadier-General William Cabell described the effect that fire from the Federal artillery had on his brigade.
[109]
"On reaching the fort, found the ditch so deep and so wide that they could not scale it without ladders, and seeing that I had no support from Marmaduke's or any other command, I ordered my men to fall back to shelter under a murderous fire from two 72-pounders and one 34-pounder, firing canister at us at short range … My loss was heavy in both killed and wounded.
---