Historical Marker: St. Mary's Catholic Church
Tour Stop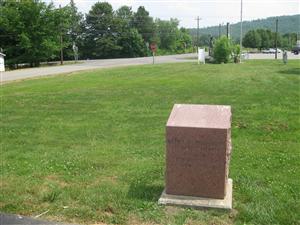 Directions
: The St. Mary's Catholic Church Historical Marker [ Waypoint = N37 37.293 W90 38.452 ] is located in the parking lot of the Arcadia Valley Elks Lodge at 204 N McCune Street, Pilot Knob, Missouri 63663.
Description
: The text on the historical marker:
Battle of Pilot Knob

St. Mary's Catholic Church

September 28, 1864

1:00 A.M. – 3:30 A.M.

St. Mary's Catholic Church was erected on this site in 1861. During the evacuation of the fort under the cover of darkness, some of the Union troops filed up the north rifle pit and formed in the shadow of the church created by a burning charcoal pile that had been set on fire by a shell during the battle. The church was damaged when a Union detail exploded the fort's powder magazine. The building was destroyed by a tornado in 1957.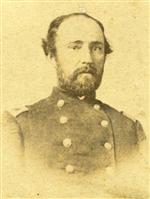 The burning pile of charcoal cast so much light that it threatened the secrecy of the Federal evacuation. Colonel Thomas C. Fletcher, 47th Missouri Infantry, described the scene as the Federals filed out of Fort Davidson in the middle of the night on September 28, 1864.
[125]
"Our preparations being completed, I led my regiment out … At the furnace, only a few hundred yards from the fort, there was a pile of charcoal as large as the Lindell Hotel in St. Louis, said to have been worth $80,000.00. It had become ignited by the explosion of shells during the fight and then had stood there,— a vast, white coal of fire, lighting up the whole valley. This annoyed us greatly. Quietly getting my infantry formed by companies, we moved about one o'clock in the morning through the sally-port into the moat and thence out by the entrenchment on the north side of the fort, forming our line in the shadow of the church. Tents and straw were placed on the drawbridge to deaden the sound of the artillery passing over it. The artillery followed the infantry, and the cavalry brought up the rear."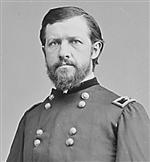 The Federal commander at Fort Davidson found himself in a precarious situation after the fighting ceased with nightfall on September 27th. Brigadier-General Thomas Ewing, Jr. described the Federal evacuation in his official report.
[126]
"At 3 o'clock Colonel Fletcher silently led the infantry out of the sally port around the ditch, and through the north rifle pit, forming them under cover of a deep shadow at the end of the pit. The drawbridge was then covered with tents to muffle the sound, and the cavalry and battery marching out formed column with the infantry and took a by-way to the Potosi road. We left Slayback's camp on our right and another rebel camp near the road on our left, both unapprised of our movement. The body of the rebel army was at Ironton and thinking us sufficiently hemmed in were busy making fascines and scaling ladders for an assault in the morning."
---