Entrance to Fort Davidson (4 on map)
Tour Stop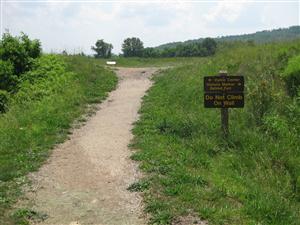 Directions
: The current entrance [ Waypoint = N37 37.199 W90 38.408 ] to Fort Davidson is on the northern end of the fort. Retrace your steps by walking counter-clockwise around the outside of the fort.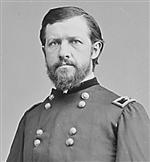 Description
: Extending northward from this spot for about 196 yards was the north rifle pit. During the battle on September 27th, Colonel Thomas C. Fletcher was in command of the north rifle pit. Several companies of Fletcher's 47th Missouri Infantry and Company F of the 50th Missouri Infantry manned the rifle pit. This rifle pit would be used during the Federal evacuation in the middle of the night on September 28th. In his official report, Brigadier-General Thomas Ewing, Jr. wrote about the changes he ordered made to Fort Davidson earlier that year.
[99]
"Early last summer I sent competent engineers to select another site, but such are the difficulties of the position no practicable place could be found any more defensible. I therefore had the roads leading up the hills obstructed, cleared the nearest hill-sides of timber, and put the fort in a thorough state of defense by deepening the ditches, strengthening the parapet, and adding two rifle-pits leading north and south, commanding the best approaches."
Sergeant James C. Steakley, Company K, Third Missouri State Militia Cavalry, was near Ironton when the Confederate attack began.
[100]
"We ran with a will to the north rifle-pit, none of us being wounded except Sergt. H. Bidewell, of Co. K, who was hit in the knee and knocked down when about twenty feet from the rifle-pit. Being very near him as he fell, I grabbed him and rolled him into the pit like a pair of old fashioned winding blades. As soon as I landed in the rifle-pit I seized an Austrian rifle which had been dropped by someone and begged some cartridges from an infantryman. Along the ditch toward Fort Davidson, men were crammed and piled under the little bridge across the ditch like hogs in their bed in the dead of winter, and, although there were guns lying in the ditch and on its bank, some of those cowards had no guns and those who had were not using them any more than if the enemy were forty miles away. My own hands and face were nearly as black with wet and burnt powder as those of the brave negroes, who were fighting like heroes; so I shouted at the fellows under the bridge: 'Get out of here, you damned cowards, and go to fighting! What are you doing here, anyhow?' "
---