Artillery Platform: 24-pounder Howitzer (5 on map)
Tour Stop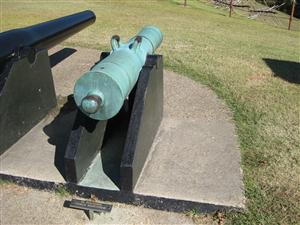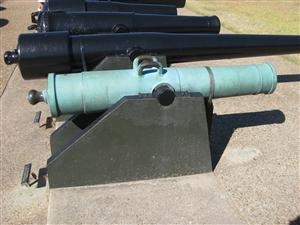 Directions
: This artillery platform [ Waypoint = N37 37.197 W90 38.409 ] holding a 24-pounder Howitzer was located in the northwestern angle of Fort Davidson. Walk into the entrance but stop where the parapet walls used to be before it was made into the modern entrance.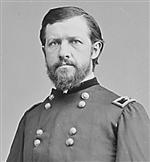 Description
: One of the artillery emplacements holding a 24-pounder Howitzer was located in this angle of Fort Davidson's hexagon. En barbette is a term which means that the artillery was positioned behind a protective wall. In this case the protective wall was the parapet of Fort Davidson. In his official report, Brigadier-General Thomas Ewing, Jr. wrote about the artillery in place at Fort Davidson.
[101]
"Fort Davidson is a hexagonal work, mounting four 32-pounder siege guns and three 24-pounder howitzers en barbette."
---