Good's Texas Battery
Tour Stop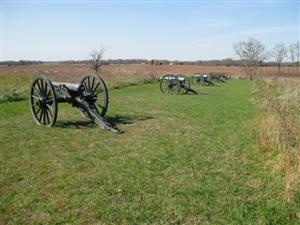 Directions: The five artillery pieces at the Foster's Farm Tour Stop [ Waypoint = N36 27.226 W94 03.024 ] mark the location of Good's Texas Battery [ Waypoint = N36 27.230 W94 03.105 ] during the initial fighting at Foster's Farm.
Walk over to the four gun battery that marks the location of Good's Texas Battery [ Waypoint = N36 27.230 W94 03.105 ].
Description: You are standing just south of Ford's Road and west of Round (also called Little) Mountain. Ford's Road traveled east/west from the Bentonville Detour passing in between Elkhorn (also called Big) Mountain and Round Mountain on the way to Elkhorn Tavern and the Wire Road. Confederate Major General Earl Van Dorn had sent Brigadier General Ben McCulloch and his division east along Ford's Road while Van Dorn continued along the Bentonville Detour with Major General Sterling Price's Division. They planned to meet up in the Federal rear at Elkhorn Tavern.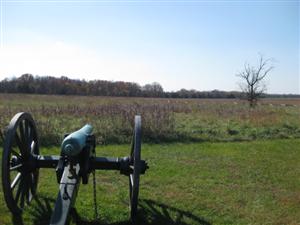 Look to the southwest where State Highway 72 bisects woods at the southern edge of the field. This is near the location from which the Federals emerged from the woods and engaged the Confederates with artillery fire.
Confederate Colonel Elkanah B. Greer described the events in his official report:
"We were ... in an open field. West of it the country was inclined to be a level ridge, known as Pea Ridge; northeast of it was a high mountain, and beyond this mountain was the Telegraph road. East of us ... was the Elkhorn Tavern; south of the field the country was hilly and broken and densely covered with heavy underbrush and large timber. Here the enemy opened fire upon us with a masked battery of three pieces in a southwesterly direction from us. This battery was supported by the heavy bodies of infantry and cavalry."
"General McIntosh at once ordered the different cavalry regiments to charge them. The head of my command, which was near General McCulloch and his staff at this time, wheeled to the right, commencing the charge, when General McCulloch in person ordered me to halt my command, remain, and cover his position. The charge was gallantly made by the rest of the cavalry, the cannon were captured, and the cavalry and infantry supporting them completely routed and dispersed."
---