Price's Southern Batteries
Tour Stop

Directions: Continue walking to the north along the park's hiking path. You will walk over a creek (this creek bed was dry during my visit in November 2009). Continue on the trail going off to the right that will take you up and out of Williams Hollow. Now you should be heading south/southeast. After you have walked for approximately 300 yards, you will be near the location where Major General Sterling Price started to deploy 21 artillery pieces [Waypoint = N36 27.828 W94 00.741 ] against the Federal forces north of Elkhorn Tavern.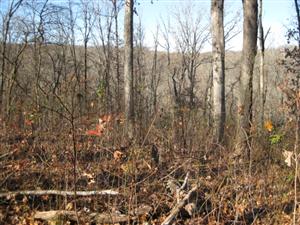 Description: You are standing on a plateau of a broad ridge that sits in between Williams Hollow and the Middle Ravine. Elkhorn Tavern is about 0.75 miles to the south/southeast of this location. The Federal battery, Jones' 1st Iowa, was about a half mile away on a line with Elkhorn Tavern sitting on the Narrow Ridge across the Middle Ravine from this spot. These were the Confederate batteries that would have such a devastating effect on the Federal battery.
Price later described this in his official report:
"A march of about 2 miles along the deep valley [Williams Hollow] through which the road leads brought us within view of the plateau upon which the enemy were posted, and which lay to the north of the Elkhorn Tavern.
"Our advance had already begun to skirmish with the vedettes of the enemy, when I discovered that they were about to place a battery in position to command the road. I at once deployed the brigades of General Slack and Colonel Little to the right and the rest of my forces to the left and took possession of the heights on either hand. This movement gave my artillery on the left a very commanding position, from which they were enabled not only to check the enemy's advance upon our left, but also to support our right in its advance upon the enemy."
---