Pea Ridge National Military Park Visitor Center
Tour Stop
Directions: The Pea Ridge National Military Park Visitor Center [ Map | Waypoint = N36 26.619 W94 01.555 ] is located at 15930 E Highway 62, Garfield, AR 72732
From Kansas City, Missouri, take US 71 south until the Exit 86 (Bentonville) and then go left (east) on US 62. Follow US 62 to the Park. The park's website has a link with directions.
From the U. S. Army Headquarters Historical Marker, proceed 0.4 miles east on US Highway 62. The entrance to Pea Ridge National Military Park will be on the left (north).
Description: There's alot to see at the Pea Ridge National Military Park Visitor Center. There is an access fee for entering the park that you can pay at the visitor center. There is a 30 minute video about the Battle of Pea Ridge. There is a museum that contains many artifacts from the battlefield. It was closed for renovations during my November 2009 site visit, but is supposed to reopen in March 2010.
All of the remaining tour stops take place along or within walking distance of the park's Tour Loop Road.
One artifact on display at the Visitor Center is a Model 1841 12-pdr Mountain Howitzer that was used during the Pea Ridge Campaign. The sign's text reads as follows:
"Model 1841 12-Pound Mountain Howitzer"
"Originally accepted for use by US Army in 1841, this unique weapon was designed to be pulled by one horse or mule or carried on the backs of three. With a range of 900 yards, this little gun could heft a 12-pound slid shot or exploding shell up and over obstacles."
"Four of these guns were used by Bowen's Missouri Cavalry Battalion in the fighting around Elkhorn Tavern on March 7, firing over 24 rounds apiece into the Confederate ranks."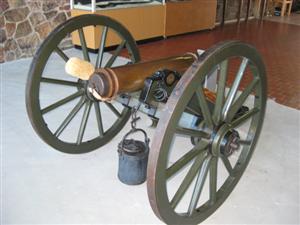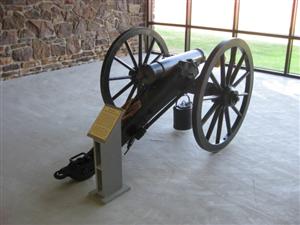 ---