Rocky Outcrop Bombardment
Tour Stop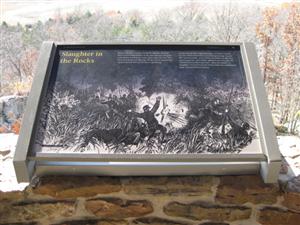 Directions: Before leaving the East Overlook Pavilion, take a few moments to read the "Slaughter in the Rocks" Interpretive Sign text:
"Below you here stand 30-foot-tall columns of stone. Bone-tired Confederates of the 2nd Missouri Brigade took shelter amid these rocky dens after the first day's hard marching and fighting. What at first seemed like a good natural defense became a death trap."
"As the second day's fighting began, 21 Union cannon in Cox's field below fired a punishing barrage toward the mountainside. A hurricane of artillery projectiles, rock fragments, and timber splinters tore through the infantrymen posted near here. After 30 minutes of slaughter, General Earl Van Dorn ordered a withdrawal back toward Elkhorn Tavern."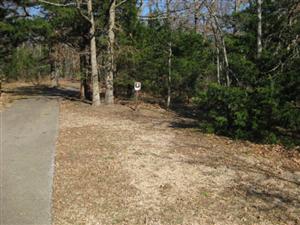 Now you can visit the location described in the interpretive sign. As you leave the pavilion there will be a walking trail heading east. Follow this path for 0.25 miles and you will be near the location [ Waypoint = N36 27.267 W94 01.120 ] where Confederate troops experienced the horror of the Federal artillery bombardment on Mach 8th.
Description: You standing in the same general area occupied by Confederate Colonel Thomas H. Rosser's Second Missouri Brigade on the morning of March 8th (The brigade's commander General William Y. Slack had been mortally wounded during the fighting on March 7th). On the morning of March 8th, the Confederates positioned here came under a massive barrage of artillery fire from the Federal batteries. Many of the Confederates were killed or wounded before being ordered to withdraw. Colonel Rosser in his official report:
"Early on the following morning, the 8th instant, in obedience to orders from headquarters, I caused the infantry of the brigade to be placed. on the extreme right of the line of battle, which had been drawn up on the top of Sugar Mountain. Each battalion of the command received a shower of cannon ball and grape shot for at least an hour without the possibility of discharging a gun. At this time we were ordered to fall back."
---