Federal Entrenchments at Little Sugar Creek
Tour Stop
Directions: This tour stop is part of the Pea Ridge National Military Park but is detached from the main park of the park. The remains of the Federal Entrenchments at Little Sugar Creek [ Waypoint = N36 25.247 W94 03.434 ] are located at near the intersection of Sugar Creek Road and S Old Wire Road [ Map | Waypoint = N36 25.177 W94 03.337 ].
From the end of the Bentonville Detour, head south down the Old Wire Road.
After 0.6 miles, turn right (west) onto Gann Ridge Road.
Follow Gann Ridge Road for 4 miles where it joins State Highway 72. Remember that Gann Ridge Road changes its name to Twelve Corners Road near the Twelve Corners Church.
Turn left (east) onto State Highway 72.
After 2.4 miles, turn right (west) onto US Highway 62.
After 1 mile, turn left (east) onto Sugar Creek Road.
After 0.6 miles, you should see a parking area [ Waypoint = N36 25.196 W94 03.346 ] on the left (north).
There is an interpretive sign [ Waypoint = N36 25.208 W94 03.357 ] a short distance north of the parking area.
Walk past the sign and you should see a walking path which will take you to the top of the bluffs on which Curtis built his defenses. It is a relatively short, but steep, walk to the top [ Waypoint = N36 25.247 W94 03.434 ].
Description: You are standing near where Union Brigadier General Samuel R. Curtis established the center of his defense line at Little Sugar Creek. Look to the south and west and you can see the flat terrain of Little Sugar Creek Valley. Looking to the south you should also be able to make out the high bluffs south of the creek's valley.
"Where I Knew I might Make the Best Fight" Interpretive Sign [ Waypoint = N36 25.208 W94 03.357 ] text reads as follows:
"The high bluffs here on Little Sugar Creek were a scene of frantic activity on the morning of March 6, 1862 as Federal soldiers shoveled out rifle pits and cut down trees for hasty field fortifications."
"With no hope of reinforcements from St. Louis, General Samuel Curtis had only 10,500 men to confront a Confederate army of more than 16,000 marching toward him. Curtis ordered his men to use this creek and the line of steep hills to prepare a strong defense."
"Sugar Creek's trenches were never used in combat. During the night, the Confederates marched completely around these positions. On the morning of March 7, 1862, the Union army had to turn around and fight at Leetown and Elkhorn Tavern."
As you walk past the interpretive sign and up the trail, you will be able to see how this was a formidable position from which to defend against an attack by the Confederates. The Wire Road went up and out of the Little Sugar Creek Valley right at this point and Curtis deployed his army across the Wire Road on these bluffs.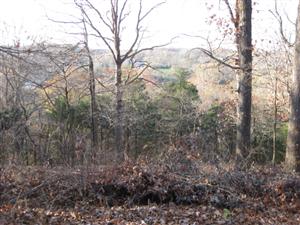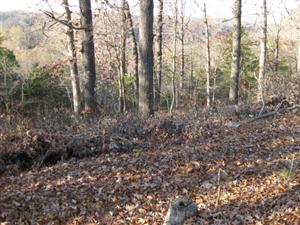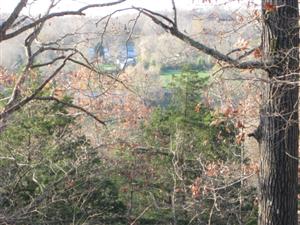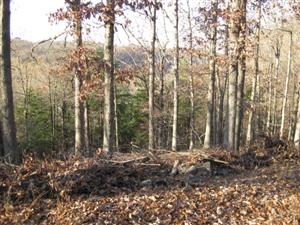 Union Brigadier General Samuel R. Curtis would deploy his entire army along the north ridge at Little Sugar Creek. He expected an attack by Van Dorn from the south. Asboth's 2nd Division secured the Federal right flank. Osterhaus's 1st Division would be on Asboth's left. Davis's 3rd Division would be in the center astride the Wire Road and Carr's 4th Division would anchor the Federal left flank.





By March 3rd, Curtis knew he had to withdraw further north. He had decided to withdraw all of his forces to the strong position across the Wire Road that he had seen at Little Sugar Creek. On March 3rd Curtis sent the following message to Union Brigadier General Franz Sigel over at McKissick's Creek:
"I shall remain here at Cross Hollow till you move around to Sugar Creek, when we must intrench ourselves. I hope your movement will secure a thorough knowledge of the country and roads passing around our Sugar Creek station. The Third Iowa reconnoitered within 5 miles of Fayetteville to-day; there was no sign of any movement; but the people speak of continued augmentation of the enemy's forces."

Curtis kept his superior, Halleck, informed of his dispositions:
"The only strong point to intrench is Sugar Creek, and Cross Timber, beyond this. Cross Hollow is easily turned by an open campaign country a little west of the crossing. Sugar Creek Hollow extends for miles, a gorge, with rough, precipitate sides, the road crossing it at nearly right angles."
On March 5th Curtis had reports from one of his spies that Van Dorn was on the move. He sent the following message to Sigel:
"One of my spies fell in with some rebels who stole our wagons 10 miles out on the Fayetteville road. The spy pretended to be secesh, and they told him (the spy) that Price was moving on us; that his artillery passed through Fayetteville yesterday; that some of his force would camp on the Burnt Mill to-night. This may be only a feint, but we had better unite our forces at Sugar Creek, and be ready for any occasion. This place [Cross Hollow] can only be useful as an outpost with a small force. Our stand must be at Sugar Creek, where I hope to join you to-morrow."
Now Curtis was convinced that he needed to concentrate his forces and entrench at Little Sugar Creek. Curtis sent word to Sigel to leave McKissick's Creek at once and join him at Little Sugar Creek by March 6th.
"The 5th of March was cold and blustering. The snow fell so as to cover the ground. No immediate attack was apprehended, and I was engaged writing. About 2 o'clock p. m. scouts and fugitive citizens came in, informing me of the rapid approach of the enemy to give me battle. His cavalry would be at Elm Springs, some 12 miles distant that night, and his artillery had already passed Fayetteville. Satisfied of the truth of this report, I immediately sent couriers to General Sigel and Colonel Vandever, and ordered them to move immediately to Sugar Creek, where I also ordered Colonel Carr to move with his division."
On March 6th Curtis had reported to Halleck that he had 10,500 cavalry and infantry along with forty-nine pieces of artillery, including the mountain howitzers. When he arrived at Little Sugar Creek, Curtis issued orders to protect his army against attack:
"I arrived at Sugar Creek at 2 o'clock a. m. on the 6th, and immediately detailed parties for early morning work in felling timber, to obstruct certain roads to prevent the enemy having too many approaches and to erect field works to increase the strength of my forces."
"The Third and Fourth Divisions had before noon of the 6th deployed their lines and cut down a great number of trees, which thoroughly blockaded the roads on the left. Later in the day I directed some of the same work to be done on the right. This work was in charge of Colonel Dodge, who felled trees on the road which runs parallel to the main road to which I have before referred. This proved of great advantage, as it retarded the enemy some two hours in their flank movement. Breastworks of considerable strength were erected by the troops on the headlands of Sugar Creek as if by magic, and a battery near the road crossing was completely shielded by an extensive earthwork, erected, under the direction of Colonel Davis, by a pioneer company, commanded by Captain Snyder."
By the end of March 6th, Curtis was very confident of his strong position along Little Sugar Creek:
"The accompanying map of the battle ground will fully illustrate the positions then and subsequently assumed. In my front was the deep, broad valley of Sugar Creek, forming the probable approaches of the enemy, our troops extending for miles, and generally occupying the summits of headlands on Sugar Creek. In my rear was a broken plateau called Pea Ridge, and still farther in my rear the deep valley of Big Sugar Creek, or Cross Timber. My own Headquarters and those of Generals Sigel, Asboth, and other commanders of divisions were near Pratt's house. The lines A, B, and C show the different fronts assumed during the progress of the battle."
---