East Overlook
Pea Ridge NMP Tour Stop #7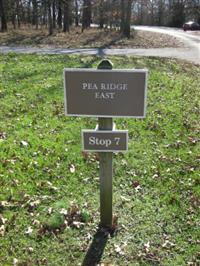 Directions: After walking back to your car, drive approximately 1.5 miles to the next parking area [ Waypoint = N36 27.294 W94 01.292 ] along the Park's Tour Road. Take the short walking path out to the Overlook's pavilion [ Waypoint = N36 27.252 W94 01.375 ]. You should be able to see an excellent panorama of the eastern part of the battlefield from this vantage point. There are a number of interpretive signs that help explain what you can see from this vantage point.
Description: You are standing on the heights of Elkhorn (also called Big) Mountain. From this vantage point, you can see much of the terrain for the fighting that took place on March 7th and 8th.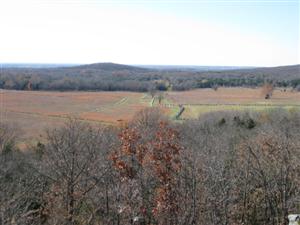 Look to the southeast and it's easy to pick out Round (also called Little) Mountain. You should be able to make out the Ford Road running just to the north of Round Mountain.  Planning to join up with Generals Van Dorn and Price near Elkhorn Tavern, Confederate Brigadier General Ben McCulloch's Division was taking this route when he was interrupted by Union Colonel Peter Osterhaus and his detachment of Federal troops at Foster's Farm. Foster's Farm is not visible on the far side of Round Mountain. South of Round Mountain is Morgan's Woods and you should be able to make out Oberson's Field to the southwest.
"Hard Fighting Near Leetown" Interpretive Sign text reads as follows:
"The families who lived outside Leetown, Arkansas first heard shots fired on the far side of Little Mountain, the low wooded rise you see to the right. Half the Confederate Army of the West was marching eastward on Ford Road moving this way. To delay their link-up with the other half of the Confederate army nearing Elkhorn Tavern, a small Federal force opened fire across the fields of Wiley Foster's farm."
"The fighting intensified as Texas and Arkansas regiments moved south from Foster's farm to Samuel Oberson's wide cornfield. Later in the afternoon the action bogged down in a thick 100-acre woods belonging to Elizabeth Morgan. As darkness fell, the Confederates near Leetown pulled back, marching behind Big Mountain – where you now stand – to rejoin their commander on the Telegraph Road."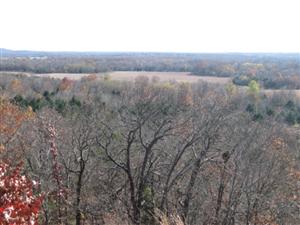 Look to the east-southeast and you can see Ruddick's Field where Missouri State Guard Major General Sterling Price had pushed back Federal defenders from north of Elkhorn Tavern to the woods on the southern end of Ruddick's Field. But Union Colonel Eugene Carr's division was able to delay Price's advance long enough and sunset brought an end to the fighting on March 7th.
"Fiery Finale on Ruddick's Field" Interpretive Sign text reads as follows: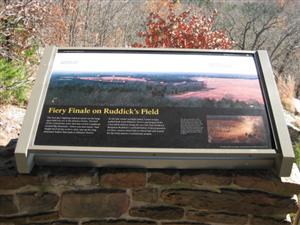 "The first day's fighting ended at sunset on the large open field you see in the distance below. The half of the Confederate army that had circled completely around Big Mountain – where you now stand – had fought hard all day to force their way up the mountain hollow that leads to Elkhorn Tavern."
"As the late winter sunlight faded, Union troops pulled back from Elkhorn Tavern and prepared for a last-ditch defense along the tree line that bordered Benjamin Ruddick's cornfield below. Federal gunners set their cannon wheel hub to wheel hub and waited for the final massive Confederate assault."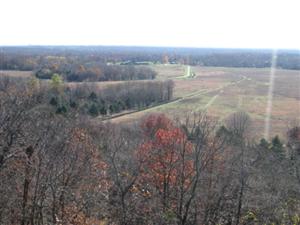 Now look south and find the Visitor Center. To the right of the Visitor Center and a little to the west of due south of your position was the headquarters of Union Brigadier General Samuel R. Curtis. He had troops over in Leetown and troops over by Ruddick's Field. His reserves were around the area of the headquarters. Before Curtis had the advantage of interior lines he was able to reorganize his forces into a strong line of battle during the night of March 7th and 8th. Curtis had also been able to safely withdraw his supply wagons to the south. So the Federal troops were resupplied that night.
Confederate Major General Earl Van Dorn had much greater distances between his forces. It was not until late on the afternoon of March 7th that Van Dorn discovered that McCulloch and McIntosh had been killed and the entire right wing of his army was in complete disarray. To make things even worse, his supply wagons were miles away near Bentonville, Arkansas.
"Night Moves" Interpretive Sign text reads as follows: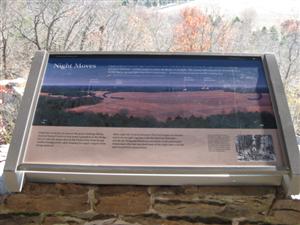 "From this overlook you can see the great challenge facing General Samuel Curtis as two armies grappled on Pea Ridge – how to turn the 10,500 men in the Union army from facing south to facing north, while keeping his supply wagons from being captured."
"After night fell, Federal divisions that had fought at Leetown had to be brought together with the battered defenders you see astride the Telegraph Road below. Cold and hungry Union men who had marched most of the night had to be fed and issued fresh ammunition."
"Thousands of men and horses, hundreds of wagons, and dozens of cannon jostled along narrow country roads in the dark. Union officers took little comfort in knowing that the Confederates faced the same demanding task that winter night. Both armies had to be able to reorganize and resupply and to be able to fight again."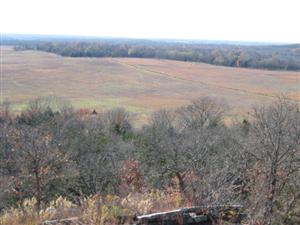 During the night Curtis had redeployed his entire army into a mile-long line of battle south of where you are standing. Carr's 4th Division (1,500 men) would anchor the Federal right flank (your left) in the woods bordering the southern end of Ruddick's Field. Davis's 3rd Division (2,000 men) would be in the center astride the Wire Road just to the north of the Visitor Center. Osterhaus's 1st Division (3,000 men) would be on the Federal left center. Asboth's 2nd Division (2,500 men) secured the Federal left flank stretching up towards Ford Road.
"It Was The Grandest Thing I Ever Saw..." Interpretive Sign text reads as follows: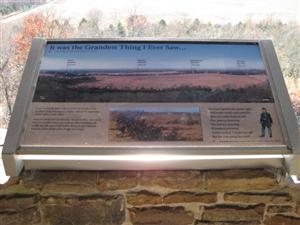 "It was extremely rare in the Civil War to be able to see an entire army lined up for a fight, with all the regiments in sight of each other."
"Had you stood here on Saturday, March 8, 1862, you could have seen Union men in battle lines stretching for a mile over the open fields below. It was a sight that few veterans of the battle of Pea Ridge ever forgot."
---