Peter Joseph Osterhaus
(January 4, 1823 – January 2, 1917)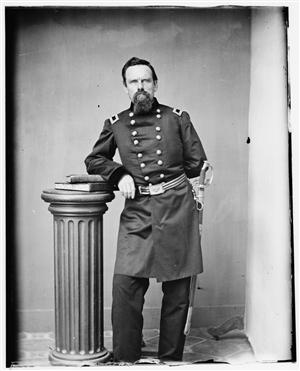 Peter Joseph Osterhaus would end up in St. Louis, Missouri in the late 1850s, having fled his native Germany after taking part in a failed rebellion against the German Confederation. Osterhaus was one of many Missouri German-Americans who would volunteer to fight for the Union at the beginning of the American Civil War. He would rise rapidly into leadership positions within the Union Army, eventually attaining the rank of Major General of Volunteers.
An immigrant from Germany, Osterhaus did not graduate from West Point. He would continually fight the stigma of be thought of as a "political general". He would avoid the political intrigues of other political generals and let his performance in the field do his talking for him. At times, his advancement, particularly during the Atlanta Campaign, would lead to the resentment of his peers.
Peter Joseph Osterhaus led troops in the Battles of Boonville, Wilson's Creek and Pea Ridge as the Union struggled to keep the state of Missouri in the Union. Osterhaus played key roles in U.S. Grant's Vicksburg and Chattanooga Campaigns, as well as Sherman's Atlanta and Savannah Campaigns. At the conclusion of the war, Major General Osterhaus would sign the document accepting the surrender of Lieutenant General Simon Bolivar Buckner on behalf of the Confederate forces in the Trans-Mississippi. Following the end of the war, Osterhaus served as the Military Commander of the District of Mississippi. He would also serve as the U.S. Consul to Lyon, France before eventually returning to Mannheim, Germany where he lived until his death.
---