Charles Rainsford Jennison
(June 6, 1834 – June 21, 1884)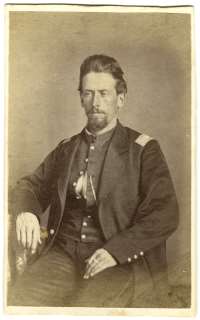 After emigrating to Kansas in the late 1850s, Charles R. "Doc" Jennison's name would become synonymous with "Jayhawking". Both prior to and during the war, Jennison frequently led his men across the border into Missouri to rob, steal, plunder, and burn whatever they could lay their hands upon.
Twice Jennison was asked by the Governor of Kansas to raise a cavalry regiment to defend Kansas against Southern invasion during the American Civil War. The Seventh Kansas Volunteer Cavalry Regiment would become infamous and would be known as "Jennison's Jayhawkers". After Quantrill's Raid on Lawrence, Jennison would raise the 15th Kansas Volunteer Cavalry Regiment.
Jennison's jayhawking would eventually cause him to be court-martialed and dishonorably discharged from the US Army in 1865.
Pre-Civil War Role
Charles Rainsford Jennison was born in Antwerp, Jefferson County in northwestern New York. When Jennison was 12, his family moved west to a small town near Madison Wisconsin. While living there, Charles studied medicine and became a practicing doctor. In 1857, Doctor Charles Jennison moved to Osawatomie, Kansas. Less than a year later, Jennison relocated south to Mound City in Linn County, Kansas.
Soon after arriving in Mound City, Jennison thrust himself into a leadership role. Mound City was competing with Paris to be the Linn County seat. After Paris threatened to contest Mound City's victory in a vote, Jennison organized a band of men to ride to Paris, seize the county records by force, and then take them back to Mound City.

While in Mound City, Jennison also participated in retaliatory raids across the border led by prominent Mound City resident James Montgomery. They would be referred to as "the scourges of the border." However, Jennison soon felt too constrained by the limits that Montgomery imposed on what could be taken in these raids. Jennison would begin to lead his own raids across the Missouri border. Jennison would proclaim his war against the Missourians to be "self-sustaining." In addition to taking anything of value, often Jennison's men would destroy whatever they couldn't take. His men would be referred to as Jennison's Jayhawkers.
Jennison also would punish pro-slavery men based in Kansas. In the fall of 1860, Jennison led his men on a punitive raid against some pro-slavery settlers living near Trading Post, Kansas. The raid was retribution for the murder of some free-state men by members of a pro-slavery group called the "Dark Lantern Order." Jennison rounded up a number of prisoners an hastily conducted a "trial." Among the prisoners was Russell Hinds who would kidnap blacks in Kansas and take them to Missouri for a five dollar bounty. At the trial's end, all prisoners except Hinds were released on the condition that they immediately leave the Kansas Territory. Hinds was found guilty and hanged on November 12, 1860. Later that month Jennison wrote about this incident in a letter to George L. Stearns:
"...for the last year that this county has been infested by a band of desperadoes known as Kidnapers and that it has become necessary for us as Anti Slavery Men to take a stand against that and accordingly as the offences become more frequent we resolved and publickly two that any man found guilty of that crime should pay the forfeit with his life and accordingly as we had the proof we arrested one Rus Hinds and tried him publickly and Hung him for being Engaged in that unholly business..."

A few days later, Jennison and his men captured Samuel Scott, who they also tried, convicted and executed. They next went after Lester D. Moore, who they believed was a member of the Dark Lantern Order. He resisted their attack and was shot dead. To put a stop to Jennison's vigilantism, the Kansas Territorial government offered a reward for Jennison's arrest. In December 1860, U.S. Army General William S. Harney sent two companies under the command of Captain Nathaniel Lyon to arrest Jennison and Montgomery. Lyon was unable to find either of the two men. It has been reported that Lyon was not motivated to find them because he was an abolitionist himself and thus sympathetic with Jennison's and Montgomery's actions.
Jennison was now a fugitive from justice, but the outbreak of the civil war would render that moot.
Civil War Role

In 1861, Kansas Governor Charles Robinson gave Jennison a Colonel's commission and asked him to raise the Seventh Kansas Volunteer Cavalry Regiment.

In response to Quantrill's Raid on Lawrence in August of 1863, Kansas Governor Thomas Carney asked Colonel Jennison to raise the 15th Kansas Volunteer Cavalry Regiment.
Jennison's jayhawking would eventually cause him to be court-martialed and dishonorably discharged from the US Army in 1865.
Jennison's Jayhawkers


During the summer of 1861, Doc Jennison formed a company of Kansas state militia that he called the Mound City Sharp's Rifle Guards. During their frequent raids into Missouri, they did not distinguish between secessionists and loyal Unionists. Eventually Kansas Governor Charles Robinson asked the Federal commander in the west, Major General John Charles Fremont, to authorize Jennison to raise a volunteer cavalry regiment. It was highly likely that Robinson gave this commission to Jennison in order to further remove him from Kansas politics. Jennison was a powerful ally of

Senator James H. Lane, Robinson's chief rival in Kansas.
The result was the Seventh Kansas Volunteer Cavalry Regiment being formed and mustered into service on October 28, 1861. Its commander would be Colonel Charles R. Jennison. The Mound City Sharps Rifle Guards would become Company H with the notorious outlaw, Marshall Cleveland, as its captain. Another member of Company H was an 18-year-old horse thief with the name of

William F. Cody (the future Buffalo Bill). Company K was commanded by Captain John Brown, Jr. After Brown's resignation in May 1982, George H. Hoyt would become Company K's Captain. When mustered into service, the 7th Kansas would have just under 1,000 men serving in 10 companies.
Jennison would waste no time in punishing Missouri secessionists for their transgressions. While the regiment was still being organized and

Major General Sterling Price was threatening Lexington, Missouri, Jennison took some of his cavalry to Independence, Missouri at the request of its Marshall, William Miles. Jennison proceeded to arrest every adult male and seize all of their possessions. With Miles help, Jennison then identified and released all known Unionists, sending them on their way with their possessions. Jennison proceeded to admonish the remaining, accused secessionists and warned them to stop their depredations against pro-Union Missourians. Then he released them, but kept their possessions.
Jennison was often absent from the regiment leaving his second in command,

Lieutenant Colonel Daniel Anthony in command. The 7th Kansas Cavalry was assigned to patrol duty in Kansas City, Missouri. While there, Jennison would issue a proclamation whose purpose was to remove the means by which secessionists would be able to sustain themselves in western Missouri. All individuals who were not loyal to the Union would be required to sign a "Deed of Forfeiture" turning over all of their possessions to the US Government. Anyone who did not sign the deed would be considered a traitor and killed.
Although Jennison was absent, the 7th Kansas Cavalry saw its first action on November 10, 1861. Lieutenant Colonel Anthony took three companies east of Independence along the Little Blue River against a force of Southerners recently recruited by a Captain Upton Hays. Outnumbered by 4-to-1, Anthony's force attacked and was soundly defeated. During the retreat, Anthony's force destroyed the rebel camp and captured their horses.
On December 19, 1861,

Major General Henry Halleck wrote a letter to General-in-Chief Major General

George B. McClellan complaining about the jayhawking perpetrated by Jennison's regiment:
"The conduct of the forces under Lane and Jennison has done more for the enemy in this State than could have been accomplished by 20,000 of his own army. I receive almost daily complaints of outrages committed by these men in the name of the United States, and the evidence is so conclusive as to leave no doubt of their correctness."
Halleck received the following message from Colonel

Frederick Steele concerning raiding by Jennison:
"J. W. Smith ... reports that Jennison's men, under Major Anthony, are there [Rose Hill, Missouri], committing depredations upon Union men and secessionists indiscriminately. They have burned forty-two houses in that vicinity and robbed others of valuables and driven off stock.
Mr. Smith says they took his wife's silverware, furs, & c. He estimates the value of property taken from loyal citizens at $7,000; and, to cap the climax, they shot to death Mr. Richards, a good Union man, without cause or provocation.
He further states the people, except the strongest Union men, are going to Price's army for protection. The force engaged in this business is estimated at 300 or 400. At last accounts these banditti were about 50 miles from here. On my advice Mr. Smith started for Kansas to report these circumstances to General Hunter and request him to take measures for the recovery of the stolen property.
I saw a letter from a lady this evening, which was full of taunts, and no doubt many people believe that Jennison is carrying out the policy of our Government.
I would send out all my cavalry to bring in all these marauders, but we are in the midst of a very severe storm, and it is probable that they could not be overtaken within the limits of this State."
Complaints from outraged Missourians would continue to force Halleck to take steps against Jennison's raids:
"I inclose herewith a copy of a letter from Colonel Steele, commanding at Sedalia, in relation to depredations committed by Jennison's men in Western Missouri. Similar accounts are received of the conduct of the First Kansas Regiment along the Missouri River, in the counties of La Fayette and Jackson. These men do not belong to this department, and have no business to come within the State. I have directed General Pope to drive them out, or, if they resist, to disarm them and hold them prisoners. They are no better than a band of robbers; they cross the line, rob, steal, plunder, and burn whatever they can lay their hands upon. They disgrace the name and uniform of American soldiers and are driving good Union men into the ranks of the secession army. Their conduct within the last six months has caused a change of 20,000 votes in this State. If the Government countenances such acts by screening the perpetrators from justice and by rewarding with office their leaders and abettors it may resign all hopes of a pacification of Missouri. If Kansas troops are again permitted to come into this State to commit depredations, the State can be held only by the strong arm of military power. The bitter animosity created against these troops is naturally transferred to the Government which supports them and in whose name they pretend to act."

In order to stop the jayhawking, Major General David Hunter issued General Orders No. 17 in the Department of Kansas on February 5, 1862, declaring marital law:
"The civil authorities of Kansas being manifestly unable to preserve the peace and give due security to life and property, and having in various instances notified the general commanding of their inability to uphold the laws unassisted by the military arm, and the crime of armed depredations or jayhawking having reached a height dangerous to the peace and property of the whole State and seriously compromising the Union cause in the border counties of Missouri: Now, therefore, martial law is declared throughout the State of Kansas and will be enforced with vigor.
"... the crime of jayhawking shall be put down with a strong hand and by summary process, and for this purpose the trial of all prisoners charged with armed depredations against property or assaults upon life will be conducted before the military commissions ..."
Even with all the evidence of his regiment's jayhawking, Major General Hunter gave Jennison a promotion on January 31, 1862 to acting Brigadier General. His new brigade would be made up of the 7th Kansas Cavalry, the 8th Iowa Infantry and a battalion of the 7th Missouri Infantry.
Halleck had had enough and decided to send Jennison to New Mexico to fight the Apache. Jennison would submit his resignation on April 10, 1862 and it would be accepted on April 15, 1862. But Jennison was not satisfied with simply resigning. He called together the 7th Kansas Volunteer Cavalry and gave them an

animated speech. In the speech he explained why he had resigned, condemned his Union commanders as being pro-slavery, and encouraged members of the regiment to follow him in continuing to defend Kansas. Brigadier General Samuel Sturgis ordered Jennison arrested and incarcerated in a St. Louis, Missouri prison. The Jennison propaganda machine started working in earnest. Jennison was never brought to trial. When released from prison, Jennison was hailed as an anti-slavery hero in Kansas.
Meanwhile, the 7th Kansas Volunteer Cavalry Regiment was sent east of the Mississippi River to Corinth, Mississippi. Charles R. Jennison would retire briefly to civilian life until called back to service in the protection of his state. The reason would be the raid on Lawrence, Kansas and the massacre of 150 of its citizens by the Missouri guerrillas led by William C. Quantrill.
15th Kansas Cavalry

Following the Lawrence Massacre, Kansas Governor Thomas Carney commissioned Jennison a Colonel and requested he raise a cavalry regiment. With the help of George H. Hoyt (commander of the original Kansas Red Legs), Jennison raised a regiment within a month. The regiment was mustered into service with over 1,000 men on October 17, 1863. Jennison would be the regiment's commanding officer, operating out of Fort Leavenworth, Kansas. Hoyt would be its second in command, a Lieutenant Colonel. For awhile the 15th Kansas Cavalry would stay in Kansas, quietly patrolling the border counties.

But in the fall of 1864, Jennison would be called in to help defend Kansas (and Missouri) against an invasion from the south by Major General Sterling Price. Ironically, the 7th Kansas Cavalry was part of Union Major General Alfred Pleasonton's Cavalry Division that was pursuing the rear of Price's Army. Jennison was in command of the 15th Kansas Cavalry and would be waiting to fight Price's Army just east of Kansas City, Missouri.
Price's Raid into Missouri

In the fall of 1864, Confederate Major General Sterling Price had invaded Missouri with his Army of Missouri in order to capture war supplies and recruit supporters of the Confederacy. Heading west towards Kansas City,

Price's army was being pursued by three Union cavalry divisions under the command of Major General Alfred Pleasonton. Waiting for Price in Kansas City was the Union Army of the Border commanded by Major General Samuel R. Curtis. Outnumbered by the advancing Confederates, Curtis' immediate objective was to delay Price long enough to allow Pleasonton time to catch up.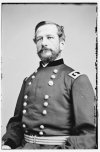 Jennison's original regiment, the 7th Kansas Volunteer Cavalry, was part of the 2nd Brigade in the Cavalry Division commanded by Major General Alfred Pleasonton. The commander of the 7th Kansas was Major Francis M. Malone. Pleasonton's Division was rapidly catching up to the rear of Price's Confederate Army.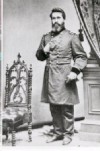 Waiting in front of the advance of Price's Army was a combination of Kansas State Militia and the Army of the Border commanded by Major General Samuel R. Curtis. Major General James G. Blunt was in command of a Division of US Volunteers. Colonel Charles R. Jennison was in command of the First Brigade in this division. In the First Brigade was the 15th Kansas Volunteer Cavalry commanded by Lieutenant Colonel George H. Hoyt.
Beginning on October 21, 1864, Jennison's Brigade of Volunteers would participate in a running series of battles against the Confederate Army of Missouri. Union Major General James Blunt took Jennison's First Cavalry Brigade and Colonel James H. Ford's Fourth Cavalry Brigade to reinforce

Colonel Thomas Moonlight's Second Cavalry Brigade during the Battle of the Little Blue River. By late afternoon on October 21st, Blunt would be forced back into Independence, Missouri. Here he tried to make another stand against the advancing Confederate Army. Still outnumbered badly, Blunt eventually withdrew back to the defenses that Major General Samuel Curtis had prepared along the Big Blue River.
Blunt deployed Jennison's First Brigade at Byram's Ford on the Big Blue River. Here Jennison had his men dig in for the attack they

knew was coming. Byram's Ford was an important ford across the Big Blue River. After reaching the east side of Byram's Ford, Confederate Brigadier General Jo Shelby sent some of his cavalry upstream and downstream to find a way across and they discovered an undefended ford. He then made a feint towards Byram's Ford, but sent the main part of his cavalry across outflanking Jennison's position on the western bank. Jennison and the rest of Blunt's 1st Division were forced to withdraw back to Westport on the northern bank of Brush Creek.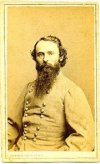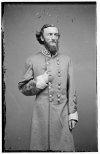 The Confederate Army was now across the Big Blue River. Price sent Brigadier General Jo Shelby's and Major General James F. Fagan's Divisions to the heights south of Brush Creek in preparation for an attack against the Federals. Price had Major General John S. Marmaduke's deploy his division in the entrenchments on the western banks of the Big Blue River at Byram's Ford.
The Battle of Westport took place the next morning on October 23, 1864. Union Major General Samuel R. Curtis decided to take the offensive and attacked the Confederate positions. Jennison's 1st Cavalry Brigade participated in these attacks. Although the initial Federal attacks were driven back by the Confederates, Curtis was able to find a way to flank the Confederate position. While the Confederates pulled back, Curtis ordered Jennison forward on the attack. As his forces moved south astride Wornall's Lane, he deployed McLain's Colorado Battery forward. A force of Confederate cavalry under the command of Colonel James H. McGhee made a furious counterattack. Only quick thinking by Colonel Jennison repelled the Confederate counter attack. He described this action in his official report:
"The First Brigade, with a detachment of the Second Colorado and McLain's battery, took position on the right of the road, commencing an impetuous attack upon the rebels, who were rallying for a charge upon the battery, one section of which was posted directly in the road. Hardly had we taken position when the enemy charged in column upon the guns up the road, which were supported by time Second Colorado, the First Brigade being to the right in front as they advanced, Company E, Fifteenth Kansas Volunteer Cavalry, forming the left of the brigade line and deployed as skirmishers. Seeing that a desperate effort was required to save the battery I immediately rallied Company E and led in person a charge upon the flank of the rebel column, a movement which was entirely successful, though a desperate hand-to-hand contest ensued, after maintaining which for a short time the enemy withdrew in disorder toward his main lines southward."
For his brigade's actions that day, Major General Curtis would name Jennison to his Role of Honor in his official report:
"In conclusion although I have specially commended most of my comrades who ought to be prominently named, yet I here again present the roll of honor, which I hope may be transmitted to posterity, and ask for the generous sympathy of their countrymen and from their Government the advancement due to those who have gained victories, conquered armies, saved cities, and increased the great aggregate of glorious achievements which are crushing the rebellion."
Although Pleasonton's Division would take the lead in the Federal pursuit of Price's retreating army, Jennison's Brigade would be engaged at the Second Battle of Newtonia. Union Major General James G. Blunt was leading Jennison's 1st Brigade and Ford's 4th Brigade when they caught up with Price just south of Newtonia, Missouri. Although the Federals were outnumbered, Blunt formed them into line of battle. Blunt

assumed that Curtis would show up soon with reinforcements. Confederate General Jo Shelby deployed his division and attacked the Federals, driving them back to Newtonia. Just as it was getting dark on October 28, 1864, Union General John Sanborn arrived at the scene with the much needed reinforcements. Shelby withdrew and Price continued his retreat south into Arkansas. As he reported later, Jennison did not participate personally in the battle:
"I was not myself a witness of the hard-fought battle of Newtonia nor a participant. Two evenings previous I had been rather severely kicked by a mule, and not supposing a battle imminent, had accepted a seat in an ambulance with Gen. Curtis, neither of us being aware of the fight until it was over."
Dismissal from the Army
After Union Major General Samuel R. Curtis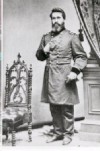 called off the pursuit of Confederate Major General Sterling Price, Jennison would continue his jayhawking ways on his return to Kansas. In December of 1864, Major General James G. Blunt began an inquiry into allegations of atrocities by Jennison and the 15th Kansas Cavalry:
"I have learned unofficially that the command under Col. C. R. Jennison, Fifteenth Kansas Volunteers, on their return from the Arkansas River, after the abandonment of the pursuit of Price committed many acts of vandalism on their march through Washington and Benton Counties, Ark. This outrageous conduct of Colonel Jennison and a portion of his command (for if what I have heard is true it can be characterized in no other terms) was wholly unauthorized by superior officers and is very much deprecated. I inclose you official copy of instructions1 to him when he left me at the Arkansas River. He was sent in that direction to meet supply train that was following in my rear, and it was expected that lie would proceed to Fort Scott with as little delay as possible without interrupting any one in the country through which he passed except armed parties of the enemy. I am causing an investigation into the conduct of Colonel Jennison in Northwestern Arkansas, with a view of meting out just punishment to the guilty parties, and to further the object I desire that you shall take measures to ascertain all the facts you can in relation to the affair mentioned (Colonel Jennison's conduct in Washington and Benton Counties on his return march) and forward to me with as little delay as possible. The testimony should be ill the form of affidavits and the loyalty of the witnesses certified to."

Reporting from Cave Spring, Missouri, Captain Green C. Stotts send the following accusations to Brigadier General John Sanborn, who then forwarded it on to Blunt:
"Jennison has just passed through this vicinity on his return from Arkansas River. The night of the [November] 19th he staid at Newtonia, the 20th at Sarcoxie, and the 21st at Dry Fork. Where he passed the people are almost ruined, as their houses were robbed of the beds and bedding In many cases every blanket and quilt were taken; also their clothing and every valuable that could be found, or the citizens forced to discover. All the horses, stock, cattle, sheep, oxen, and wagons were driven off. What the people are to do it is difficult to see. Many of them have once sympathized with the rebellion, but nearly all of them have been quiet and cultivated their farms during last year, expecting the protection of U. S. troops. Jennison crossed Coon Creek with as many as 200 head of stock cattle, half of them fit for good beef, 200 sheep, 40 or 50 yoke of work oxen, 20 or 30 wagons, and a large number of horses, jacks, jennets, say 100, as they were leading many of their broken-down horses and riding fresh ones. The Fifteenth Kansas had nearly all this property, and the men said they had taken it in Missouri. There are cases where the men tore the clothing oft of Women in search of money, and threatening to burn houses in order to get money is the common practice. They acted worse than guerrillas. Can the stock be returned to this department so that the owners can get their property."
After being arrested, Jennison strenuously defended his actions:
"I was placed in command of a brigade 200 miles away from its base of supplies without subsistence or forage, dependent wholly upon the country through which we passed for supplies. It has ever been my policy, and still is, to protect the Government and soldiers even to the sacrifice of rebels and their sympathizers, as this captain is upon whose affidavit this action is based. My command many of them had been without food for five or six days, except beef. Further, let me say that my orders from the general commanding the First Division, Army of the Border, through his regular staff officer, in presence of at least ten officers of my brigade, was to desolate the country from the Arkansas River to Fort Scott, and burn every house on the route. For simply carrying out in part these instructions the enlisted men who have battled for the cause of our country so nobly are to suffer. As regards the acts that were said to have been committed, they are but light, and all stock taken from the enemy has been or will be properly accounted for by the quartermaster in charge. All that I ask is that justice may be done the soldiers of my command. My orders, as will be seen, are very strict, and before any commission the officers and men would be exonerated from all blame whatever, I think."
On June 23, 1865, Colonel Charles R. Jennison was dishonorably discharged from service as stated in General Orders, No. 153, Department of the Missouri:
"Colonel Jennison was subsequently tried before a general court-martial at Fort Leavenworth, Kans., on the charges of "conduct to the prejudice of good order and military discipline, gross and wilful neglect of duty, defrauding the Government of the United States, and disobedience of orders," was found guilty and sentenced to be dishonorably dismissed the service of the United States."
Post-Civil War Role


After being dishonorably discharged from the army, Jennison moved to Leavenworth, Kansas. When Daniel R. Anthony ran for Mayor of Leavenworth against former Kansas Governor Thomas Carney, Jennison campaigned against Anthony and Anthony was defeated in the 1865 election. In May of 1865, there was a chance encounter between Jennison and Anthony. Both men carried sidearms. After a heated exchange of words, there was gunfire during which Jennison was wounded in the leg. Jennison was brought to trial for "breach of the peace and shooting with intent to kill," but was acquitted.
Jennison would serve on the Leavenworth city council for four years. Jennison was elected to the Kansas Legislature from Leavenworth County in 1865, re-elected in 1867, and elected to the Kansas State Senate in 1871. Charles Rainsford Jennison died in Leavenworth, Kansas on June 21, 1884 from a chronic respiratory ailment. Jennison was buried in Greenwood Cemetery, Leavenworth, KS 66048, but his grave marker has not survived to the present.
Sites of Interest
Jennison's Place of Burial
Greenwood Cemetery, Leavenworth, KS 66048
| Map | Waypoint |
References
Connelley, William E. A Standard History of Kansas and Kansans. Chicago: Lewis Publishing Company, 1918.
U.S. War Department, The War of the Rebellion: A Compilation of the Official Records of the Union and Confederate Armies, 70 volumes in 4 series. Washington, D.C.: United States Government Printing Office, 1880-1901. Series 1, Volume 8.
U.S. War Department, The War of the Rebellion: A Compilation of the Official Records of the Union and Confederate Armies, 70 volumes in 4 series. Washington, D.C.: United States Government Printing Office, 1880-1901. Series 1, Volume 13.
U.S. War Department, The War of the Rebellion: A Compilation of the Official Records of the Union and Confederate Armies, 70 volumes in 4 series. Washington, D.C.: United States Government Printing Office, 1880-1901. Series 1, Volume 17.
U.S. War Department, The War of the Rebellion: A Compilation of the Official Records of the Union and Confederate Armies, 70 volumes in 4 series. Washington, D.C.: United States Government Printing Office, 1880-1901. Series 1, Volume 41.
---