James G. Blunt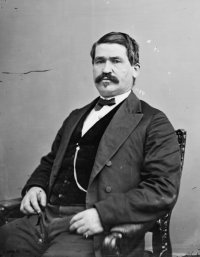 (July 21, 1826 – July 27, 1881)
James G. Blunt rose to the rank of Major General during the American Civil War after actively particpating in the formation of the State of Kansas.
Blunt commanded Union forces that fought in the battles of Newtonia (1862), Old Fort Wayne, Prairie Grove, Honey Springs, Little Blue River, Westport, and Newtonia (1864).
Pre-Civil War Role
(July 21, 1826 – July 27, 1881)
James G. Blunt was born in Trenton, Maine. Moving to Ohio, he attended medical school and began practicing medicine in 1850. Blunt relocated to northern Anderson County, Kansas in the fall of 1856 and became involved in the struggle known as Bleeding Kansas.
Blunt himself has written that he was an abolitionist and moved to the Kansas Territory to help make it a free state. Anderson County had been the scene of much violence between abolitionist and pro-slavery factions. However, by the time Blunt arrived, it was predominantly an abolitionist county. Blunt had met the abolitionist,

John Brown, who lived close by and found him a very serious and religious man. In the Fall of 1857, James H. Lane was placed in charge of the free-state militia by the Kansas territorial legislature and named Blunt to his staff of military aides.
In March 1859, Anderson County elected Blunt as a delegate to the Wyandotte Convention. Blunt played an active roll at the convention which ended up drafting a "free-state" constitution. This constitution was approved 2-to-1 by the Kansas voters and became the present Constitution of the State of Kansas. Kansas was admitted to the union as a state on January 29, 1861.
Civil War Role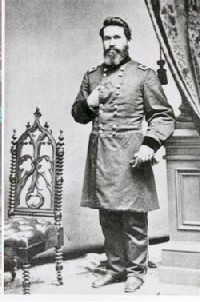 Early in 1861, Blunt was helping James H. Lane raise regiments of Kansas Volunteers. At Fort Scott, Lane assembled three of these regiments in what would be called the Lane Brigade. Blunt was appointed Lieutenant Colonel in the Third Regiment second in command to Colonel James Montgomery. Lane left Blunt in charge at Fort Scott while he took the Lane Brigade into Missouri in September of 1861. Soon a band of pro-confederate raiders entered Kansas and was plundering towns.

Blunt led two companies to pursue the raiders. They caught up with them and scattered them, killing their leader.
After the First Battle of Lexington, Blunt rejoined his regiment in Kansas City, Missouri. He took his regiment out to locate the Missouri State Guard under the command of Major General Sterling Price.

Blunt's Regiment was part of Union Major General John C. Fremont's Army of the West that pursued Price's Army as it escaped into Arkansas.

In April 1862, Blunt was promoted to Brigadier General and placed in command of the Department of Kansas reporting to Major General Henry Halleck in the Department of the Missouri. The Department of Kansas included Kansas, the Indian Territory (present day Oklahoma), Nebraska, Colorado and Dakota. Blunt soon came into conflict with Kansas Governor Charles Robinson, a political opponent of James H. Lane. Blunt also ran into conflict with his superior officer, General Halleck, in part because Halleck was not an abolitionist.
In June of 1862, Blunt ordered the editor of the Democratic leaning Leavenworth Inquirer arrested on charges of treason and the paper shut down. At the same time, Blunt was faced with protecting his department from the raids by Missouri guerrillas. On June 26, 1862, Blunt issued General Order No. 13 which gave permission to his field commanders to not treat captured guerrillas as prisoners of war. Captured guerrillas would be summarily tried and, if convicted, executed. This order would be carried out with the execution of Jeremiah Hoy at Fort Leavenworth on July 18, 1862. Hoy had ridden with Quantrill's Company Partisan Rangers.
In September 1862, Blunt left Fort Scott with two brigades (about 1,500 men) and headed for southwestern Missouri. On September 30, 1862, Blunt engaged and was defeated by Confederate forces under the command of Colonel Douglas H. Cooper at the First Battle of Newtonia. Following this defeat, Blunt's forces were incorporated in the Army of the Frontier commanded by Brigadier General John M. Schofield.On October 22, 1862, Blunt's First Division attacked Col. Douglas H. Cooper and his Confederate command on Beatties Prairie near Old Fort Wayne and forced them to withdraw.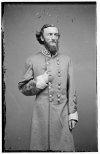 On November 28, 1862, Blunt's Army of the Frontier (about 5,000 men) moved to prevent the occupation of the Cane Hill area in Arkansas by Brigadier General John S. Marmaduke's Cavalry Division (about 2,000 men). Marmaduke was surprised by Blunt and, being outnumbered, decided to withdraw. He ordered Shelby's Brigade to cover the retreat. Blunt's victory received great coverage in the Kansas press.

As part of the plan to regain Missouri for the Confederacy, Major General Thomas Hindman set his army of 9,500 men in motion against Blunt at Cane Hill. Blunt found out about Hindman's movements and got the Federal army moving on December 3rd. Because he knew he was outnumbered, Blunt sent a request for reinforcements to Brigadier General Francis Herron in Springfield, Missouri.

Soon after the Confederates attack began on the morning of December 7, 1862, Blunt knew he was not facing the entire Confederate force. Realizing the main Confederate force had moved around him and that Herron's command was in danger, Blunt sent a warning over to Herron along with reinforcements. He then began moving his division to support Herron's position. Blunt was still five miles away when the Confederates attacked Herron's command northeast of Prairie Grove Church. After reaching Prairie Grove, Blunt joined in on the attack and, as it began to get dark, Hindman ordered his Confederate forces to withdraw to Van Buren, Arkansas.
After the victory at Prairie Grove, Blunt pursued the Confederates who had withdrawn to Van Buren. On December 27th, his forces defeated a unit of Texans at Dripping Springs. He than moved quickly into Van Buren, Arkansas and captured large quantities of supplies intended for the Confederate Army. Blunt destroyed what supplies his army could not use. In large part due to Blunt's victories, the Federals now controlled northern Arkansas, Missouri, and much of the eastern Indian Territory. As a result of these victories and press publicity, Blunt received a promotion to Major General in March of 1863.
Early in 1863, the Army of the Frontier was reorganized and Blunt returned to Fort Leavenworth as commander of the District of Kansas. Here he took actions to stop the stealing and killing by the pro-Union guerrillas, the Red Legs. On March 2, 1863, he issued an order banning "secret organizations" that were committing robbery and murder "under the guide of patriotism." The result was that the illegal raiding by the Red Legs was largely under control by the Summer of 1863.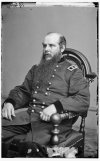 In April and May of 1863 there was a lot of upheaval in the leadership of the Union forces in Missouri and Kansas. After the dust settled, Major General John M. Schofield would relieve Major General Samuel Curtis as commander of the Department of the Missouri. Brigadier General Thomas Ewing would be the commander of the District of the Border in northern Kansas and Blunt would be the commander of the District of the Frontier in southern Kansas and southern Missouri border counties. This was not good news for Blunt's career.
During this period, Blunt became involved in the corruption that was rampant throughout Union installations in the Trans-Mississippi Theater. The predominant form of the corruption had to do with the delivery of supplies to Union forces. His inability to get along with his superiors and his inability to repudiate the specific accusations would harm his reputation.
Now Blunt turned his attention to the Indian Territory. Union control of Fort Gibson was being threatened by Confederate resistance. Supplies were not getting through to Fort Gibson because of raids by Missourians. Blunt established a post at Baxter Springs to provide greater protection to the supply trains. On July 2 while escorting a wagon supply train, a Union Cavalry force of about 600 colored and white troops drove off a Confederate force of about 1,600 men in the Battle of Cabin Creek.

Three days later, Blunt decided to march to the support of Fort Gibson. He arrived at Fort Gibson on July 11th and marched out to meet the enemy with about 3,000 troops on July 15th. On July 17, 1863, Blunt's forces attacked and defeated Confederate forces led by Brigadier General Douglas H. Cooper in the Battle of Honey Springs. It is interesting to note that blacks and Native Americans made up a significant percentage of the troops fighting for both sides of this battle. The Confederates retreated to For Smith, Arkansas.
Although he was very sick, Blunt continued to press on after the Confederates, intending to take control of Fort Smith. A detachment of Blunt's forces captured and destroyed a significant Confederate supply depot at Perryville, Oklahoma. On September 1, 1863, a detachment of Blunt's forces under the command of Colonel William F. Cloud defeated Confederate forces commanded by Brigadier General William Cabell in the Battle of Devil's Backbone in western Sebastian County, Arkansas. As a result of this victory, Union forces occupied Fort Smith, Arkansas for the first time since the Civil War started. Blunt proclaimed that "the entire Indian Territory and Western Arkansas" were under Federal control. Blunt planned on moving his headquarters to Fort Smith, Arkansas. First he would travel to Fort Gibson by way of Baxter Springs, Kansas.

After conducting many raids in Kansas, including the Lawrence Massacre, William Quantrill was headed to Texas for the winter. On October 6, 1863, he attacked a Union outpost at Baxter Springs in order to capture supplies. Fighting for about thirty minutes from an earth and log fort, the Union forces were able to fight off an attack by a detachment of Quantrill's raiders. Unaware of this attack, Blunt and his escort were approaching Baxter Springs on their way to Fort Gibson. A detachment of Quantrill's raiders (about 300 men) led by Quantrill himself attacked Blunt's group. Although many fled, Blunt was able to rally a small group to fight off the attack. Most of the rest of his party had fled. Few of those that fled were able to escape from Quantrill's men. The northern press labeled the affair the Baxter Springs Massacre. Most of the members of Blunt's military band had been accompanying him and were killed during the fighting. Major H. Z. Curtis, a member of Blunt's staff and the son of Major General Samuel Curtis, was killed during the fighting. Justifiably or not, the fight at Baxter Springs was a black mark on Blunt's record. Supposedly, Quantrill later said, "By God, Shelby could not whip Blunt; neither could Marmaduke, but I whipped him." On October 19, 1863, Schofield removed Blunt from command of the Army of the Frontier for his actions at Baxter Springs.

But changes in the Union command structure would soon bring Blunt back to the forefront in Kansas. In December of 1863, Lincoln reassigned Schofield as commander of the Army of the Ohio. Major General Samuel Curtis was named commander of the Department of Kansas on January 1, 1864. Major General William Rosecrans was named commander of the Department of the Missouri on January 28, 1864. Major General Alfred Pleasonton was transferred from the Army of the Potomac to the Department of the Missouri on March 23rd.
In January 1864, Blunt traveled to Washington to meet with Kansas Senator Lane and was able to meet with President Lincoln at which time Lincoln assured Blunt of his support. Blunt was named the commander of the District of the Frontier on February 23rd.
Again, Blunt would get himself into trouble with his superiors. Blunt was very interested in leading an expedition against the Confederates south into Texas. To gather the forces necessary, he began to lobby for troops from neighboring Federal Districts. He also began to meddle in the affairs of the adjacent Department of Arkansas. As a result, Blunt was ordered to report to General Curtis for reassignment. When Blunt arrived at Fort Leavenworth, Curtis told him there was no support for his expedition into Texas and to stop meddling in other Federal districts. But Blunt continued to meddle and accusations of corruption in military supplying were being associated with Blunt once again. Blunt had fallen a long way and now was exiled in western Kansas. For a time in 1864, he was a Major General without any troops to command. Later Blunt was given the command of a small group of few hundred troops to patrol western Kansas.

At the same time, Blunt's mentor, Kansas Senator James Lane, was encountering political difficulties of his own. Blunt's actions may have had a negative effect on Lane's power base in Kansas. Lane was being challenged by Kansas Governor Thomas Carney for his senate seat and the control of the Kansas Republican Party.
Throughout the spring and summer of 1864, Native Americans were increasing their raids in western Kansas. Curtis put Blunt in command of the District of the Upper Arkansas and Blunt set up his headquarters at Fort Riley in Kansas. Blunt took his troops out and attacked the raiding Native Americans, scattering them.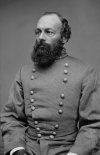 The fall of 1864 would provide Blunt with an opportunity to redeem himself and return from exile. In a last ditch effort to regain the state of Missouri for the Confederacy, General Kirby Smith appointed Major General Sterling Price to lead an expedition of 12,000 cavalry troops into Missouri. Price would enter Missouri on September 19, 1864 and his objective was to attack St. Louis and capture it's military stores. Price was unable to keep his preparations and movements secret and the Federal commanders in the west began making their preparations to resist Price's raid into Missouri.
As Price continued to move west across St. Louis, General Curtis made a formal request on October 5th to Governor Carney to cal up the Kansas Militia. On October 9th, Curtis also recalled Blunt from western Kansas for reassignment. On October 11th, Curtis put Blunt in command of the First Division, Army of the Border. The Army of the Border would take the field against Price's Army approaching from the east.
Blunt sent units from his division to Lexington, Missouri to delay Price's advance and gain time for Curtis to establish a defensive line along the Big Blue River east of Kansas City, Missouri. Beginning on October 19th and ending on October 28th, Blunt's Division would be involved in a series of battles against Price's Army.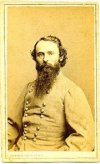 On October 19th in the Second Battle of Lexington, Blunt's Division fought a delaying action against the Confederates before withdrawing to the Little Blue River just east of Independence, Missouri. Here Blunt set up a defensive line and held off units from Confederate Generals Jo Shelby's and James Fagan's Divisions on October 20th in the Battle of the Little Blue River. After resisting, Blunt withdrew to Independence, Missouri, but had to fall back to the Big Blue River. There Blunt deployed his division as part of Curtis' main defensive line there.
On October 22nd in the Battle of Byram's Ford, Blunt's position was flanked by units from Shelby's Division and Blunt had to retreat to Westport, Missouri. This exposed Curtis' position who ordered the Army of the Border to withdraw to Westport. On October 23rd in the Battle of Westport, Blunt's Division initiated an attack against the Confederate positions south of Brush Creek in the Battle of Westport. These attacks failed to dislodge the Confederates from the high ground until Curtis found a way to move around the Confederate left flank. At the same time Union General Alfred Pleasonton's Division had forced a crossing at Byram's Ford and appeared on the Confederate's right flank. Blunt's Division joined in the attack that routed the Confederates who retreated south.

Beginning on October 24th, Blunt's Division was part of the Federal pursuit column that went after Price's retreating army. Although Pleasonton's Division took the lead, Blunt's Division fought Jo Shelby's Division in the Second Battle of Newtonia on October 28th. This battle was a Union victory and was the final battle of Price's Raid into Missouri. As a result of the Union victories against Price, Blunt regained his reputation, Lane was re-elected to Senate, and Governor Carney was soundly defeated for re-election by Colonel Samuel Crawford, a Lane protégé.
For awhile in 1865 Blunt planned an expedition into Texas, but the surrender of Confederate General Kirby Smith and the Confederate Army of the Trans-Mississippi ended the war in the west.
Post-Civil War Role
Blunt resigned from the army on July 29, 1865. He was 39 years old. He moved to Leavenworth, Kansas and resumed his medical practice. He was admitted to the Kansas Bar. He moved to Washington, D.C. in 1869 and practiced law. In the late 1870s, Blunt began to act irrationally and was committed to an asylum in 1879. Blunt died in 1881 and is buried in Mount Muncie Cemetery in Leavenworth, Kansas.
Sites of Interest
Blunt Grave - Mount Muncie Cemetery, 1500 N. 8th Street, Lansing, Kansas 66043
| Map | Waypoint = |
References
---