Marmaduke and Cabell Captured
Tour Stop 3.10 [ Waypoint = N38 08.311 W94 43.587 ]
Directions to Stop #3.10: Follow the trail north to Trail Marker 10. This tour stop is located near Pleasanton, Kansas 66075.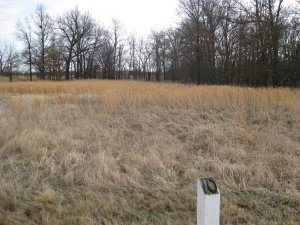 Description: You are now standing in the middle of where Cabell's Brigade was deployed. Remember that once the Federal Cavalry charged it took only 15 to 20 minutes for them to break the Confederate lines in multiple places.
All during the fierce fighting, Major General John S. Marmaduke kept on trying to rally his troops to fight off the attacking Federals. It was during this time while Marmaduke was trying to rally his troops that he came to be captured by Private James Dunlavy of Company D of the Third Iowa Cavalry. Dunlavy took his prize north and turned him over to Colonel Charles W. Blair of the Third Brigade in Blunt's Division. Blair presented Marmaduke to General Curtis who was at the Ragain's house on the Mound City Road (present State Highway 52).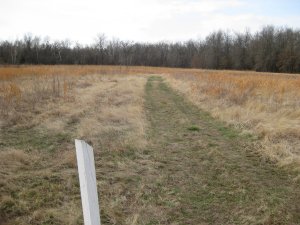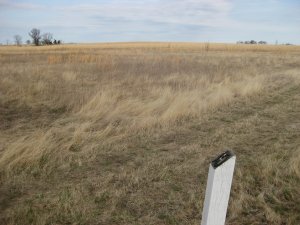 Brigadier General William L. Cabell soon realized that the Confederate line was being routed. Being surrounded, he gathered a small group of troops and tried to break through the Federals south of this position in order to get to and across Mine Creek. Cabell reached the creek and tried to get across, but his horse could not get up the steep bank and fell back. At this point he was captured by a squad from the Seventh Missouri State Militia Cavalry. The Federals did not realize that Cabell was a general and Cabell was able to escape. This time he was captured by Sergeant Cavalry N. Young of Company L of the Third Iowa Cavalry Regiment. Still not knowing they had captured a general officer, Cabell managed to escape again. But he ended up being captured yet a third time by Young's squad. Young finally discovered who Cabell was and immediately escorted hi to the rear.
Both Young and Dunlavy were later awarded the Congressional Medal of Honor for their actions. Colonel W. F. Slemmons, commander of Slemmons' Brigade in Fagan's Division, was also captured. All the colonels in Cabell's Brigade were casualties that day.
---