Battle Aftermath
Tour Stop 3.11 [ Waypoint = N38 08.460 W94 43.528 ]
Directions to Stop #3.11: Follow the trail and you will come to Trail Marker 11 right after crossing a small, wooden footbridge. This tour stop is located near Pleasanton, Kansas 66075.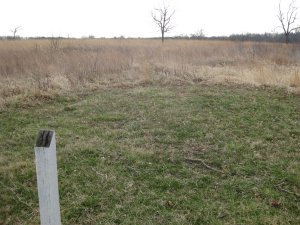 Description: Few Federals were involved in the cleanup after the battle and many Confederate prisoners escaped. There was considerable indiscriminate killing of prisoners. No Kansas Militia units were present, but there were many individual militiamen that had gone to the front to exact revenge for what they considered to have been Confederate atrocities. Many of the Confederates being taken prisoner were wearing the Federal uniforms captured earlier in Glasgow, Missouri. In his official report, Colonel Philips stated that some captured Confederates were executed because they were wearing Federal uniforms. Some of the Union troopers had had comrades killed by Shelby's men at the Osage. The Missouri State Militia were under orders to execute Confederates, primarily guerrillas, who attacked wearing Union uniforms. Some had been in the Indian Territory in September when General Gano's men had killed union prisoners. It is highly likely that both Curtis and Pleasonton knew of these killings, but chose to ignore them.
Confederate casualties - 500 captured, at least 200 (possibly 300-400) killed, and 200 seriously wounded
Federal casualties - 8 killed and 56 seriously wounded
Meanwhile, units from Philips' and Benteen's Brigades crossed Mine Creek in pursuit of the fleeing Confederates. Fagan attempted to make a delaying action about a mile south of Mine Creek. But as Philips' prepared to attack, Fagan withdrew his forces south. At this time, Pleasonton had order Philips to halt the pursuit until reinforcements could be brought forward. But both Sanborn and McNeil were several miles north of Mine Creek and were very slow to move south. Blunt's Division was still north of the Marais des Cygnes River. He was slow moving because he was angry at having been removed from the advance of the Federal pursuit column. Once again the Federal pursuit stalled.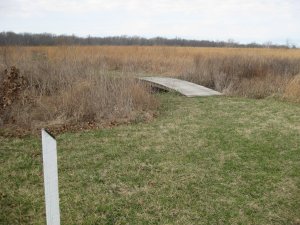 Marmaduke's and Fagan's Divisions were completely demoralized - some referred to this as the "Stampede on the Prairie" These divisions had lost over 1,000 men, all their artillery and many small arms.
Follow the trail back to the Visitor Center. You will walk past a couple of interpretive markers along the way.
---