Bellefontaine Cemetery - Part 3
The John Pope Grave at Bellefontaine Cemetery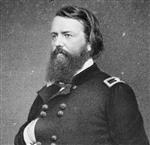 The John Pope Grave at Bellefontaine Cemetery [ Waypoint = ??? ] is located in Block 86, Lot 197.
Return to your car and continue on Balm.
Turn left onto Woodbine.
Drive past the Adolphus Busch Mausoleum and take the first left.
Look for the cemetery's blue CW22 marker and find a place to park.
Born in Kentucky, John Pope graduated from the United States Military Academy at West Point in 1842. Lieutenant John Pope served with distinction in the Mexican-American War. After the war, Captain Pope served as an engineer in the U. S. Army. In 1861, Captain John Pope was selected as one of four officers who would escort President-Elect Abraham Lincoln to Washington for the inauguration. [216]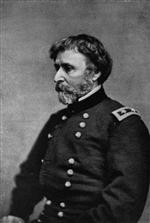 On July 29, 1861, Major-General John C. Fremont assigned Brigadier-General John Pope to command all of the troops in the State of Missouri north of Saint Louis. This arrangement continued when Fremont was replaced by Major-General Henry Halleck. On December 3, 1861, Halleck placed Pope in command of all Federal forces between the Missouri and Osage Rivers. On December 18, 1861, Brigadier-General Pope led a force of around 4,000 Federal volunteers against 4, 000 to 6,000 Southern recruits that were moving south to join up with Missouri State Guard Major-General Sterling Price. Pope caught up with the enemy force near Blackwater in Cooper County, Missouri. Pope succeeded in surrounding a portion of the enemy force, capturing 1,300 prisoners. [217]
On February 23, 1862, Halleck placed Brigadier-General Pope in command of the Army of the Mississippi, which was assembling at Commerce, Missouri. On February 28th, Pope left Commerce with about 10,000 effectives to go against Confederate forces in New Madrid, Missouri. Pope's army reached New Madrid on march 3rdand discovered he was facing five Confederate infantry regiments and several companies of artillery. After several days of fighting, Pope forced the Confederates to withdraw to Island No. 10 and captured New Madrid on March 14, 1862. Island No. 10 would prove more difficult because it was defended by 12,000 enemy troops and 58 artillery pieces. To go against Island No. 10, Pope would have the assistance of Commodore Andrew Foote and his ironclad gunboats. In order to get a portion of his forces in the rear of Island No. 10, Pope ordered his men to dig a canal, which ended up being 12 miles long and 50 feet wide with a channel deep enough for small steamers. On April 4th, Commodore Foote ordered the ironclad gunboat, USS Carondelet, to run the enemy batteries on Island No. 10. Now Pope and Foote had cut off the Confederate garrison at Island No. 10. The Confederates surrendered on April 7th. In his official report, Pope described the extent of the victory: [218]
It is almost impossible to give a correct account of the immense quantity of artillery, ammunition, and supplies of every description which fell into our hands. Three generals, 273 field and company officers, 6,700 privates, 123 pieces of heavy artillery, 35 pieces of field artillery) all of the very best character and latest patterns), 7,000 stand of small-arms, tents for 12,000 men, several wharf-boat loads of provisions, an immense quantity of ammunition of all kinds, many hundred horses and mules, with wagons and harness, &c., are among the spoils. Very few, if any, of the enemy escaped, and only by wading and swimming through the swamps.
John Pope was promoted to Major-General on March 21, 1862. On June 26th, Major-General John Pope would be ordered east to take command of the Army of Virginia. On July 14, 1862, Major-General John Pope issued the following message to his new army: [219]
Let us understand each other. I have come to you from the West, where we have always seen the backs of our enemies; from an army whose business it has been to seek the adversary and to beat him when he was found; whose policy has been attack and not defense. In but one instance has the enemy been able to place our Western armies in defensive attitude. I presume that I have been called here to pursue the same system and to lead you against the enemy. It is my purpose to do so, and that speedily. I am sure you long for an opportunity to win the distinction you are capable of achieving. That opportunity I shall endeavor to give you. Meantime I desire you to dismiss from your minds certain phrases, which I am sorry to find so much in vogue amongst you. I hear constantly of "taking strong positions and holding them," of "lines of retreat," and of "bases of supplies." Let us discard such ideas. The strongest position a soldier should desire to occupy is one from which he can most easily advance against the enemy. Let us study the probable lines of retreat of our opponents, and leave our own to take care of themselves. Let us look before us, and not behind. Success and glory are in the advance, disaster and shame lurk in the rear. Let us act on this understanding, and it is safe to predict that your banners shall be inscribed with many a glorious deed and that your names will be dear to your countrymen forever.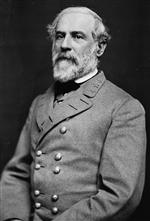 Pope's arrogance caught up to him in the Second Battle of Bull Run (Second Manassas), when he went up against Confederate Generals Robert E. Lee, Stonewall Jackson and James Longstreet. Over three days from August 28-30, 1862, the Army of Virginia was routed by Lee's Confederates. From General Robert E. Lee's official report: [220]
On the morning of the 30th the enemy . . . Jackson's troops . . . began to press steadily forward, driving the enemy before them. [The enemy] retreated in confusion, suffering severely from our artillery, which advanced as he retired. General Longstreet . . . now threw his whole command against the Federal center and left . . . The whole line swept steadily on, driving the enemy with great carnage from each successive position until 10 p.m., when darkness put an end to the battle and the pursuit . . . The enemy . . . was falling back rapidly toward Washington.
In the series of engagements on the plains of Manassas more than 7,000 prisoners were taken, in addition to about 2,000 wounded left in our hands. Thirty pieces of artillery, upward of 20,000 stand of small-arms, numerous colors, and a large amount of stores, besides those taken by General Jackson at Manassas Junction, were captured.
Major-General Pope did not recover from this defeat and was relieved of his command of the Army of Virginia on September 5, 1862 and the troops were absorbed by George McClellan's Army of the Potomac. On September 6th, Secretary of War Edwin Stanton assigned Major-General John Pope to be the commander of the Department of the Northwest where Pope would spend the rest of the war fighting Indians. [221]
After the war ended, Pope would be assigned as Military Governor of the Third Military District (Georgia, Florida, and Alabama) during Reconstruction. At the end of 1867, President Andrew Johnson replaced Pope with Major-General George Meade. Pope was reassigned to the western United States where he would fight the Apache.
The Roswell M. Field Grave at Bellefontaine Cemetery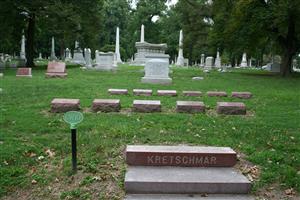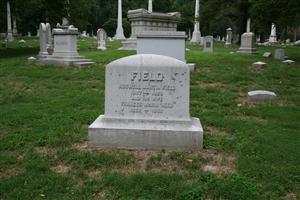 The Roswell M. Field Grave at Bellefontaine Cemetery [ Waypoint = N38 41.493 W90 13.720 ] is located in Block 73, Lot 611.
Turn around, return to Woodbine and turn left.
After about 0.1 miles, turn right onto Wild Rose.
Look on the right for the cemetery's green CW10 marker.
The Field grave is just behind the marker.
A distinguished St. Louis attorney, Roswell M. Field will always be tied to Dred Scott. Although his son, Eugene, was more famous, Roswell M. Field was a prominent St. Louis attorney in the 1850s. Originally born in Vermont, Field emigrated to St. Louis in 1839. Roswell M. Field took on Dred Scott's case in 1853. Field was Dred Scott's attorney in Dred Scott's suit filed in the Circuit Court of the United States. The trial took place in the Old Courthouse in St. Louis, Missouri. Roswell M. Field is buried in Bellafontaine Cemetery in St. Louis, Missouri. [222]
The Thomas L. Snead Grave at Bellefontaine Cemetery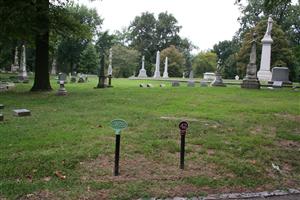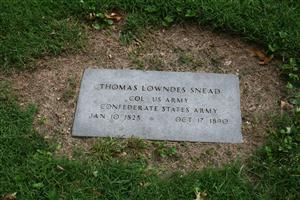 The Thomas L. Snead Grave at Bellefontaine Cemetery [ Waypoint = N38 41.492 W90 13.776 ] is located in Block 65, Lot 1926.
Continue on Wild Rose take the first right onto Memorial.
Look for the cemetery's green CW25 marker on the left.
The Snead grave is about 80 feet back from the road.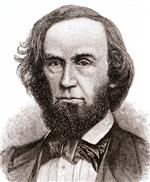 Born in Virginia, Thomas Lowndes Snead graduated from Richmond College in 1846 and from the University of Virginia in 1848. Snead moved to St. Louis, Missouri in 1850 to practice law. In 186o Snead became editor and proprietor of The St. Louis Daily Bulletin, a newspaper published in St Louis. At the outbreak of the Civil War, he promptly took sides with the South, and during the war period held several responsible positions, first as aide-de-camp of Governor Claiborne F. Jackson, then as Adjutant-general of the Missouri State Guard, and later as chief of staff of the Army of the West. His military career came to a close in May, 1864, when he entered the Confederate Congress as a member from Missouri. After the war ended in 1865, Snead relocated to New York City and became managing editor of the New York Daily News Two years later he gave up journalism to resume the practice of law, and was admitted to the Bar of New York. Colonel Snead died in New York City on October 17, 1890. [223]
Thomas L. Snead was the author of the book, The Fight For Missouri: From The Election Of Lincoln To The Death Of Lyon, which was published in 1886.
The James B. Eads Grave at Bellefontaine Cemetery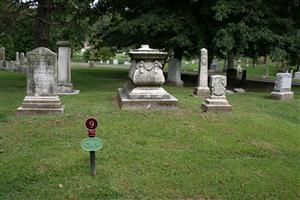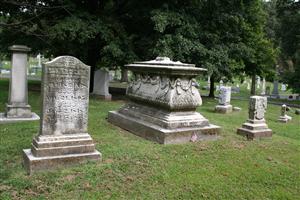 The James B. Eads Grave at Bellefontaine Cemetery [ Waypoint = N38 41.567 W90 13.902 ] is located in Block 59, Lot 217.
Follow Memorial around the bend, passing Magnolia and Linden.
Continue onto Memory passing Vale.
Stop after passing Woodland.
Look for the cemetery's red 9 and green CW9 markers on the right.
The Eads grave is just behind the markers.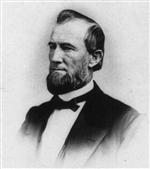 Born in Indiana in 1820, James B. Eads moved to Kentucky with his parents in 1829. The Eads family finally settled down in St. Louis, Missouri in 1833. By 1842, Eads was working for a boat-building company called Case & Nelson, which specialized in recovering and rebuilding sunken steamboats and their cargoes. Eads left this business and started a glass making business. This did not turn out to be profitable and Eads returned to boat-building. By 1855, his boat-building business had become very profitable. James B. Eads retired from boat-building in 1857 because of health problems. [224]
He would return to boat-building in 1861 in order to compete for a United States government contract to build ironclad gunboats for use on the Mississippi River. James B. Eads was awarded the contract in which he had stipulate that he would complete seven ironclad gunboats in 65 days. Eads built these boats in Carondelet, Missouri, just a few miles south of St. Louis. He launched the first ironclad gunboat on October 12, 1861, just 45 days after laying the keel. It was named the "St. Louis", but the name was later changed to the "Baron De Kalb." The next six gunboats were named "Carondelet," "Cincinnati," "Louisville," "Mound City," "Cairo," and "Pittsburgh." These gunboats played a key role in the Union victories at Fort Henry, Fort Donelson, Island No. 10 and, of course, the capture of Vicksburg. [225]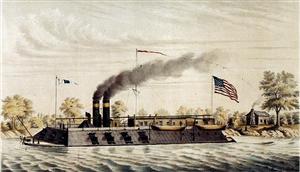 On November 7, 1861, Captain Andrew H. Foote Captain, U. S. Navy wrote to the War Department with some concerns about the gunboats: [226]
The gunboats draw light; but with the iron plating on . . . is now 13 inches from the water lying still in smooth water. Two rudders are still to be shipped, and these in a short time, by absorption of water, will sink from their own weight if detached from the vessels. The wheel buckets are also to be put on, which will increase the weight astern. All of which you will see leaves little or no room for clearance of water, as the wheel buckets, rudders, &c., alluded to will have an actual weight of 3 ½ tons on the extreme stern, which will reduce the clearance to 11½ inches . . .
Mr. Eads, the contractor, believes that the draught astern will not be increased, for the reason that so much iron plating and a large portion of the vessel's armament will go forward of the center of gravity, which will, in his opinion, lift the stern and give greater clearance . . . he thinks I am unnecessarily concerned as to the amount of clearance for the wheel and the difficulties which I fear will ensue from that defect.
After the war, James B. Eads became President of the Mound City Life Insurance Company. During this same time he was the Chief Engineer for the Bridge Company during which time he designed and built the Eads Bridge crossing the Mississippi River between St. Louis and East St. Louis, Illinois. It was constructed from 1867 to 1874 and at the time of its completion was the longest arch bridge in the world. [227]
The Thomas Hart Benton Grave Grave at Bellefontaine Cemetery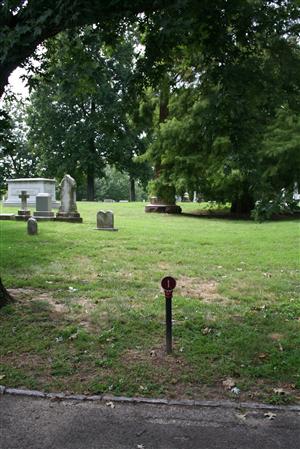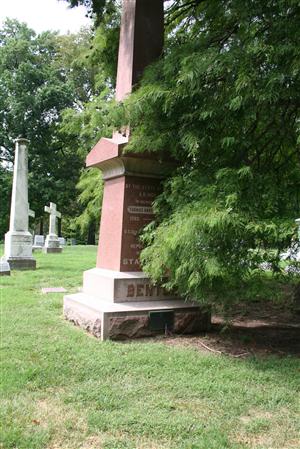 The Thomas Hart Benton Grave at Bellefontaine Cemetery [ Waypoint = N38 41.498 W90 13.953 ] is located in Block 40, Lot 173.
Take the first left onto Autumn.
Take the first left onto Woodland.
Take the first left onto Laurel.
Look for the cemetery's red 1 marker.
The Benton grave is the tall red obelisk about 60 feet back from the road.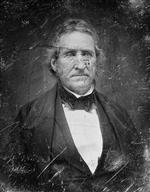 Born in North Carolina, Thomas Hart Benton moved with his family to Nashville, Tennessee. After studying law, Benton began practicing law in Tennessee in 1805. He served as an aide to General Andrew Jackson during the War of 1812. Before Jackson's volunteer force saw any action, he sent Lieutenant-Colonel Benton to Washington to obtain financial support for the volunteers. During the war, Benton and Jackson would quarrel. When the two of them came face-to-face in Nashville on September 4, 1813, the enmity had become so great that a fight broke out. By the time it was over, Jackson lay on the ground wounded by a pistol shot from Benton. [228]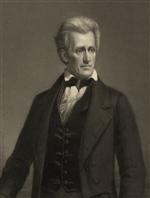 Benton moved to the Missouri Territory in 1815. Here Benton continued to practice law. In 1819 became the editor of one of Missouri's first newspaper, the St. Louis Enquirer. When Missouri became a state in 1821, Thomas Hart Benton was elected one of its first two Senators, taking his seat in the U. S. Senate on December 6, 1821. Benton would reconcile his differences with Andrew Jackson after Jackson became a Senator from Tennessee in 1863. Benton later supported Jackson in his successful candidacy to become President of the United States. Benton was a supporter of "Manifest Destiny," believing the United States was destined to expand across the North American continent to the Pacific Ocean. Benton was also a supporter of slavery, but somewhat embarrassed by it, as can be seen by his following statements made in the 1840s: [229]
I am Southern by my birth—Southern in my affections, interests, and connections—and shall abide the fate of the South in everything in which she has right upon her side. I am a slave-holder, and shall take the fate of other slave-holders in every aggression upon that species of property, and in every attempt to excite a San Domingo insurrection among us.
I was born to the inheritance of slaves, and have never been without them. I have bought some, but only on their own entreaty, and to save them from execution sales; I have sold some, but only for misconduct. I have had two taken from me by the abolitionists, and never inquired after them; and liberated a third who would not go with them.
Although he supported the institution of slavery, Benton was strongly pro-Union as can be seen from one of his speech's on the Senate floor: [230]
We should no more look ahead for causes of disunion than we should look ahead for causes of separation from our wives, or for the murder of our mothers.
In an 1849 speech in Jefferson City, Missouri, Benton made the following statements about slavery: [231]
My personal sentiments . . . are against the institution of slavery, and against its introduction into places in which it does not exist. If there was no slavery in Missouri to-day, I should oppose its coming in; if there was none in the United States, I should oppose its coming in to the United States; as there is none in New Mexico or California, I am against sending it to those territories, and could not vote for such a measure.
Benton's opposition to the expansion of slavery into the territories would cost him his seat in the Senate. After five terms in the Senate, Benton would not be selected by the Missouri legislature in 1851. [232]
The Francis P. Blair, Jr. Grave at Bellefontaine Cemetery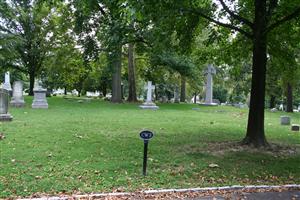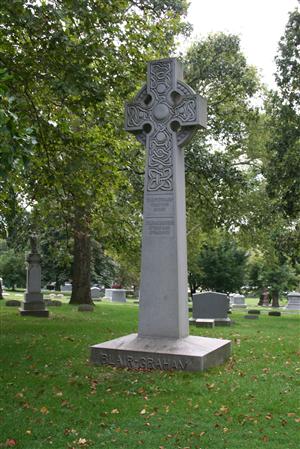 The Francis P. Blair, Jr. Grave at Bellefontaine Cemetery [ Waypoint = N38 41.438 W90 14.029 ] is located in Block 13, Lot 298.
Follow Laurel and take the first left to jog over to Woodland.
Turn right onto Woodland.
After about 0.1 miles, look for the cemetery's blue CW3 marker on the left.
The Blair grave is the large stone cross about 75 feet back from the road.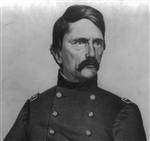 Born in Kentucky, Francis P. Blair, Jr. was a Representative in the United States house of Representatives from the State of Missouri at the beginning of the American civil War. In 1861, Frank Blair raised the First Missouri Volunteer Infantry Regiment to help defend the state against Missouri secessionists. Frank Blair rose to the rank of Major General of Volunteers and would command divisions in the armies of Major Generals Ulysses S. Grant and William T. Sherman. After the war, Blair was the Democratic candidate for Vice President of the United States running on the ticket of presidential candidate Horatio Seymour. In 1871, Blair was elected to represent Missouri in the United States Senate where he served until his death in 1872.
---