The Friedrich Hecker Monument in Benton Park
Tour Stop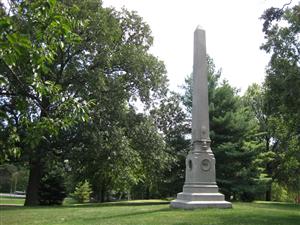 Directions: The Friedrich Hecker Monument [ Waypoint = N38 35.822 W90 13.322 ] is located in Benton Park near the corner of Wyoming Street and Illinois Avenue in St. Louis, Missouri 63118.
Return to Broadway and head south.
After about 0.4 miles, turn right (west) onto Hickory Street.
After about 0.1 miles, turn left (south) onto S 7th Street, then immediately bear right onto the ramp for I-55 south.
After about 1.5 miles, take exit 206C and turn right onto Arsenal Street.
Take the first left turn onto Lemp Avenue.
Take the second right turn onto Wyoming Street.
Benton Park is about 0.2 miles ahead on the right.
The monument is a tall obelisk in the southeastern part of the park.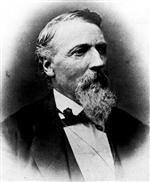 Description: Friedrich Hecker was a hero to the vast majority of German-American living in the United States. The Friedrich Hecker Monument was dedicated on October 1, 1882 before a crowd of over 15,000 in Benton Park. At one time there was a small bronze bust of Hecker on the north side (it's no longer in evidence) and a wreath of oak leaves on the south side. The west and east sides are inscribed the dates 1861 and 1848, signifying the first German Revolution and the start of the American Civil War. The monument was donated by the Hecker Monument Commission. [106]
Born in Eichtersheim, Baden (present day Germany), Hecker grew up to become an attorney. Friedrich Hecker advocated a liberal democracy for his homeland with a representative form of government. Elected to the Second "People's" Chamber of Baden in 1842, Hecker argued that the People's Chamber needed to ensure "that the police legislation and the right of oversight be practiced only within constitutional limits [and] to keep watch that a separate legislation does not creep into our state without our approval, lest the citizen no longer know what laws to keep." [107]
Hecker looked to the United States of American for inspiration. He believed that country's prosperity was in large part due to its liberal constitution, particularly the separation of church and state: [108]
The United States recognized that the unifying force of the state was not in the unity or equality of the religious conviction of the citizens, but instead in the thoughts of all having the state as their point of unification, while simultaneously diffused in religious matters, and precisely because the confession of every religion was permitted, all the residents of a state region found their point of unity in the state, it becoming their common highest good.
Beginning in 1847, Friedrich Hecker grew more radical in his beliefs as he saw the government moving further and further away from democracy. On September 12, 1847, Hecker, along with Gustav von Struve, published the "Thirteen Claims Put Forward by the People of Baden" which called for the establishment of a republic. [109]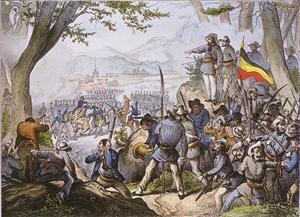 Inspired by the 1842 French February Revolution that established the French Second Republic, Hecker and Struve led an armed uprising in an attempt to overthrow the monarchy and establish a Baden Republic. On April 12, 1848, Hecker declared the formation of the Republic of Constance. On April 20th, their force of between 800 and 1200 men were defeated at the Battle of Kandern by a German Confederation force of about 2,000 men under the command of General Friedrich von Gagern. Accused of treason, both Hecker and Struve fled to Switzerland. [110]
In exile from his homeland, Hecker decided to emigrate to the United States of America and arrived in New York City on October 5, 1848. He was greeted by thousands of German-Americans because of his role in the German democratic movement during the revolution of 1848. So great was his reception that Hecker wrote to his wife, "I have been received like no European since Lafayette." Publicly, Hecker maintained that he had come to America to learn what would be necessary to go back and win the second German Revolution that was sure to come. Hecker began to travel around the country and arrived in St. Louis, Missouri on October 31, 1848. Finding St. Louis to have a high cost of living, Hecker would buy a farm near Belleville, Illinois and about 14 miles from St. Louis. [111]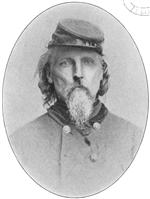 Hecker was active in the Republican Party and actively campaigned for the election of John Charles Fremont in 1856 and then Abraham Lincoln in 1860. When President Lincoln called for 75,000 Federal volunteers on April 15, 1861, Hecker went to St. Louis with his oldest son to enlist. They would be privates in Colonel Franz Sigel's Third Missouri Infantry Regiment. Hecker participated in the Capture of Camp Jackson. But once Illinois began to fill its quota for Federal volunteers, Hecker returned to Illinois to take command as the Colonel of the 24th Illinois Volunteer Infantry Regiment, also known as Hecker Rifles. Hecker was the regiment's Colonel from July 8, 1861 until December 23, 1861. Hecker returned to Illinois to take command of the 82nd Illinois Volunteer Infantry Regiment. Hecker would command as its Colonel from October 23, 1862 until March 21, 1864. This regiment fought in the east at the Battles of Chancellorsville and Gettysburg, among others. [112]
---