The Eugene Field House
Tour Stop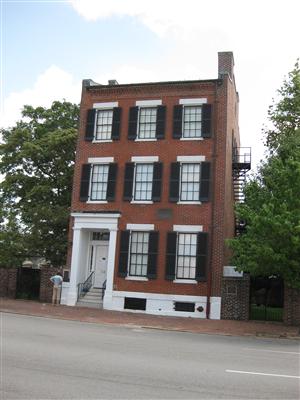 Directions: The Eugene Field House [ Waypoint = N38 37.194 W90 11.526 ] is located on the northeast corner of Cerre and Broadway at 634 South Broadway in St. Louis, Missouri 63102.
After returning to your car, get headed south on Broadway.
After about 0.4 miles, turn left (east) onto Cerre Street. It will the first left after passing under I-55.
Pull into the parking area behind the Eugene Field House on the left.
Description: Now a standalone structure, the Field House was originally part of Walsh's Row, a single structure containing 12 brick row houses built by Edward Walsh in 1845. Although his son, Eugene, was more famous, Roswell M. Field was a prominent St. Louis attorney in the 1850s. Originally born in Vermont, Field emigrated to St. Louis in 1839. Roswell M. Field took on Dred Scott's case in 1853. Field was Dred Scott's attorney in Dred Scott's suit filed in the Circuit Court of the United States. The trial took place in the Old Courthouse in St. Louis, Missouri. Roswell M. Field is buried in Bellafontaine Cemetery in St. Louis, Missouri. [105]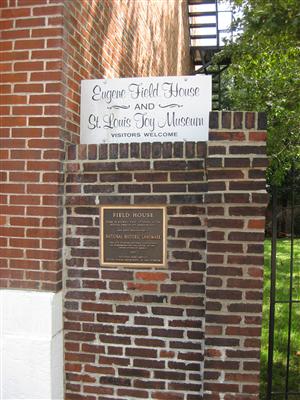 There are two historical markers on the outside of the Field House. The text of the smaller marker on the right reads as follows:
FIELD HOUSE
Home of Roswell Field, attorney
in the pivotal Dred Scott freedom suit.
has been designated a
National Historic Landmark
This site possesses national significance
in commemorating the history of the
United States of America
2007
National Park Service
Department of the Interior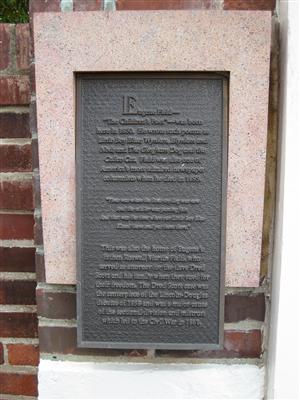 The text of the larger marker on the left reads as follows:
Eugene Field
"The Children's Poet" - was born
here in 1850. He such poems as
Little Boy Blue, Wynken, Blynken and
Nod, and The Gingham Dog and the
Calico Cat. Field was also one of
America's most admired newspaper
columnists when he died in 1895.
"Time was when the little toy dog was new
And the soldier was passing fair,
And that was the time when our Little Boy Blue
Kissed them and put them there."
This was also the home of Eugene's
father, Roswell Martin Field, who
serve as attorney for the slave Dred
Scott and his family when they sued for
their freedom. The Dred Scott case was
the centerpiece of the Lincoln-Douglas
debates of 1858 and was a major cause
of the sectional division and mistrust
which led to the Civil War in 1861.
---