Battle of Westport: Battle of the Big Blue
Tour Stop 12 [ Waypoint = N39 00.776 W94 34.262 ]

"On October 22, 1864, after the Union line along the Big Blue was flanked, Jackman's Confederate Brigade overran the militia at the Mockbee Farm, 78th & Holmes, and drove Jennison's Union Brigade back to the State Line. Jennison and Moonlight's Brigades then pushed Jackman back to this area in late afternoon. Thompson's Confederate Brigade came up at dusk. Fighting continued until dark when both sides pulled back.
The GAR Monument Site on Paseo was selected by William S. Shepherd who fought with Moonlight here."
| Map |
Directions to Stop #12: Tour Stop 12 is located just west of the intersection of 63rd Street and The Paseo Boulevard on the south side of 63rd Street. Leaving Tour Stop 11, get headed east on 63rd Street for about 0.9 miles. Right before you get to The Paseo, pull into the parking lot of a shopping center on the right and find a place to park. The marker in located at the north end of this parking lot. This tour stop is located in Kansas City, Missouri 64110.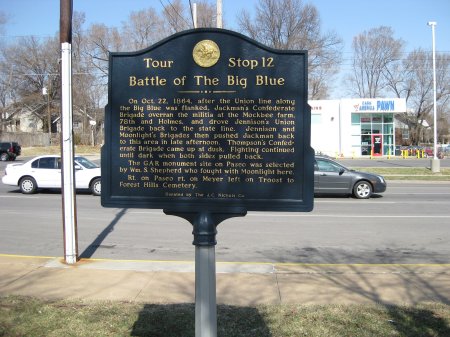 Description: The marker describes events that took place on Saturday, October 22, 1864. Remember that Shelby's Confederate Cavalry Division had forced a crossing of the Big Blue River at Byram's Ford (Tour Stop 17) which was being defended by Union Colonel Jennison's First Cavalry Brigade from the Army of the Border supported by some Kansas State Militia. The Union position had been flanked and they began a slow withdrawal west. The retreating Federals stubbornly resisted the Confederate advance near where you are currently standing.
Heavy fighting also took place near here on Sunday, October 23, 1864. It was just the next day that the Federals from Pleasonton's Calvary Division pushed the Confederates from Marmaduke's Cavalry Division back from Byram's Ford. As the Federals continued to press the retreating Confederates, the running battle took place over this area. Eventually, Pleasonton was able to bring up Battery H of the Second Missouri Light Artillery up to Hinkle's Grove (Tour Stop 11) use the battery to hit the Confederates right flank.
---