Battle of Westport: Log House and Defense Line
Tour Stop 17B [ Waypoint = N39 01.099 W94 31.811 ]

"This log house hiding Confederate snipers was in front of the defensive line t the south. Heavy fighting took place there on October 23, 1864 between Marmaduke's Confederates and Pleasonton's Cavalrymen. Clarke's Confederate Brigade was in line here, fortified with fence rails. It ran south to 63rd from the cliff which is a few rods to the north. Pleasonton drove them to the west at 11 A.M."
| Map |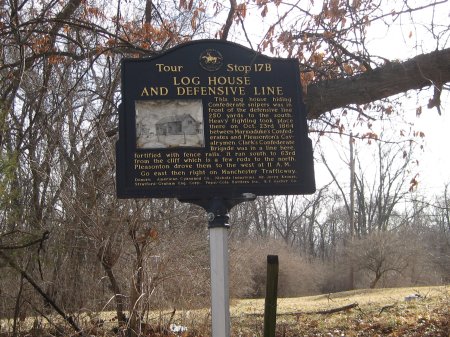 Directions to Stop #17B: Drive back from Byram's Ford and turn right (north) onto Manchester Trafficway. Drive about a block to 59th Street and turn left (west). Drive along 59th Street for about a block. The marker will be on the left hand (south) side of the street. This tour stop is located in Kansas City, Missouri 64132.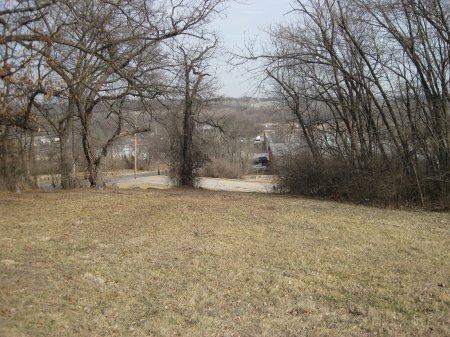 Description: Marmaduke's final defensive line was along the ridge on which you are currently standing. There were two log cabins in which Marmaduke had placed his best sharpshooters. One as here near where you are standing. The other log cabin was south along the ridge closer to where 63rd Street is today. After launching several attacks against the Confederate defenders on the rocky ledge, the Federals were finally able to push them back up into the wooded crest of the hill where Marmaduke's main defensive line was positioned. During this charge Union Colonel Winslow was wounded and command of the Fourth Brigade went to Lt. Col. Frederick W. Benteen. The Federals continued to advance up the hill. The advance was successful and Marmaduke's Division was withdrawing in retreat. Behind them lay the dead and wounded. Pleasonton had suffered 200 casualties in the Federal advance.
The Federal cavalrymen kept up their pressure on the retreating Confederates. Marmaduke's troops kept up steady resistance, but were pushed back out of the timber and onto the prairie by the Federal advance. Once out in the open, Marmaduke's Division was exposed to fire from Battery H of the Second Missouri Light Artillery. As this point, Pleasonton arrived on the scene and strongly encouraged his troops to keep up the pressure. Sanborn's Third Brigade had also gotten across Byram's Ford and moved to press the Confederates back to the Harrisonville Road while the First and Fourth Brigades regrouped. The Confederate defenders turned and quickly withdrew to the west.
---