Battle of Westport: New Santa Fe Road
Tour Stop 21 [ Waypoint = N38 56.861 W94 32.848 ]

"In 1864, the New Santa Fe Road joined the Harrisonville Road (now Grandview Road) here and went south across present I-435, then to the southwest. McNeil's Union Brigade had been ordered by General Pleasonton to be here by daylight on October 23, 1864 and block General Price's retreat. He was several miles to the east by 10:00 A.M. Cabell's Brigade and 5,000 unarmed recruits were guarding Price's wagon train. About noon McNeil attacked Cabell but was driven back across present Hwy. 71 to the northeast. Price's army escaped."
| Map |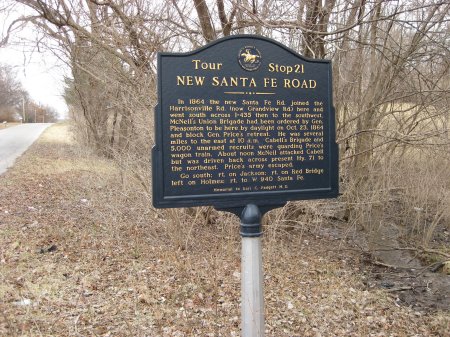 Directions to Stop #21: The next stop is at the intersection of Grandview Road and 98th Terrace. It is a little over a mile to the next tour stop. Turn left (southeast) onto Grandview and drive until you get to 98th Terrace. Turn left (east) onto 98th Terrace and the marker will be on your immediate right. This tour stop is located in Kansas City, Missouri 64131.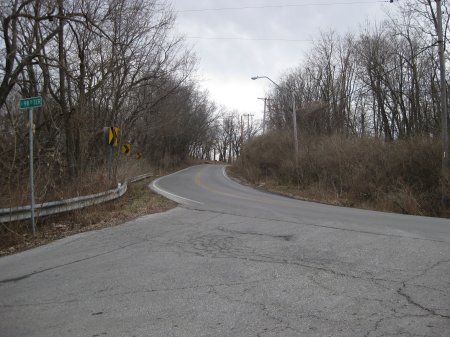 Description: Price's wagon train guarded by Brigadier General William L. Cabell's Cavalry Brigade was approaching Russell's Ford (Tour Stop 20) across the Big Blue River down the Harrisonville Road (now Grandview Road). Federal General McNeil has been sent with his Second Cavalry Brigade to cut off their retreat, but had arrived late. Feeling he was up against a large force, McNeil's attack was tentative and was repulsed by the Confederates.
McNeil's slow advance from Independence cost him the opportunity to get ahead of Prices wagon train. He lost the opportunity to intercept the Confederate retreat. McNeil's timid behavior when he encountered the wagon train was a major opportunity lost to the Federals. Later Pleasonton would court-martial McNeil who would be suspended from rank and pay for three months.
---