Battle of Westport: Union Flanking Movement
Tour Stop 3 [ Waypoint = N39 02.188 W94 35.877 ]

"Here just before noon on Sunday, October 23, 1864, Major General Samuel Ryan Curtis, commanding the Federal Army of the Border, began his flanking movement of Brigadier General Joseph Orville Shelby's Division of the Confederate Army of Missouri. While the Union army was engaged in heavy fighting just east of here, General Curtis led the 9th Wisconsin Battery and company G of the 11th Kansas Cavalry up a twisting, wooded defile to a position on the left and rear of General Shelby's lines, the battery, firing down the Confederate lines, caused Shelby to pull back from the heights south of Brush Creek, severely weakening the Confederate position. George Thoman, a farmer living just south of Westport, pointed out the defile to General Curtis and served as a guide. Sunset Drive follows the wall of the old defile."
| Map |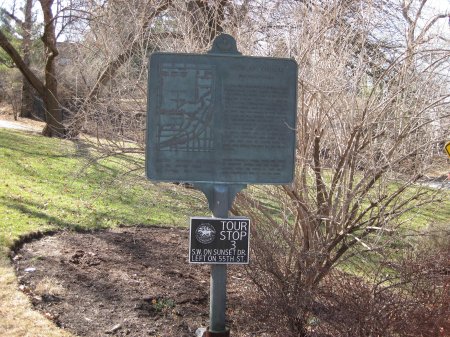 Directions to Stop #3: Tour Stop 3 is located at the intersection of Sunset Drive and Rockwell Lane. Continue driving southwest on Sunset Drive for about one quarter of a mile. You will come to a stop sign and should be able to see the marker in a small island in the middle of the intersection.This tour stop is located in Kansas City, Missouri 64112.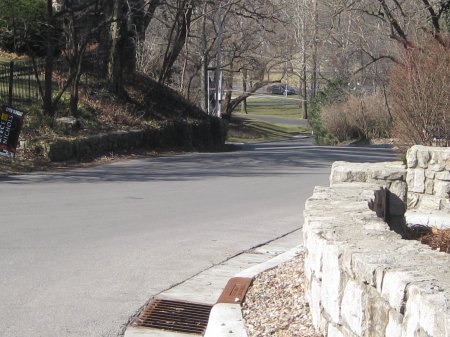 Description: All morning the Confederates had repulsed several Union advances. Sometime around 11:00 A.M., a local farmer that lived just south of Westport named George Thoman was angry because Confederate soldiers had stolen one of his horses and some of his supplies. While looking to regain his property, he ended up behind the Union lines. He approached Curtis and told him that he knew of a way to sneak around the Confederates. This turned out to be a wooded defile cut by Swan Creek which flowed from the southwest into Brush Creek. Thoman led Curtis and his escort (including the 9th Wisconsin Battery) to a place just south and west of the Bent farmhouse (Tour Stop 4) that put them to the left and rear of Shelby's Division. The battery unlimbered and opened fire on the enemy positions. The Confederates were totally surprised. Shelby's line fell back from the crest and across the little south valley. Collins' Battery turned to fire at the 9th Wisconsin Battery.
The marker at Tour Stop 3 is situated along the defile through which Thoman led Curtis and his forces. It roughly follows the path taken by Sunset Drive. If you look up and down Sunset Drive, you can see how the Union forces would have been hidden from view as they outflanked the Confederates to the southeast. As you drive to Tour Stop 4, you will be following the approximate route taken by Thoman as he led Curtis around the Confederate position.
---