Skirmish at Little Sugar Creek (Dunagin's Farm)
Tour Stop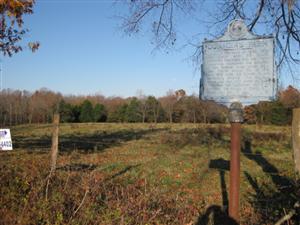 Directions: Dunagin's Farm [ Waypoint =N36 24.788 W94 03.806 ] was located about 4 miles south of Elkhorn Tavern along the Wire Road.
From the Potts' Hill Tour Stop, continue south on Old Wire Road.
After 1.4 miles, turn right (west) onto Gann Ridge Road.
After approximately 3 miles, turn left (south) onto Twelve Corners Road.
After 0.9 miles, turn left (east) onto Arkansas Highway 72.
After 2.4 miles, turn right (west) onto Arkansas Highway 62.
After approximately 1 mile (just before crossing Little Sugar Creek), turn left (east) onto Sugar Creek Road.
After 0.6 miles, take the first right onto N Old Wire Road crossing a bridge over Little Sugar Creek.
Stay on N Old Wire Road for approximately 1.75 miles and you should see the historical marker on the right (north) side of the road.
Description: You are standing near where another skirmish took place between the Confederates and the Federal Army under he command of Brigadier General Samuel R. Curtis. By this time, Confederate Colonel Louis Hebert was aware that Price had begun his retreat from Springfield, Missouri and had taken his forces north from Cross Hollow to assist Price. He met up with Major General Sterling Price at Little Sugar Creek. After consulting with Price, Hebert stayed behind while Price continued his retreat south to Cross Hollow. Look to the south down the Wire Road and you can see the flat terrain. Turn around and look to the north and you see the same flat terrain. At this point, you have left the Little Sugar Creek valley. Had Hebert stayed a little further to the north, he would have had a much stronger position from which to fight the advancing Federals. The Historical Marker text reads as follows:
"Here on February 17, 1862, Brig. Gen. Rains with the Fourth Arkansas Regiment and the Third Louisiana, ambushed the advance of the Federal army under Brig. Gen. Curtis killing 20 of his men and some 60 horses in his advancing cavalry. The Confederate loss was only three or four. This was the "bloodiest" skirmish between the troops of Curtis and Price thus far."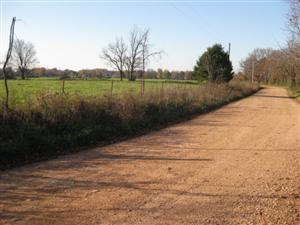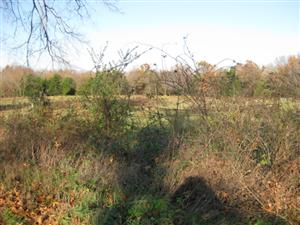 Price had abandoned Springfield on February 12th, but on February 15th, McCulloch was still unaware of this. Colonel Louis Hebert had been given the responsibility for keeping an eye on Price should the Missourians require support. On February 15th, Hebert sent a message from Fayetteville, Arkansas to Price in Springfield, Missouri:
"Rumors have reached me that you are falling back from Springfield. I place no reliance in the rumor, because I think that you would have advised me of the movement."

But at 8:00 A.M. on February 16th, Hebert's aide sent a frantic message to Brigadier General McCulloch in Fort Smith, Arkansas:
"I have just now sent a messenger to you with a communication from General Price, stating that he had been fighting for two days without sleep or eating, and though the enemy was between 17,000 and 20,000 strong he expected to whip them; and if Colonel Hebert's command would reach him in time he would take everything from the enemy. The colonel has left this morning, and ordered all of his forces out to concentrate on the Telegraph road, some 10 miles on the other side of Cross Hollow."

By the afternoon of February 16th, advance units from Hebert's Second Brigade met up with the retreating Missouri State Guard near the Elkhorn Tavern located on the Wire Road (or Telegraph Road). Hebert and Price met on the morning of February 17th to discuss the tactical situation. After this conference, Price would continue his retreat to the Confederate cantonment at Cross Hollow. Hebert would stay behind with three regiments (3rd Louisiana, 4th Arkansas, 15th Arkansas) as a rear guard covering Price's retreat. Price detached Captain Churchill Clark's Missouri Battery to Hebert's rear guard command.
That day Colonel Hebert deployed his troops on the bluffs south of Little Sugar Creek. Hebert did not intend to fight the Federals from this position. He only wanted to show his strength from a strong position so as to give Price enough time to reach Cross Hollow unmolested. When the Federals did appear on the bluffs to the north of Little Sugar Creek, Hebert had his forces quietly withdraw southward.

But Union General Samuel R. Curtis was not about to slow down his pursuit of the Southerners. He ordered his artillery to fire at the enemy's position. When there was no reply from the Southerners, Curtis ordered his cavalry forward.
When the Federal artillery opened fire, Hebert now realized that the Federals had crossed Little Sugar Creek. He would have to turn and make a stand. He ended up deploying his forces about a half mile south of Little Sugar Creek near Dunagin's Farm. He deployed his three regiments on his right flank to the east of the Wire Road. Colonel Henry Little's deployed on the left flank to the west of Wire Road. Captain Churchill Clark's Missouri Battery deployed in the center on the Wire Road.
Colonel Calvin A. Ellis's 1st Missouri Cavalry once again led the Federal charge down the Wire Road. He encountered heavy fire from Clark's Battery. Joining Ellis in the attack were Colonel Clark Wright's 6th Missouri Cavalry and Major John McConnell's 3rd Illinois Cavalry. Once they saw the Southern infantry deployed ahead, the Federal cavalry pulled back to wait for support.

To the rear of the Federal cavalry, Curtis was ordering forward units from Brigadier General Eugene Carr's 4th Division to support his cavalry. The infantry were formed into line of battle and Captain Mortimer M. Hayden's Iowa Light Battery deployed on the Wire road. The Federal battery opened fire against the Southern battery commanded by Captain Churchill Clark. Shortly after the Federal 4th Division had deployed into line of battle, Confederate Colonel Hebert made his decision to withdraw south.
The Battle of Little Sugar Creek (or Dunagin's Farm) only lasted a short time, but gave the Southerners the time they needed to withdraw safely to Cross Hollow. This fighting would be the first time that the Confederate Battle Flag had been flown in the Trans-Mississippi theater. Union Brigadier General Samuel R. Curtis now knew he faced the combined forces of McCulloch and Price. In his official report to Halleck, Curtis wrote the following:
"The enemy was re-enforced yesterday by the troops of McCulloch and made another stand at this place. His batteries opened on us and were very soon replied to by mine. After a few rounds of shot and shell I ordered a cavalry charge, which drove them from the high grounds they occupy, with the loss of many killed, wounded, and scattered. My loss is 13 killed and 15 or 20 wounded. ... My advance encamped on the battle ground. General Sigel's command is 4 miles back and will reach me this morning. Have sent cavalry forward to annoy and explore. Cross Hollow is their next point, 12 miles ahead. I shall also await the arrival of the First and Second Divisions [Sigel], as this is their great boasted trap for the Federal Army."

Union Major General Henry W. Halleck would send the following telegram to General-in-Chief George McClellan:
"The flag of the Union is floating in Arkansas. General Curtis has driven Price from Missouri, and is several miles across the Arkansas line, cutting up Price's rear and hourly capturing prisoners and stores. The Army of the Southwest is doing its duty nobly."
---