Barry County Courthouse, Cassville, Missouri
Tour Stop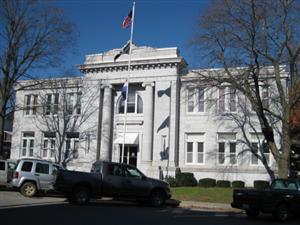 Directions: The Barry County Courthouse [ Map | Waypoint = N36 40.743 W93 52.116 ] was situated along the Wire Road in what is present day 700 Main Street in Cassville, Missouri 65625. Although this tour stop is not related directly to the Battle of Pea Ridge, there is a historical marker for a Missouri Secession Convention that took place in the fall of 1861 and it is on the tour route.
The quickest way to get to Cassville from the Flat Creek Tour Stop is by the following route:
At the intersection of Old Wire Road and Missouri Highway C, head south on Highway C.
After 6.5 miles, turn right (west) onto Missouri Highway 248.
After 8.6 miles, turn right (north) onto Main Street in Cassville, Missouri.
The courthouse is three blocks ahead on your left.
If you want to continue following the route that Price's Army took in its retreat from Springfield, Missouri along the Wire Road, Hess, Shea, Piston, and Hatcher describe a route following the Wire Road in their Wilson's Creek, Pea Ridge, and Prairie Grove: A Battlefield Guide, with a Section on Wire Road (This Hallowed Ground: Guides to Civil Wa)
[Please note that my car was unable to take this route in November 2009 because of washouts and high water]:
From Flat Creek, proceed on State Route C / State Route Y for 0.8 miles and turn let onto Farm Road 1142.
After 0.7 miles turn left onto Farm Road 2085 and take a quick right back onto Farm Road 1142.
Go for another 0.4 miles and turn right to stay on Farm Road 1142.
In 2.7 miles Farm Road 1142 joins State Route U / State Route Y.
After 0.5 miles bear left onto Farm Road 1135.
After 2.7 miles continue on State Route Y.
After 2.8 miles bear right to stay on State Route Y.
After 1.4 miles turn left onto Main Street / State Route 37. You are in Cassville, Missouri 65625.
The Courthouse is about 0.6 miles ahead on Main Street.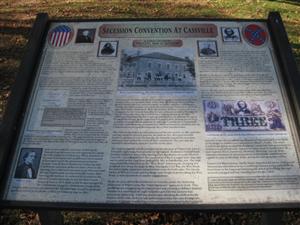 Description: You are standing in front of the Barry County Courthouse. In the northeast corner of the block, you can see an interpretive sign [ Waypoint = N36 40.751 W93 52.092 ] describing the Secession Convention held in Cassville, Missouri between October 29 and November 7, 1861. In the previous week, Missouri Governor Claiborne Fox Jackson had set up a provisional capital in Neosho, Missouri 64850. Although it is doubtful that Jackson had a quorum, the legislators present passed an ordinance of secession that Jackson signed. Confederate President Jefferson Davis readily accepted Missouri into the Confederacy as its 12th State. In order to avoid capture by a Federal Army under the command of Major General John C. Fremont, the assembly had to adjourn and head for Cassville on October 28, 1861. Once in Cassville, the legislators convened in the Barry County Courthouse and continued their work.
---