Cross Hollow
Tour Stop
Directions: The Confederate encampment at Cross Hollow [ Waypoint = N36 16.901 W94 06.100 ] was located east of the Wire Road along the Monte Ne Branch, about 3.5 miles south of present day Rogers, Arkansas 72758.
From the Dunagin's Farm Tour Stop, continue heading south on Old Wire Road.
After approximately 1.1 miles (the road name changes to Pearl Avenue and then to Rose Street), turn left (south) onto NE Hudson Street / US Highway 62.
After 4.5 miles, turn left (south) onto NE 8th Street/ Highway 94.
After 3.1 miles, turn left (east) onto W New Hope Road.
After approximately 1.1 miles, turn right (south) on S Old Wire Road / Monte Ne Road.
After approximately 2.2 miles, you should see the Cross Hollows Historical Marker [ Waypoint = N36 16.862 W94 06.817 ] on the right (west) side of the road just before a steep downhill stretch begins.
The Benton County Historical Society placed this historical marker [ Waypoint = N36 16.862 W94 06.817 ] on the west side of S Old Wire Road about 0.2 miles north of the intersection with Cross Hollow Road. The historical marker text reads as follows:
"This post office was established in 1843. Nov. 29, 1861, Gen. Ben McCulloch moved his army into winter quarters here. Numerous, large, two room, plank barracks were built in two rows facing each other, extending eastward more than a mile. Ten or twelve thousand soldiers wintered here."
Feb. 22, 1862, the Union army of Gen. Curtis entered Cross Hollows to find abandoned barracks and commissary stores still smoldering. Curtis pitched his tent near McGarrah's house. His soldiers tented east, and south to Mud Town. March 4, Curtis moved his army into battle line north of Little Sugar Creek."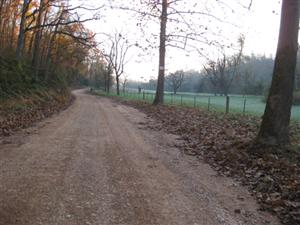 Continue heading south down S Old Wire Road for another 0.2 miles until you reach the intersection with Cross Hollow Road [ Waypoint = N36 16.684 W94 06.836 ]. You will need to drive carefully here. The road has a steep downhill grade, is not paved and is quite narrow.
If you continue heading east on Cross Hollow Road for about 0.7 more miles, you can see the type of terrain on which the Confederates established their winter encampment [ Waypoint = N36 16.901 W94 06.100 ].
After you have finished, you should return to the Old Wire Road and turn right to head north.
Description: You are standing where Confederate Brigadier General Ben McCulloch had planned to spend the winter of 1861/1862. Look towards the east and you can see the flat terrain sitting in between the bluffs through which the Monte Ne Branch meanders before flowing east into the White River. In order to house more than ten thousand troops, the Confederates had built many large huts in the hollow stretching eastward for more than a mile.
Sergeant Will Tunnard, Company K, Third Louisiana Regiment, described the Confederates' accomodations at Cross Hollow.
"The quarters of the Louisiana Regiment were situated in one of the valleys of Cross Hollows, protected from the chilly, wintry winds by high, rocky hills, covered with a heavy growth of timber. They were substantial wooden buildings, constructed of tongued and grooved planks placed upright, with roofing of the same material. The flooring was the very best, and would have been a credit to the handsomest of private residences. Each building was 38 by 20 feet, divided into two rooms by a partition meeting in the center at the chimney, constructed of brick, with a fire-place in each room, with a smooth brick hearth. The privates' quarters were in two parallel rows facing each other, while the officers ran perpendicular to them, forming a square at one end. The men were not too much crowded, and slept in berths placed one above the other, similar to those in a state-room of a river steamer. The utmost contentment and good feeling prevailed among the men, and all seemed determined to enjoy the days of the winter months. With abundant material for the purpose, they soon manufactured chairs, tables, shelves, and mantle-pieces over the fire-places. Most agreeably were they disappointed at their situation and surroundings. They soon gathered about them all those little comfort's and conveniences which so materially contributed to the happiness of a soldier's precarious existence. The buildings were soon named according to the inclination of the occupants, and a stroll through the quarters exhibited to the view grotesque lettering, telling of all kinds of "Dens," "Retreats," and "Quarters," while you could easily discover "Bull Run," "Leesburg," "Belmont," and other streets. "Manassas Gap" opening into "Capital Square," the officers' quarters. "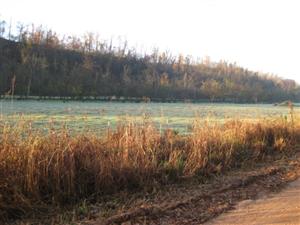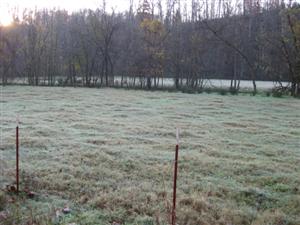 Confederate Brigadier General Ben McCulloch reached the cantonment at Cross Hollow on February 18th and quickly realized that it would need to be abandoned. When Missouri State Guard Major General Sterling Price had reached Cross Hollow on February , he believed the combined forces should prepare to engage the Federal forces there. The two of them argued about this when they received word that Curtis was moving around their left flank to the southwest. Now Price relented and the Southerners withdrew south arriving in Fayetteville, Arkansas on February 20th before ending up at Strickler's Station about 30 miles southwest of Cross Hollow. As the Southerners left Cross Hollow, they set fire to the wooden huts in which the Confederate troops had been spending the winter.

Union Brigadier General Samuel R. Curtis learned from sympathetic locals that the Southern army had abandoned Cross Hollow. Curtis order his Army of the Southwest to march to Cross Hollow, arriving there on February 20th. Curtis sent the following message to Halleck:
"My flank movements command Cross Hollow. The enemy evacuated, and my cavalry drove the pickets and camped on the ground. All the traps have now been taken. I shall camp here till my commissary train comes up, my left resting on Cross Hollow and my right on this spring [Osage Springs], extending from road to road 6 miles. I will send my cavalry forward to take Fayetteville, which is only 10 miles from their front pickets."

After waiting a couple of days to let his army rest, Curtis pressed ordered Brigadier General Asboth to take his cavalry and artillery and press on to Fayetteville, Arkansas. The Federals occupied Fayetteville on February 23rd. Elated by his progress, Curtis became increasingly concerned about his supply lines and the condition of his army. The harsh weather conditions and long distance marches were taking its toll. Upon instructions received from Halleck, Curtis decided to pull back to Cross Hollow and Bentonville and shorten his supply lines. Curtis decided he and Carr's 4th Division would camp at Cross Hollow. Curtis had ordered Brigadier General Davis's 3rd Division to Little Sugar Creek. Sigel was encamped at McKissick's Creek southwest of Bentonville, Arkansas along with Osterhaus's 1st Division and Asboth's 2nd Division. By March 3rd, Curtis had decided to pull back even further and build fortification on the bluffs overlooking Little Sugar Creek.
---