Skirmish at Flat Creek
Tour Stop
Directions: The tour stop at Flat Creek [ Waypoint = N36 49.320 W93 47.676 ] is located about 5 miles southwest of Madry, Missouri 65605.
Note: Due to an unseasonably high amount of rainfall in the fall of 2009, I was unable to reach the actual tour stop during my site visit on November 3, 2009.There were several places on the way to this tour route that I could not pass because the gravel roads were washed out or the roads were closed due to high water. In particular, there was a stretch of Farm Road 2020 that had deteriorated too far for my car to proceed. When I took an alternate route (Highway 248 to Highway C), Highway C was closed at Flat Creek due to high water.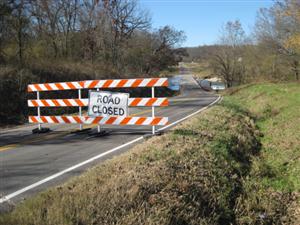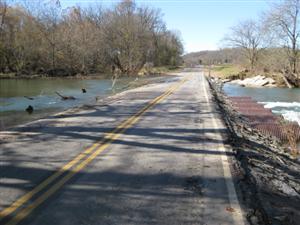 Get back into your car and head southwest on the Old Wire road for about 0.3 miles and take the second left. For a short period of time you will be on Roundhouse Road, but taking the second left puts you back on the Old Wire Road.
After about 1.1 miles, the Old Wire Road will turn into Farm Road 2005.
Proceed for another 1.1 miles and turn left onto Farm Road 1235 / State Route JJ / State Route Y.
After 0.7 miles, take the first right onto Farm Road 1210.
After 0.9 miles, turn right onto Farm Road 2020.
After 0.7 miles, take the second right to stay on Farm Road 2020.
After proceeding for 1 mile, Farm Road 2020 turns into Farm Road 1212.
Continue on Farm Road 1212 for 0.8 miles and turn right onto State Route TT / State Route Y.
After 2 miles turn left onto State Route 39.
Proceed for about 1 mile and take the first right onto State Route WW / State Route Y.
After 1 mile turn right onto Farm Road 1180 which continues as State Route WW / State Route Y. Take a quick left onto Camp Bliss Road
After 0.6 miles, turn left to stay on Camp Bliss Road.
After 3.8 miles Camp Bliss Road becomes Farm Road 2070.
Continue on Farm Road 2070 for 0.4 miles and turn left onto State Route VV / State Route Y.
Continue for 0.2 miles to reach Flat Creek.
Description: You are standing near where a second skirmish took place between Missouri State Guard Major General Sterling Price's rear guard and the pursuing Federal Cavalry under the command of Colonel Calvin A. Ellis.

The plan had been for Union Brigadier General Franz Sigel to take the 1st and 2nd Divisions quickly around and cut off the retreating Missouri State Guard at McDowell, Missouri. Once Colonel Calvin A. Ellis's 1st Missouri Cavalry Regiment had fired upon the Southerners at Crane Creek, Price knew he had to speed up his retreat. Although Union Brigadier General Samuel R. Curtis almost had Ellis arrested for disobeying orders, he decided to keep Ellis in pursuit of Price's Army.

Colonel Henry L. Little had command of the First Missouri Brigade in Price's Army. Price assigned Little to be the rear guard for his withdrawal. On February 15th, Union Colonel Ellis and his 1st Missouri Cavalry caught up with the Price's rear guard just south of McDowell at Flat Creek. Once again, Ellis chose to engage with his mountain howitzers and call up the Federal infantry. When the Federal infantry arrived, they found that Colonel Little had ordered his brigade to withdraw south. At 7:00 P.M. on February 15th, Curtis tried to keep Sigel informed:
"I moved slowly till I had passed Crane Creek. There the precipitate flight of the enemy induced me to order forward the cavalry, with instructions to overtake and charge the enemy. When they arrived here they were fired on by artillery, and therefore made a stand until other forces came up. The little howitzers returned the fire of the enemy, and kept them at bay till I got heavier batteries in position and drove the enemy forward. The valley is very strong for the enemy, and I wonder he did not make a better stand...I hope the force of your command is near me to-night."
After the skirmish at Flat Creek, Curtis sent the following message to Halleck:
"This is a strong defile. The enemy made a stand across it and established batteries, which attacked my advance of cavalry at 3 yesterday. My mountain howitzers responded to their fire till other artillery came up, when we drove them from their intrenchments and they resumed their flight. By this time it was dark, and my troops bivouacked and. rested till 4 this morning, when the movement forward again commenced. The First and Second Divisions, under General Sigel, are coming by a different route, and will join me here early this morning. We continually take cattle, prisoners, wagons, and arms, which they leave in their flight."
What resulted from Ellis's decision to bombard the Southerners at Crane Creek was that Price now realized that the Federals were pursuing in earnest and he would pick up the pace of his withdrawal. He would pass McDowell, Missouri well in advance of Sigel. Sigel would not trap the retreating Missouri State Guard. Indeed, Sigel would not reach McDowell until February 16th. By this time, Price had already crossed into Arkansas and had escaped the trap.
---