The Federal March On Camp Jackson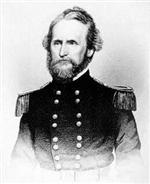 Captain Nathaniel Lyon refused to see Bowen or accept the message from Brigadier-General Frost. Both Frank Blair and Lyon wanted to strike at the State Militia encamped at Lindell Grove. They had heard from their spies that a shipment of arms from the Confederacy was destined for Camp Jackson and would arrive there on May 9th. And they were certain that General Frost's objective was to seize the Saint Louis Arsenal. And they had received word that Brigadier-General Harney had been reinstated to his command of the Western Department and was expected back in St. Louis on May 11th. [37]
On May 9th, Captain Nathaniel met with the Safety Committee and urged them to approve a move on Camp Jackson to capture the State Militia and munitions there. Having received their concurrence, Lyon consolidated his volunteer forces at the Saint Louis Arsenal on the morning of May 10th. [38]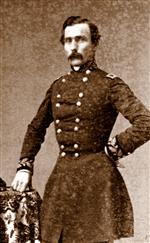 Captain Nathaniel Lyon had been up most of the night preparing for the march against Camp Jackson. His plans called for a coordinated march by eight columns using separate routes. All columns were expected to converge on Camp Jackson at 2:30 p.m. on the afternoon of May 10th. That night, Lyon had also written the message he would have delivered to Frost inside of Camp Jackson, a portion of which included the following statements: [39]
SIR: Your command is regarded as evidently hostile toward the Government of the United States. It is, for the most part, made up of those secessionists who have openly avowed their hostility to the General Government and have been plotting at the seizure of its property and the overthrow of its authority . . . I do hereby demand, of you an immediate surrender of your command, with no other conditions than that all persons surrendering under this demand shall be humanely and kindly treated.
---