Confederate Prologue
It's July 1864 in the Confederate Trans-Mississippi
In the Confederate Trans-Mississippi Department ...
Missouri, Arkansas, Texas, Indian Territory, and Louisiana west of the Mississippi River
Lieutenant-General Kirby Smith is in command
Major-General Sterling Price has returned and commands the District of Arkansas
Events are NOT going well for the Confederate States of America.
Grant has Lee under siege at Petersburg, Virgina
Sherman has Hood under siege at Atlanta, Georgia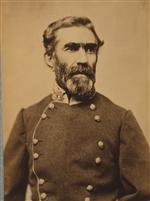 Let's let Confederate General Braxton Bragg, the Chief-of-Staff for CSA President Jefferson Davis, describe the situation. On July 29, 1864, General Braxton Bragg sent the following letter to Lieutenant-General Kirby Smith, commander of the Confederacy's Trans-Mississippi Department. Bragg's purpose was to make Smith "
see the pressing necessity for the movement of your troops across the Mississippi River.
"
[1]
"At Petersburg General Lee has a formidable army in his front and in a position whence it can at all times seriously interrupt his communications south. Early, with his corps in the Valley, is meeting resistance, and his whole command is required there to protect and get out the grain and prevent an advance from that quarter. No troops can possibly be spared from Virginia for other points; and the sea-board is well nigh stripped, a few troops, hardly sufficient for its protection, remaining at Charleston. General Hood's army (formerly Johnston's) has retired to the immediate vicinity of Atlanta, and Sherman is threatening that place with an army superior in numbers and in fine condition. The Federal cavalry has cut the Atlanta and Augusta and Atlanta and Montgomery Railroads, rendering the latter road inoperative for more than a month. Every available man in General Hood's department has been sent to the front, including the operatives in the Government shops. Still more troops are urgently needed. By the withdrawal of our army across the Chattahoochee River all the territory west of that stream, including the whole State of Alabama, is left open to the inroads of the enemy. There is no force for its protection. In North Mississippi the enemy has retired, but his intentions are not yet developed. If he is re-enforced, as it is now supposed he will be, by troops from Arkansas he will be enabled to move forward and defeat our cavalry in his front; or he may send re-enforcements around to Sherman. Either event would tend greatly to increase the difficulties of our situation."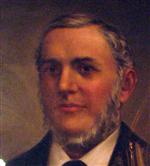 On July 18, 1864, Missouri Governor-in-Exile Thomas C. Reynolds had written a long letter to Confederate Major-General
Sterling Price
.
[2]
"Our affairs in the eastern half of our Confederacy are in critical condition … the President and Secretary of War are impatient for an advance into Missouri … If successful in maintaining itself the cavalry might be re-enforced by infantry from Arkansas and by recruiting within our State. But the main point of view from which I suggest such an expedition is, that it may take off some of the pressure on us in Virginia and Georgia."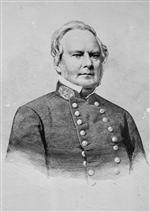 Four days later Sterling Price sent his reply to Reynolds.
[3]
"I consider such an expedition practicable, and in the contingency you suggest desirable and important … I would like to take command of the expedition … My opinion is that the people of Missouri are ready for a general uprising, and that the time was never more propitious for an advance of our forces into Missouri. Our friends should be encouraged and supported promptly. Delay will be dangerous."
On July 23, 1864, Captain J. Henry Behan, Assistant Commissary of Subsistence for the Department of Alabama, Mississippi and East Louisiana, took a chance and sent the following letter to President Jefferson Davis:
[4]
"I would respectfully suggest that the armies of Generals Magruder, Taylor, and Price be massed under the command of General E. Kirby Smith … and … go through Arkansas and Missouri, capturing Franklin and Saint Louis, [then] cross the Mississippi River into Kentucky, go along the Ohio River, subsisting on the rich country they will pass through, take Louisville, Ky., thence down to Nashville, destroying the vast amount of commissary and quartermaster stores at that place. From thence they can move on Chattanooga, cutting off all of Sherman's supplies, and necessarily, with General Hood in front and this army in rear, we will be able to capture the whole of the Yankee army under Sherman. This may seem a wild plan."
Captain Behan even had the audacity to sent two follow up letters, on July 25th and 27th, encouraging Davis to act. Davis must have been intrigued, for on August 15th he forwarded it on to his Chief-of-Staff, General Braxton Bragg, for his "perusal and attention." Bragg halfheartedly endorsed the plan, Davis asked Secretary of War James Seddon to weigh in on the plan. Seddon felt the Trans-Mississippi troops cold be put to better use on the east side of the Mississippi River. But if that was not practical, then he would support a Missouri invasion.
[5]
In July 1864, General Braxton Bragg sent orders to Lieutenant-General Kirby Smith to send Lieutenant-General Richard Taylor east with his infantry corps. Smith issued the orders on August 1st, but two days later told Bragg that moving troops east made the Trans-Mississippi vulnerable. Because the Federal Navy controlled the entire length of the Mississippi River, it is unlikely that any Confederates troops on the western side of the river could have successfully crossed to the east side. Lieutenant-General Taylor eventually came to that decision and canceled the crossing, although he, himself crossed the river in the latter part of August.
[6]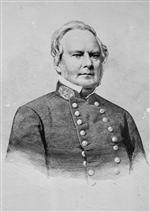 Sterling Price believed there were 30,000 recruits waiting in Missouri and continued to lobby Kirby Smith regarding a cavalry raid into Missouri. On July 23, 1864, Price sent a message to General Kirby Smith.
[7]
"The accumulating testimony of the state of affairs in Missouri … show that the Federals have but few reliable forces in the State, their garrisons being manned almost entirely with their State militia, in whose loyalty they have but little confidence … I am also assured that the Confederate flag floats over nearly all the principal towns of North Missouri, and large guerrilla parties are formed and operating in the southern portion of the State … I respectfully but urgently suggest the propriety of making a move into the State."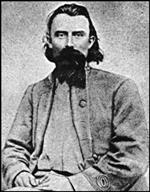 On July 27th, Confederate Brigadier-General
Jo Shelby
sent a message to Lieutenant-Colonel J. F. Belton, Kiry Smith's Assistant Adjutant-General, in which he put his two cents into why the time was right for a raid into Missouri.
[8]
"My chief intention in writing this communication is to [offer] a few arguments in favor of making a raid to Missouri:"

"First. There is no regularly organized Federal force in the State and the militia are scattered, broken up, and worse than useless."
"Second. Stimulated by three years of crime and desolation,

[Missourians] call for organized help from the South; they are terribly in earnest; it is death or victory, and with a little encouragement and help 20,000 men would spring to arms."
"Third. The entire department is stripped of regulars for Grant and Sherman, and railroads are grass-grown, important towns silent from desertion, depots of supplies unguarded."
"Fourth. I can march north with 5,000 men. I can mount them, arm them, equip them, and place them on a thorough war footing, and all, too, without costing the Government a dollar."
"Fifth. I can bring out 5,000 recruits, clothe them, and light a fire of opposition that never can be quenched."
"Sixth. Owing to the drought and the large force now accumulating under my command it will be impossible to remain here longer than August. With permission, then, I could sweep through Missouri and return to your command with 10,000 well-mounted, well-clothed, and well-armed men."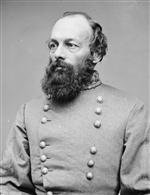 On the eve of being appointed to command the Confederate Trans-Mississippi Department, Lieutenant-General Kirby Smith wrote a letter to Robert Johnson, Confederate States Senator from Arkansas, in which he complained about the poor generals in the Trans-Mississippi.
[9]
"The Government must not send me any more cast-off material. I want support, and able support. Taylor is the only district commander in whom I can rely; he is a good soldier and a man of ability … General Holmes is a true patriot, faithful, and devoted; time, his troubles, and responsibilities have preyed upon him, his memory is failing … a younger man should command the District of Arkansas, where boldness, energy, and activity, with prudence, are essential to success. Price is not equal to the command, and I would regard it unfortunate were he to succeed to it."
But Kirby Smith was stuck with Price in the Trans-Mississippi and did appoint Price to be the commander of the District of Arkansas. It is likely that Smith put Price in command of the Missouri Raid because of Price's popularity with Missourians.
[10]
On August 4, 1864, Sterling Price received the go ahead from Kirby Smith to launch the invasion into Missouri.
[11]
"You will make immediate arrangements for a movement into Missouri, with the entire cavalry force of your district … Rally the loyal men of Missouri, and remember that our great want is men, and that your object should be, if you cannot maintain yourself in that country, to bring as large an accession as possible to our force … Make Saint Louis the objective point of your movement, which, if rapidly made, will put you in possession of that place, its supplies, and military stores, and which will do more toward rallying Missouri to your standard than the possession of any other point. Should you be compelled to withdraw from the State, make your retreat through Kansas and the Indian Territory, sweeping that country of its mules, horses, cattle, and military supplies of all kinds."
The war had been very hard on
Sterling Price
. He had just been put in charge of what would become the largest cavalry raid into Missouri during the war. He was 55 years old, six feet two inches tall, and weighed over 300 pounds. Price was unable to ride a horse for very long. His primary mode of travel was in a carriage drawn by four mules.
[12]
Now that he had the go ahead, Major-General Sterling Price began to make preparations for the raid. In Princeton, Arkansas Price issued General Orders, No. 1 and assumed command of the Confederate Cavalry forces in the District of Arkansas on August 29, 1864.
[13]
"In conformity with instructions from General E. K. Smith of August 4, the undersigned assumes command of the cavalry of the District of Arkansas."
Starting at sunrise on August 31, 1864, Sterling Price, along with Major-General John S. Marmaduke's and Major-General James F. Fagan's commands would march from Princeton to Pocahontas, Arkansas in order to meet up with Brigadier-General Jo Shelby's command.
The Army of Missouri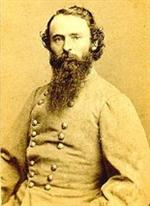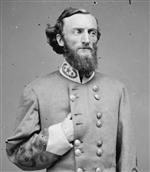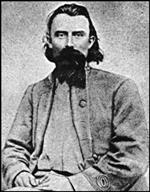 On September, 18, 1864 Major-General Sterling Price issued General Orders, No. 8 in which he announced the organization of The Army of Missouri. Price also announced that the army would march in three columns and come back together at Fredericktown, Missouri. Fagan's Division would be the center column with Marmaduke 10 - 30 miles to the right and Shelby 10 - 30 miles to the left. Fagan's Division would march to Fredericktown by Martinsburg, Reeves' Station, and Greenville. Price's orders expected the columns to make 18 miles per day.
[14]



Fagan's Division – Major-General James F. Fagan

About 4,000 cavalry troops
Four artillery pieces

Marmaduke's Division – Major-General John S. Marmaduke

About 3,000 cavalry troops
Four artillery pieces

Shelby's Division – Brigadier-General Jo Shelby

About 3,000 cavalry troops
Four artillery pieces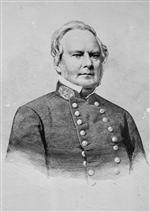 On September 19th, Major-General Sterling Price sent the following message back to headquarters in Arkansas.
[15]
"To-day we have entered the State of Missouri with our forces in fine health and spirits. We found the roads very rough and bad, but have not suffered much from that cause. Our strength is nearly 8,000 armed and 4,000 unarmed men--Fagan's division much the largest, Marmaduke's next, and Shelby two brigades. Parties of Federals were encountered by our advance, who are now pursuing them."
Shelby reported that he arrived in Fredericktown, Missouri on September 23rd. Shelby also reported a newspaper story about Union Major-General Andrew J. Smith being in St. Louis with a large Federal force.
[16]
---