Red Marker 10 - "With but little ceremony"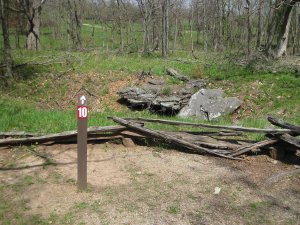 Location: Follow the trail north for about 50 yards and you should see Red Marker 10 [ Waypoint = N37 06.326 W93 24.742 ] on the left.
WCNB Description:
"Around 10 A.M., the Southerners prepared for their third and largest assault on Bloody Hill. As before, Price was there. 'You will soon be in a pretty hot place,' he told an Arkansas unit. 'Keep cool as the inside of a cucumber and give them thunder.' And they did. Under a 'blazing August sun' that turned the hill into 'a furnace,' the Southerners gave the Federals their fiercest fight of the day. But the Union line did not give an inch. Exhausted, the Southerners fell back and the fighting ended 'as quick as a clap of thunder ceases.' Major Sturgis, upon being informed that ammunition supplies were low, ordered his battle weary army to retreat to Springfield. When the Southerners attacked again, they found only the wounded and dead on Bloody Hill. Also low on ammunition, they made no serious attempt to pursue the Federals. As the victors, however, the Southerners were left with the grisly task of burying the 535 battle dead, among which they discovered the forgotten body of General Lyon. While his remains were returned to the Federals in Springfield, the rest were interred on th field of battle. Thirty-four men were buried in the sinkhole before you. Mass burials 'with little or no ceremony' were common due to the number of bodies and the 'unpitying' August sum. Wild animals later exposed some of the remains, adding to the identification difficulties created by the frequently unmarked graves. As a result, family and friends who came here looking for their loved ones were too often unsuccessful. Meanwhile, the war moved on to new fields and more agony, piling up ever-larger heaps of bodies."
For additional information, please refer to the The Sinkhole Tour Stop.
---