Price's Headquarters
Tour Stop
Location: Starting from the parking area for WCNB Tour Stop 3 [ Waypoint = N37 06.048 W93 24.279 ], you must walk to the site of Missouri State Guard Major General Sterling Price's Headquarters [ Waypoint = N37 05.991 W93 24.443 ]. It was located near the Edwards Cabin along the western side of Wilson's Creek. There is a restored cabin from the 1850s that the National Park Service has moved to the site of the Edwards Cabin. From the parking area at tour stop 3, follow the walking trail leading off to the west towards Wilson's Creek. When you reach the Wire Road, you will see a sign for Price's HQ pointing to the left. Follow the Wire Road towards Wilson's Creek and cross the bridge. When crossing the bridge, look down to the creek on the left side near the bridge and you should be able to see remnants of the old ford over the creek [ Waypoint = N37 06.099 W93 24.412 ].You should see the Edwards Cabin off to the southwest.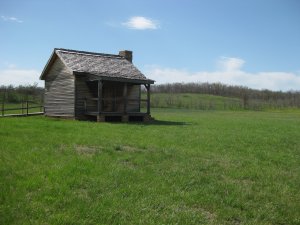 Description: William Edwards lived on a small farm along the eastern bank of Wilson's Creek with his wife and son. About 1,600 of the Missouri State Guard infantry were encamped on the Edwards Farm on the west banks of Wilson's Creek. Price set up his headquarters in the yard by the Edwards Cabin to be centrally located and have ready access to the main Wilson's Creek ford a couple of hundreds yards to the north. The units from the Missouri State Guard were camped a short distance from this location. There were units in the fields around the Edwards Cabin. There were units to the northeast across Wilson's Creek that Price could easily get to across the main ford. Additional units were camped south of here just south of Skegg's Branch in and around the Sharps Farm.
| | |
| --- | --- |
| | |
Early on the morning of August 10, 1861, Missouri State Guard Major General Sterling Price was preparing to have breakfast when McCulloch and McIntosh arrived shortly after 5:00 A.M. Price invited them to join him for breakfast and they accepted. Shortly before 5:30 A.M. a messenger galloped up to them and told them about a large force of Union Infantry accompanied by artillery was attacking from the north. Although the Edwards Cabin was less than a mile from the scene of the fighting, an acoustic shadow had prevented them from hearing the sounds of battle. A few minutes later, another messenger arrived with the same message about a large Union force attacking their northern positions. Price got on his horse and headed up to Gibson's Mill [ Waypoint = N37 06.694 W93 24.465 ] to meet with Rains. McCulloch and McIntosh returned to McCulloch's headquarters.
---