Wilson's Creek National Battlefield Visitor Center
Tour Stop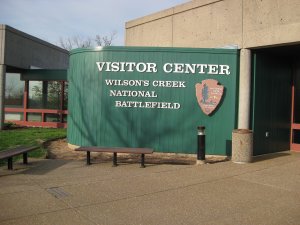 Location: The entrance to Wilson's Creek National Battlefield [ Waypoint = N37 06.953 W93 25.131 ] is located at 6424 West Farm Road 182 in Republic, Missouri 65738. The National Park Service provides detailed directions on the Wilson Creek National Battlefield website.
Description: You will need to stop at the Visitor Center in order to gain access to the battlefield. There is an access fee. You can watch a video about the Battle of Wilson's Creek. There are numerous displays of artifacts and a diorama of the battlefield. Be sure to pick up a brochure that has a map of the battlefield. The brochure also has a description of an auto tour around the battlefield. Be sure to ask for a copy of the "Bloody Hill Guide". It contains description for the red numbered tags located on Bloody Hill. Both the auto tour stops and the Bloody Hill markers are referenced in our tour stop descriptions. After you have finished inside of the Visitor Center, walk outside and stand near the artillery piece in front of the building.
By August 9th, Lyon had decided to attack the Confederates encamped around Wilson's Creek. Although opposed by most of his officers, Lyon had decided to follow Sigel's recommendation to split his forces. Sigel would move his brigade around to the east and attack the Confederates from the south as reported by Lyon's aide, Major John M. Schofield.
"During the forenoon of [the 9th Of August], General Lyon and Colonel Sigel held a consultation, the result of which was the plan of attack upon the enemy's position at Wilson's Creek.... General Lyon informed me of his determination to make the attack the next morning and gave me the general features of the plan but owing to the press of time did not go into much detail. Colonel Sigel was to move with his brigade ... to the left [east] of the main Casaville Road leading to the right [south] of the enemy position, while General Lyon with the remainder of the force ... was to move down the road toward Little York ... and attack his left [north] flank. Colonel Sigel was to make his attack as soon as he heard that of General Lyon."
Coincidentally on August 9th, McCulloch also had ordered his forces to move north against the Federals. It started to rain and a halt was ordered. The troops did not have a way of protecting their ammunition from getting wet in the rain. Their pickets had been called in to march with their units, and the Confederates had neglected to repost the pickets after stopping. They remained in and around their campsites.
Lyon left Springfield in the late afternoon and arrived about one and a half miles north of the Visitor Center around 1:00 A.M. on the morning of August 10th. He ordered his forces to rest and be ready to march to battle at 5:00 A.M.
---