The Franz Sigel Statue in Forest Park
Tour Stop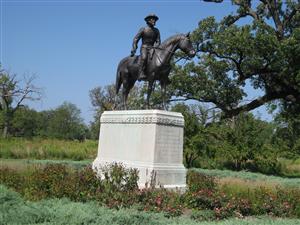 Directions: The Franz Sigel Statue [ Waypoint = N38 38.568 W90 17.762 ] is located in the northeastern section of Forest Park in the center of a traffic circle at the intersection of Grand Drive and Union Boulevard.
Continue east on Confederate Drive and take the first left (east) onto Grand Drive.
After about 0.2 miles, look for a place to park.
The Franz Sigel Statue is on the south side of Grand Drive opposite the intersection with Union Boulevard.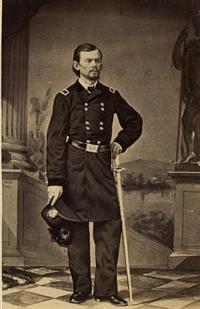 Description: A military leader of the revolutionary armies in Germany during the late 1840s, Franz Sigel went into exile and emigrated to the United States in 1852. He taught in the New York City public school system for a number of years before accepting a position in 1857 at the German-American Institute in St. Louis, Missouri. Sigel was considered a hero by many German-Americans and was elected Colonel of the Third Missouri Volunteer Infantry Regiment in May of 1861. Sigel led his volunteer regiment in the Camp Jackson Affair. Although suffering defeats at the Battle of Carthage and the Battle of Wilson's Creek, Sigel was promoted to Brigadier General of Volunteers and led a brigade at the Battle of Pea Ridge, a Union victory. In 1862, Sigel was promoted to Major General of Volunteers and reassigned to the Eastern Theater of the war. [26]
The inscription on the front of the monument reads as follows:
To remind future generations of the heroism of the German-American patriots of St. Louis and vicinity in the Civil War of 1861 to 1865.
---