Casualties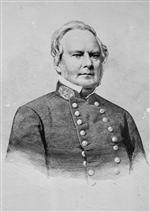 The reports of Confederate casualties (killed, wounded, or missing) were sketchy at best. Major-General Sterling Price declined to provide the total number of his forces that were killed, wounded or missing.
[142]
"My loss in this report I cannot give, as I have no report from Fagan's division, but the loss in Marmaduke's division was 14 officers and 80 men killed and wounded, and the loss in Fagan's was doubtless greater."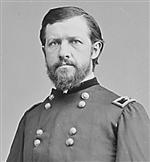 In his official report dated October 20th, Brigadier-General Thomas Ewing, Jr. listed Federal casualties and also provided estimates of the number of Confederate casualties. Ewing was criticized for inflating the Confederate casualties.
[143]
"Our loss at Pilot Knob was about 200 killed, wounded, and missing, and in the several engagements on the retreat to Rolla about 150. Of the missing the most were cut off in detachments and escaped capture, so that our actual loss was about 150 killed and wounded, and 50 captured and paroled … The rebel loss at Pilot Knob, killed and wounded, exceeded 1,500, as is shown by the inclosed letter of T. W. Johnson, surgeon in charge of our hospital there, and also by corroborative testimony gathered since our reoccupation of the post."
Acting Assistant Surgeon Thomas W. Johnson had remained behind in Pilot Knob in order to take care of the sick and wounded.
[144]
"A few days after the battle, and while the Rebel burying parties were in active operation, a Rebel non-commissioned officer in charge of the work showed a list of those already buried. On that were the names of three hundred and thirty-five as already buried, since which time many more of their killed were brought from Shepherd's Mountain and Pilot Knob. Also, in their hospital they were dying at the rate of from five to eight a day … The Rebel officers admitted their loss in killed to have been four hundred … I left Ironton on October 10th, and was through the Rebel hospitals the evening before, saw and examined every wounded man. About two hundred and fifty were still left and every case I saw was a severe if not a dangerous one. Every man who could be moved had been taken South … They admit their loss in killed to have been four hundred. In every battle the ratio of those killed to those wounded is from one to three to one to five. On our side the ratio is one to three. Apply the same ratio to the rebel killed and wounded and we have four hundred killed to twelve hundred wounded, which from personal observation, I know to be near the truth."
---