Oak Hill Cemetery
Tour Stop
Directions: Oak Hill Cemetery [ Waypoint = N38 57.502 W95 12.892 ] is located at 1605 Oak Hill Avenue in Lawrence, Kansas 66044.
Return to your car and get headed south on Massachusetts Street.
Turn left (east) onto 11th Street.
After 0.7 miles, turn right (south) onto Haskell Avenue.
After 0.5 miles, turn left (east) onto 15th Street.
After 0.4 miles, turn left onto Elmwood Street.
The entrance to Oak Hill Cemetery is about 0.1 miles ahead on the right.
Description: Four individuals who played important roles during Bleeding Kansas are buried in the Oak Hill Cemetery in Lawrence, Kansas.
Wilson B. Shannon Grave [ Waypoint = N38 57.507 W95 12.755 ]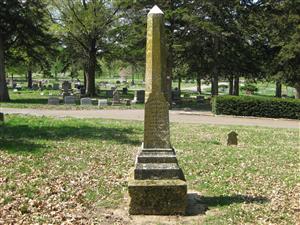 Wilson B. Shannon (February 24, 1802 - August 30, 1877) was born in Ohio. He ran for and was elected Governor of Ohio in 1838 and then again in 1842. President Franklin Pierce appointed Shannon as the Territorial Governor of Kansas and he served from September 1855 to August 1856. There were turbulent time while he served as Territorial Governor and Shannon was unable to bring peace to the region. He was Governor during the Wakarusa War, The Sack of Lawrence, and the Battle of Fort Titus. While Governor Shannon was away during 1856, the territorial secretary, Daniel Woodson, became the Acting Governor of the Kansas Territory. With the escalation of violence in 1856, Woodson issued a call for the citizens of Kansas to help enforce the laws of the territory. Once again, Missourians answered the call and raised forces that would enter Kansas against free state supporters. But the acting governor was unable to control these guerrilla bands from Missouri.
Charles L. Robinson Grave [ Waypoint = N38 57.594 W95 12.717 ]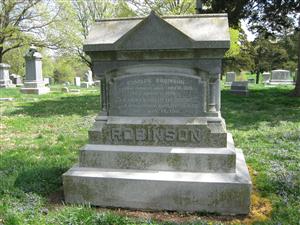 Charles L. Robinson (July 21, 1818 – August 17, 1894) led the first group of Kansas settlers sponsored by the New England Emigrant Aid Company. As a free-state leader, Robinson was a strong advocate for moderation, believing this would help the free-state movement in Washington, D.C. This would lead to a bitter rivalry with James H. Lane, who favored a more militant approach. Following the Topeka Constitutional Convention, Robinson was elected governor of the territory in the free-state elections held in January of 1856. When Kansas was admitted to the Union as the 34th State, Robinson was elected its first Governor.
James Henry Lane Grave [ Waypoint = N38 57.497 W95 12.732 ]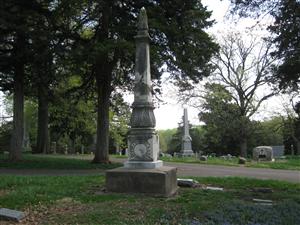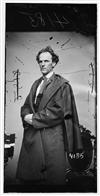 James Henry Lane (June 22, 1814 – July 11, 1866) was a prominent figure in establishing Kansas as a "free state." As a key figure in "Bleeding Kansas," he also terrorized the inhabitants of Missouri counties sharing a border with Kansas. Lane was born in Indiana where he studied and became a lawyer. He served under General Zachary Taylor as a Colonel in the Mexican War. After returning to Indiana, he was elected to the US House of Representatives in 1852.
Originally, Lane was not an ardent abolitionist. While a member of US Congress from Indiana, he did cast a vote for the Kansas-Nebraska Act of 1854. He decided not to run again and emigrated in 1855 to the Territory of Kansas. Lane would soon become involved in territorial politics as a member of the Free State Party. Lane took an active role in preparing Lawrence's defenses during the Wakarusa War and would be active in the negotiations that led to its peaceful conclusion. Following the Sack of Lawrence, Lane would take his free-state militia on the offensive against pro-slavery strongholds, culminating at the Battle of Hickory Point. On January 29, 1861, Kansas became the 34th state in the Union. On April 4th, the Kansas Legislature elected James Henry Lane and Samuel C. Pomeroy as the state's first US Senators. During the American Civil War, Lane would raise and lead the Lane Brigade. Lane would lead his brigade on many raids into Missouri and was responsible for the Sacking of Osceola.
Solon O. Thacher Grave [ Waypoint = N38 57.519 W95 12.744 ]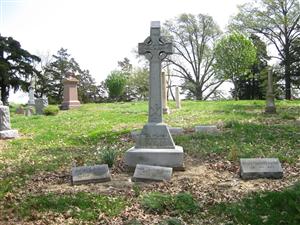 Solon O. Thacher (August 31, 1830 – August 11, 1895) was born in New York. He became a lawyer before emigrating to Lawrence, Kansas in 1858. Thacher was the proprietor of the newspaper, The Lawrence Republican. In 1859, Thacher was elected to be a delegate to the Wyandotte Constitutional Convention. Delegates to the Wyandotte Constitutional Convention elected Solon O. Thacher, of Douglas County, as the convention's President pro tem. Following the adoption of the constitution, he was appointed the judge of the Fourth Judicial District in 1861. In 1864, Thacher would run for Governor of Kansas but was defeated by Samuel J. Crawford.
---