Jim Lane's Fort
Tour Stop
Directions: Jim Lane's Fort was a fortified log cabin built by Lane's Army of the North in the present-day town of Holton, Kansas 66436. It was one of many such stations established along The Lane Trail to protect free-state settlers and immigrants from marauding bands of pro-slavery men.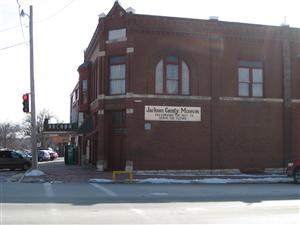 From the Battle of the Spurs Historical Marker, continue traveling south on US Highway 75 for about 6.7 miles until you reach the point where US Highway 75 crosses Elm Creek.
About 0.7 miles past Elm Creek, turn left (east) onto Kansas Highway 116 / W 4th Street and proceed into Holton.
After about 0.6 miles, the Jackson County Historical Society [ Waypoint = N39 27.818 W95 43.915 ] will be on the right at the corner of 4th Street and New York Avenue at 327 New York Ave in Holton, Kansas 66436. It is open from May through October.
Find a convenient place to park.
The Central Elementary School [ Waypoint = N39 27.802 W95 44.181 ] is within easy walking distance.
Begin walking east on 4th Street for about 3 blocks.
The school will be on the left at the corner of 4th Street and New Jersey Avenue at 401 New Jersey in Holton, Kansas 66436.


Description: A group of free-state emigrants from Wisconsin were headed down to the Kansas Territory. The emigrants were being led by Edmund G. Ross and had received financing from the Kansas Society of Milwaukee, at whose head was E. D. Holton. At Nebraska City, Nebraska 68410 they met up with Kansas Free-State Leader James Henry Lane and a couple of hundred other free-state emigrants who were headed for the Kansas Territory.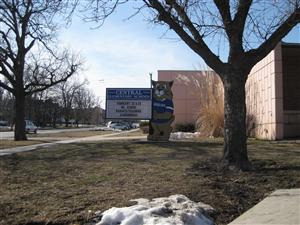 From Nebraska City, the emigrants headed down The Lane Trail when they came to Elm Creek in what is now Jackson County, Kansas. They had to build a bridge to cross the creek and would end up camping for the night in what would become Holton, Kansas 66436. Their campsite was located near where the Central Elementary School now stands at 401 New Jersey, Holton, Kansas 66436.
They would end up building a log cabin with dimensions of 20 by 30 feet that could be used as a fort. The cabin would be known as Jim Lane's Fort and the town wold be named Holton, after the Milwaukee abolitionist. Lane's idea was to build a series of strongholds along The Lane Trail that would be manned by free-state supporters to protect emigrants coming into the Kansas Territory. Holton became one of those stations along The Lane Trail
---