Capital of Kansas
Tour Stop
Directions: The Capital of Kansas Historical Marker [ Waypoint = N39 00.700 W95 41.276 ] is located near the intersection of 37th Street and Topeka Boulevard, on the right when traveling west on 37th Street in Topeka, Kansas 66611.
This marker is in a small roadside park at 37th & Topeka Boulevard. The entrance to the park is on a diagonal road accessed from Topeka Boulevard traveling from the north.
Description: The Capital of Kansas Historical Marker's text reads as follows:
"Topeka was founded in 1854 at the site of Papan's Ferry where a branch of the Oregon Trail crossed the Kansas river as early as 1842. Anti-slavery leaders framed the Topeka Constitution, 1855, in the first attempt to organize a state government. The next year their legislature was dispersed by U.S. dragoons under orders from President Franklin Pierce. (So Pierce was omitted when Topeka named streets after the Presidents.) In the late 1850's negroes bound north on the "underground railway" were hidden here by John Brown. Topeka became capital in 1861 when Kansas was admitted to the Union and the slavery conflict flamed into Rebellion.
After the war, in 1868, the Santa Fe railroad, promoted by C.K. Holliday, a city founder, first started building from Topeka. This was the birthplace, in 1860, of Vice President Charles Curtis; part Kaw Indian, the only "native American" to reach so high an office. (Marker Number 15.)"


In response to the March elections that elected The Bogus Legislature, free-state leaders held the Topeka Constitutional Convention in October of 1855. The resulting constitution was approved by free-state voters on December 15, 1855. This constitution called for elections which free-state leaders held on January 15, 1856. The free-state legislature met in Topeka on March 4, 1856. This was the election in which Charles Robinson was elected as territorial governor. The President of the United States, Franklin Pierce, called the Free State Legislature unlawful and called for the arrest of its leaders. The President ended up sending Federal troops to For Leavenworth in the Kansas Territory.
When the elected members of the free-state government took their oaths of office in Topeka in March, Douglas County Sheriff Samuel J. Jones recorded their names. Everyone expected Jones to arrest them for treason. This would happen later during and immediately following the Sack of Lawrence.
The Topeka government persevered and sent James H. Lane to Washington with a petition to the US Congress asking for the admission of Kansas into the Union as a free state. There were many irregularities in the documents, and the debate in congress was heated. Illinois Senator Stephen Douglas attacked the petition as fraudulent. Senator William Seward argued in support of admitting Kansas as a free state. The debate was so virulent that James Lane went so far to challenge Senator Douglas to a duel. Douglas refused to accept the challenge.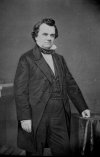 ---