Bledsoe's Battery
Tour Stop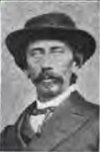 Directions: The stop for Bledsoe's Battery [ Waypoint = N39 11.675 W93 52.487 ] is located near the house at 700 17th Street in Lexington, Missouri 64067. Please be aware that this location is private property.
Exit Machpelah Cemetery and turn left (north) onto 20th Street. Proceed north on 16th Street for about 0.1 miles and turn right (east) onto Main Street. After one block turn left (north) onto 17th Street. Proceed about 0.7 miles to 700 17th Street. Parking is limited so you may want to drive to the end of 17th street (about 0.2 miles) and park in the cul-de-sac and then walk back.

Description: This house is located on top of the knoll where Bledsoe's Battery deployed to bombard the Union Position in and around the Masonic College.
Captain Hiram Bledsoe had been wounded during the skirmish at Dry Wood Creek, so command of Bledsoe's Battery had passed to Captain Emmett MacDonald. Bledsoe was well enough to resume command of his battery on September 20th. On September 17th and 18th, Bledsoe's Battery had deployed to an elevated position northeast of present day Wentworth Military Academy. By September 19th, Bledsoe's Battery had moved to your current position.
---