Sigel Moves Against the State Guard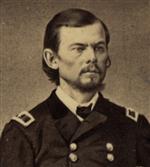 Within a week of his arriving in Springfield, Colonel Franz Sigel was joined by the troops from the Fifth Missouri Regiment under the command of Lieutenant-Colonel Charles Salomon. This brought the total number of men under Sigel's command to about 1,100. By the time he had arrived in Springfield, Sigel had word that the retreating Missouri State guard were headed for Lamar. He also received word of another Secessionist force down towards Neosho, Missouri. Sigel decided to move south and strike the force near Neosho before turning his attention to the State Guard heading for Lamar. In his official report, Sigel wrote about his decision to leave Springfield: [24]
I immediately resolved to march first against the troops at Pool's Prairie, and then, turning to the north, attack the forces of Jackson and Rains, and to open my communication with General Lyon's troops.
Sigel soon discovered the troops to the south had withdrawn towards Arkansas. He decided to move north towards Lamar and the Missouri State Guard. Sigel left Captain Conrad's Company B from the Third Missouri Regiment as a garrison for Neosho and set out with the rest of his force for Carthage, Missouri. [25]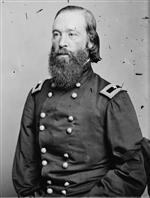 When he arrived in Springfield on July 1st and discovered that most of his forces were gone, Captain Thomas Sweeny took stock of the situation. Sweeny had received word that the Missouri State Guard was encamped just north of Carthage, Missouri. He sent messengers to Sigel and Salomon to converge on Carthage and attack the Missouri State Guard there: [26]
I issued orders to Colonel Sigel and Colonel Salomon, the headquarters of whose regiments were at Sarcoxie and Neosho, to concentrate their forces and move in the direction of Carthage, where, I was led to believe from information received, Governor Jackson's and General Rains' forces were encamped.
Sigel reached the outskirts of Carthage on July 4th: [27]
On the evening of the 4th of July, after a march of 20 miles, the troops went into camp on the southeast of Carthage, behind the Spring River. It was now as much as certain that Jackson's troops, reported 4,000 strong, were about nine miles before us, their scouts swarming over the great plateau to the north of Carthage, and almost within our sight.
---