Second Battle of Independence October 1864
Historical Marker D
"After heavy fighting at the Little Blue River on the 21st, Price's Confederate Army forced Blunt's cavalry to retreat to the Big Blue River, leaving a rear guard in town. Shelby's Confederates reached town in the late afternoon. After a brisk fight Union troops were driven to the west end of town. Price's army and wagon train then camped in and around Independence. On the 22nd Pleasonton's Union Cavalry, pursuing Price from the east, made a mounted charge through town driving Fagan's Confederates to the west."
| Map | Waypoint = N39 05.529 W94 24.939 |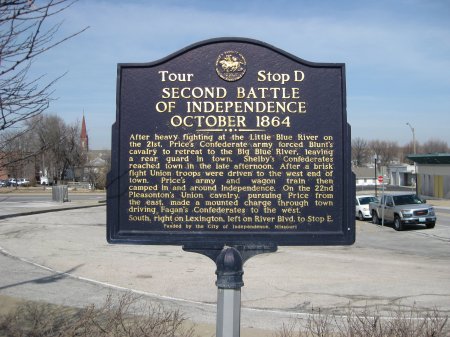 Directions to Historical Marker D: Return to your car and get back on US Hwy 24 heading west towards Independence. After about 4.3 miles, turn left (south) onto College Street. Continue on College for about 0.8 miles and turn left (south) onto Main Street. Go south on Main for about 5 blocks until you see the Historical Marker on the northwest corner of Main and Truman. Find a place to park. This tour stop is located near Independence, Missouri 64050.
Description: It was around 4:00 PM when Blunt formed a line of battle on the eastern edge of Independence. But by 5:00 PM there had been no attack, and Blunt withdrew his forces to Curtis' defensive line on the Big Blue River. He left the 16th Kansas Cavalry from Moonlight's Brigade to guard the approach into Independence.
Shelby was now leading the Confederate army's advance and attacked the Federal position in Independence. The 16th Kansas Cavalry resisted but withdrew slowly until they ran out of ammunition. The 16th was relieved by the 11th Kansas Cavalry which continued the fight in the streets of Independence. This skirmish continued until night came. In darkness the 11th Kansas Cavalry withdrew to the Big Blue River. The Confederate Army of Missouri now occupied Independence
---