Battle Line At Railroad Cut
Historical Marker F
"During the Battle of Independence on October 21 ad 22, 1864, this was an unfinished railroad cut. As darkness approached on the 21st, the Confederates advancing from the east stopped here. Union troops withdrew to the Big Blue river during the night. The Confederate Divisions of Marmaduke and Shelby and Price's wagon train advanced to Rock Creek and camped. On the 22nd Pleasonton's Union cavalry pursued the Confederates through town and were confronted by Marmaduke' Division. Fighting continued during the night as the Confederates withdrew to Byram's Ford on the Big Blue River."
| Map | Waypoint = N39 05.239 W94 25.941 |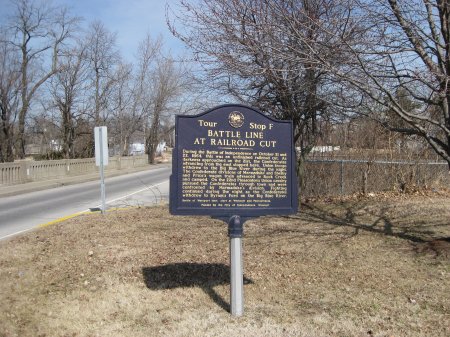 Directions to Historical Marker F: Turn your car around and go back to Lexington Avenue. Turn left (west) and continue for about 0.5 miles until you come to a fork that is the intersection with Crysler Avenue. Veer left staying on Lexington, but immediately find a place to Park. The historical marker is in the island at the intersection of Lexington and Crysler. This tour stop is located near Independence, Missouri 64050.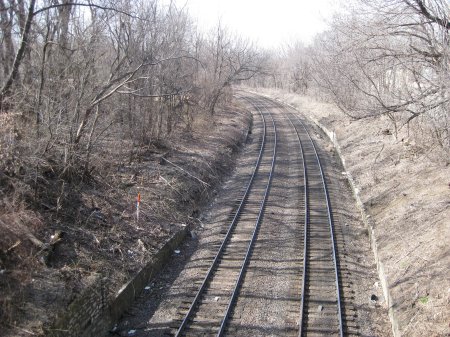 Description: The attack made by Sanborn's and McNeil's Cavalry Brigades succeeded and drove the Confederates west to the Big Blue River and out of Independence. Pleasonton immediately sent Brown's First Brigade and Winslow's Fourth Brigade after the fleeing Confederates. These troops kept up the pressure until they exhausted their ammunition. The Confederate troops reached the Big Blue River and set up a defensive line at Byram's Ford. The next day Pleasonton would force a crossing in the Battle of Byram's Ford.
---