Pea Ridge Texas Monument
Tour Stop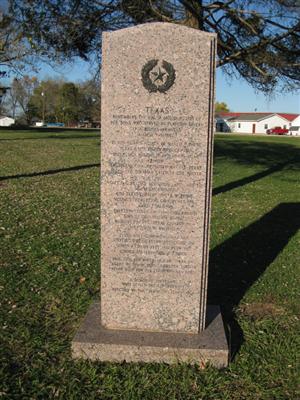 Directions: There is a monument [ Map | Waypoint = N36 27.238 W94 06.901 ] to the Texas veterans who fought in the Battle of Pea Ridge that is located in the southwest corner of the Pea Ridge City Park.
Continue heading north on Ryan Road for 1.5 miles and then turn right onto State Route 72 / Slack Street.
Proceed for 0.2 miles and take second left onto N Curtis Avenue / State Route 72.
After 0.8 miles you should arrive at the intersection of N Curtis Avenue and E Pickens Road.
Find a convenient place to park near the Texas Monument, which should be visible just ahead to your right in the northeast corner of the intersection.
Description: The monument text reads as follows:
"Texas remembers the valor and devotion of her sons who served at Elkhorn Tavern (Pea Ridge), Arkansas March 7-8, 1862. In Van Dorn's attack of March 7, these Texas units under Brig. Gen. Ben McCulloch assaulted the Union right center:
3rd Texas Cavalry (South Kansas-Texas Regt.) - Col. Elkanah Greer, Lt. Col. Walter P. Lane
Capt. O. G. Welch's Squadron (attached to 3rd Texas Cavalry)
6th Texas Cavalry – Col. B. W. Stone
Young's (11th) Texas Cavalry – Lt. Col. James J. Diamond
Sims' (9th) Texas Cavalry – Col. William Sims, Lt. Col. William Quayle
Whitfield's (4th) Texas Cavalry Bn.– Maj. John W. Whitfield
"Texas unit supporting Maj. Gen. Sterling Price's flank attack on the Union extreme left and rear was:
Good's Battery – Capt. J. J. Good
"Brig. Gen. Ben McCulloch of Texas was killed in the action – 'A bolder soldier never died for his country,' - Van Dorn.
"A memorial to Texans who served the Confederacy erected by the State of Texas 1964."
---