James Montgomery Grave
Tour Stop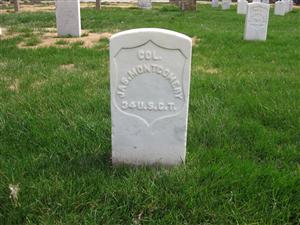 Directions: James Montgomery's Grave [Waypoint = N38 08.742 W94 48.808 ] is located in the Soldiers Lot at the National Cemetery at the corner of N 5th Street and W Elm Street in Mound City, Kansas 66506.
When you leave the Mound City Historic Park, head north on N 7th Street.
Just ahead you should turn right (east) onto W Spruce Street.
After 0.2 miles, turn left (north) onto N 5th Street.
The entrance to Woodland Cemetery is about 0.1 miles ahead at the intersection with W Elm Street.
Description: You are standing at the entrance to Woodland Cemetery in Mound City Kansas. The National Cemetery / Soldiers' Lot [ Waypoint = N38 08.737 W94 48.797 ] was established in 1865 as an adjunct to the National Cemetery in Fort Scott, Kansas. In 2001, the Linn County Historical Society erected the limestone marker [ Waypoint = N38 08.733 W94 48.789 ] you see just to the right of the entrance. The limestone marker replaced a wooden marker that had been erected in 1889.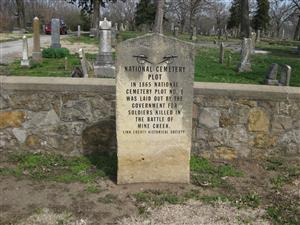 It's text reads as follows:
National Cemetery Plot
In 1865 National Cemetery Plot No. 1 was laid out by the Government for soldiers killed in the Battle of Mine Creek.
Linn County Historical Society
Soldiers' Lot is located in the southwest corner of Mound City's Woodland Cemetery. It was established as a burial site for Union Soldiers. The first interments consisted of 30 Union soldiers killed in the Battles of Mine Creek and Marais des Cygnes in 1864. The site is managed by the US Department of Veterans Affairs.
The first soldiers were re-interred there in 1867. On the 25th Anniversary of the Battle of Mine Creek a ceremony was held to dedicate a monument which still stands majestic watch over some fifty graves. Those buried there include James Montgomery, Jayhawker chieftain; James Findlay Harrison, grandson of President William Harrison; Lt. Curtis, the only Union officer killed at the Battle of Mine Creek; and 17 unknown soldiers. Woodland Cemetery is the burial site for many early pioneers, abolitionists, and one victim of the Maris des Cygne Massacre.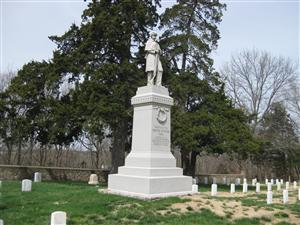 In 1889, the United States erected the Union Soldiers Monument [Waypoint = N38 08.745 W94 48.807 ] to honor the 80 Civil War soldiers laid to rest at Mound City Soldiers' Lot. The granite monument, which cost approximately $2,500, depicts a Civil War infantryman holding his musket, looking to the east. Its inscription reads as follows:
In memory of the officers and soldiers buried within this cemetery who gave their lives in defense of the Union.
---