Tour: Bleeding Kansas (1854-1860)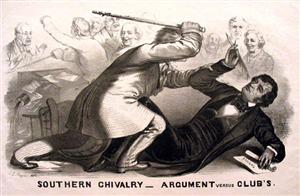 We've broken this tour into two sections, one for northeastern Kansas (includes a couple of stops in Missouri) and one for southeastern Kansas. You should be able to complete each of these tours in a single day, although it would be a fairly long day.
Bleeding Kansas: North begins in Plattsburg, Missouri before moving into northeastern Kansas (for those feeling adventurous, there is an alternate tour stop in Tabor, Iowa although this will add 150 miles to the length of the tour). Then the tour picks up The Lane Trail near Sabetha, Kansas and follows it past Holton, Kansas before arriving in Topeka, Kansas for a stop at the Kansas Museum of History (there is another alternate stop at Fort Riley although this adds about 120 miles to the tour). After Topeka the tour proceeds to the center of the Free State movement, Lawrence, Kansas. Then on to the territorial capital, Lecompton, Kansas, before finishing just a few miles north of Oskaloosa, Kansas. This tour is about 300 miles long.
Bleeding Kansas: South begins just east of Baldwin City, Kansas before moving to Lane, Kansas which is near the site of the Pottawatomie Massacre. Then the tour moves to Osawatomie, the home of John Brown while he was in Kansas. From there the tour goes to Mound City, Kansas, home to two jayhawkers, James Montgomery and Charles Jennison. Finally, the tour moves on to Trading Post, Kansas near the site of the Marais Des Cygnes Massacre. This tour is about 225 miles long.
There are many other ways that you could mix and match these tour stops into shorter excursions. For example, Lawrence and Lecompton, Kansas are only about 15 miles apart. It would be relatively easy to visit these tour stops in part of a day. Similarly, Lane and Osawatomie, Kansas are only about 10 miles apart.
The On-line Tour articles were all written by and the photographs were all taken by theMuse.
---