Tour Stop 1

| Map | Waypoint = N39 03.181 W94 35.486 |
Directions to Stop #1: The historical marker at Tour Stop 1 is located on the northeast corner of Westport Road and Pennsylvania Avenue in Kansas City, Missouri. This tour stop is located in Kansas City, Missouri 64111.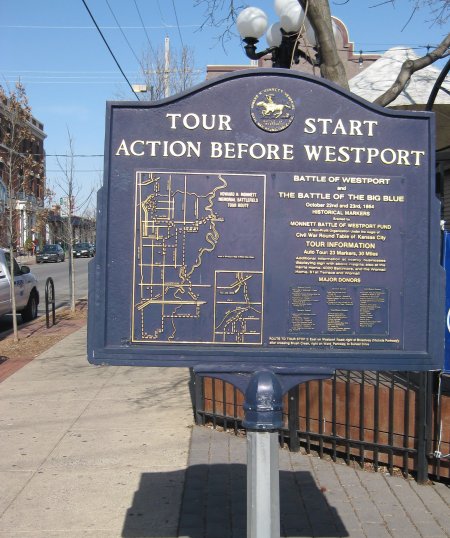 Description: Shortly after the battle began on the morning of Sunday, October 23, 1864, Curtis moved his headquarters to Harris House Hotel which stood at this spot in 1864. He went to the rooftop where Blunt was observing the battle field just beyond the timber lining Brush Creek. Although it is now difficult to tell, the top of the hotel must have provided a good vantage point of the Confederate position about one mile south of where you are standing. For two hours on this spot Curtis planned his next move.
Just across the street from you on the northwest corner of this intersection stand two of the oldest buildings in Westport. Both buildings were in existence during the battle. In this photograph, the building on the left housed Jim Bridger's store. The building on the right was built sometime in 1852 by two traders named Ewing who hailed from Indiana. The Ewing brothers sold the building to Albert Gallatin Boone, a grandson of Daniel Boone, in 1854. Boone sold it to Robert Campbell in 1859.