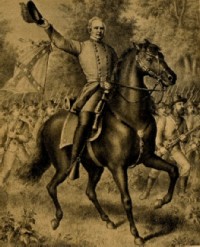 (September 20, 1809 - September 29, 1867)
Born in Virginia, Sterling Price moved to Missouri in 1831 and finally settled in Keytesville, Missouri. Price quickly became involved in Missouri politics and, after a break to serve in the Mexican-American War, became the Governor of Missouri in 1853. When the American Civil War broke out, Sterling Price was appointed a Major General and placed in command of the pro-southern Missouri State Guard by Missouri Governor Claiborne Fox Jackson. Early in the war, Price led the Missouri State Guard to victories in the Battle of Wilson's Creek and the Battle of Lexington and then to defeat in the Battle of Pea Ridge. In 1864, Price, then a Major General for the Confederacy, led a cavalry raid into Missouri that ultimately resulted in an overwhelming defeat.
Pre-Civil War Role
Sterling Price was born near Farmville in Prince Edward Count, Virginia. In 1831, Price and his family moved to Fayette, Missouri and then a year later to Keytesville, Missouri. Price served in the Missouri State House of Representatives in the late 1830s and early 1840s and was elected as a US Congressman representing Missouri.
Price resigned from being a Congressman to serve in the Mexican-American War. Price raised the Second Regiment of the Missouri Mounted Volunteer Cavalry and was elected its colonel on August 12, 1846. President James K. Polk promoted Price to brigadier general of volunteers on July 20, 1847. Following the war, Price was discharged on November 25, 1848, and returned to Missouri.
Back in Missouri Price bought a farm and raised tobacco, becoming a slave owner in the process. Missouri elected him Governor and he served from 1853 to 1857. On February 28, 1861 Price was elected presiding officer of the Missouri State Convention, which would end up voting against secession.
Civil War Role
Initially, Price was against secession for the state of Missouri. But that changed after May 10, 1861 and the Camp Jackson Affair. Missouri Governor Claiborne Fox Jackson, a southern sympathizer, had called out the state militia for training. They established "Camp Jackson" about 4 to 5 miles from the St. Louis Federal Arsenal. Federal Captain Nathaniel Lyon, an ardent abolitionist, saw this as a threat to the federal arsenal and forced the militiamen to surrender to his Missouri Home Guard. In marching the prisoners through St. Louis a riot broke out and many of the prisoners were killed or wounded.
Price was outraged at the Camp Jackson Affair. Missouri Governor Jackson placed Price in command of the Missouri State Guard on May 11, 1861. On June 11, 1861, Price joined Missouri Governor Jackson to meet with now Brigadier General Nathaniel Lyon and Missouri Congressman Francis P. Blair, Jr. The purpose of the meeting was to work out their differences and calm the emotions on both sides. Lyon stormed out of the meeting, essentially declaring war on Jackson and the Missouri State Guard. As a result, Price's Missouri State Guard retreated with Lyon in pursuit.
Price led the Missouri State Guard in a series of engagements against Lyon's Union forces. The Battle of Boonville on June 17th resulted in a Union victory. Price continued moving south. Price temporarily left the Missouri State Guard to obtain support from the Confederacy. Price formed an alliance with Confederate General Benjamin McCulloch and the Arkansas State Militia. Together they moved against Lyon's Union Army of the West in the Battle of Wilson's Creek, which resulted in a Confederate victory.
Following the Union Army of the West's retreat to Rolla, Missouri, Price moved the Missouri State Guard north and engaged Union defenders in the First Battle of Lexington (from September 13 to September 20, 1861). This resulted in a victory for Price and gained the south control of the Missouri River Valley west of Arrow Rock. But Price was unable to keep control and had to move south. Union Commander Frémont had sent troops to recapture control of the Missouri River.
Missouri's provisional state government passed and Governor Claiborne Fox Jackson signed the Ordinance of Secession on October 31, 1861. Shortly after, Price resigned his commission from the Missouri State Guard and joined the Confederacy as a Major General.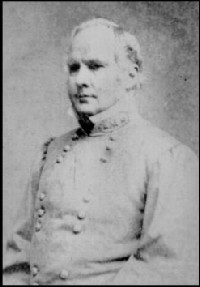 In March of 1982, Price commanded his Missouri troops as part of the Confederate forces at the Battle of Pea Ridge in Arkansas. The result was a Union victory that solidified control of Missouri for the United States. Later that year, Price and his Missouri troops were sent east of the Mississippi River to reinforce General Albert Sydney Johnston. Although they arrived to late to participate in the Battle of Shiloh, Price did lead his soldiers as part of the Confederate forces in the Second Battle of Corinth in October 1862. This too ended in defeat for the Confederacy.
In 1863, Price requested and was transferred back to the Confederate Department of the Trans-Mississippi. In July 1863, Price commanded an infantry division under Lt. General Theophilus H. Holmes in the Battle of Helena. Both the overall attack was poorly coordinated and resulted in a Union victory. Later that year, Holmes became ill and took a leave of absence. Price was placed in command of all Confederate forces in Arkansas.
In the summer of 1864, Price received approval to mount a cavalry raid into Missouri. The raid's purpose was to capture supplies, but more importantly draw Union forces from the eastern theater of the war, away from Petersburg and Atlanta. Although the raid initially succeeded in capturing large quantities of supplies, Price's Army of Missouri was decisively defeated at the Battle of Westport. He subsequently lost a series of battles and much of his captured supplies while retreating south from Westport. His retreat took him through the Indian Territory and Texas. After three months, Price finally returned to Arkansas in December 1864 with less than half the troops with which he had started the campaign.
Post-Civil War Role
In 1865, Price went to Mexico and was the leader of a Confederate exile colony in Carota, Veracruz. This colony failed and Price returned to Missouri, impoverished and in poor health. Sterling Price died of cholera while living in St. Louis and is buried in Bellefontaine Cemetery in St Louis, Missouri.
Sites of Interest
References
Bearss, Edwin C. The Battle of Wilson's Creek. Fourth Edition. Cassville: Wilson's Creek National Battlefield Foundation, 1992.
Brooksher, William R. Bloody Hill: The Civil War Battle of Wilson's Creek. Washington: Brassey's, 1995.
Buresh, Lumir F. October 25th and The Battle of Mine Creek. Kansas City: The Lowell Press, 1977.
Castel, Albert. General Sterling Price and the Civil War in the West. Baton Rouge : Louisiana State University Press, 1996.
Hess, Earl J., William L. Shea, William G. Piston, and Richard W. Hatcher. Wilson's Creek, Pea Ridge, and Prairie Grove: A Battlefield Guide, with a Section on Wire Road. Lincoln: Bison Books, 2006.
Hinton, Richard J. Rebel Invasion of Missouri and Kansas and the Campaign of The Army of the Border Against General Sterling Price in October and November 1864. Ottawa: Kansas Heritage Press, 1994
Lee, Fred L., Ed. Gettysburg of the West: The Battle of Westport, October 21-23, 1864. Shawnee Mission: Two Trails Genealogy Shop, 1996.
Monnett, Howard N. Action Before Westport 1864, Revised Edition Boulder: University Press of Colorado, 1995
Piston, William G. and Richard W Hatcher III. Wilson's Creek: The Second Battle of the Civil War and the Mean Who Fought It. Chapel Hill: University of North Carolina Press, 2000.